Terry Peak Ski Area can be summarized in a few words. High ski trails in South Dakota.  Did you know  Terry Peak has the highest lift service from the Alps to the Rocky Mountains! That's crazy to just think about. So you might wonder what the summit is for Terry Peak, picture this, 7,100 feet!
 Read on to learn why you should visit Terry Peak Ski Area this Winter. They have some cool stuff going on!
Highlights of Terry Peak Ski Area in Lead, South Dakota
Some of the highlights and stats of Terry Peak Ski Resort include – 
30 trails
60% snowmaking
Terrain park and halfpipe
1,100 foot vertical
Where is Terry Peak Ski Area?
Terry Peak is located in Lead, South Dakota. Wherever you come from, you'll have to drive up into the mountains to get to Terry Peak. The resort isn't joking when they say peak. The base is 5,900 feet. Some locations that are within driving distance include –
Sturgis, SD – 36 minutes, 22 miles
Rapid City, SD – 1 hour, 50 miles 
Hot Springs, SD – 2 hours, 108 miles 
Casper, WY – 3 hours and 35 minutes, 218 miles
Broadus, MT –  2 hours and 16 minutes, 130 miles
Need Terry Peak Ski Area directions? Map it from your place here.
If you are within 2-3 hours of Terry Peak then you should really check out the ski area. With their elevation, they can get 3 times as much snow as other resorts in the area!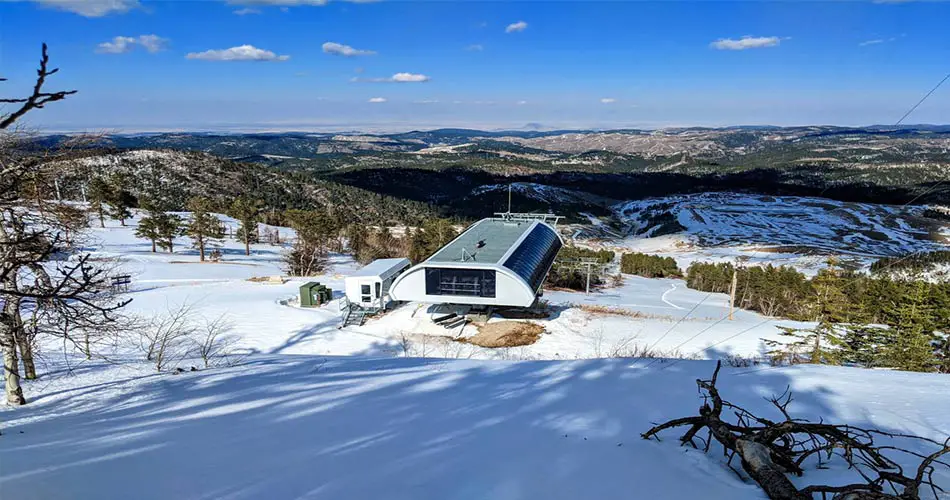 What is Terry Peak Ski Area?
Terry Peak Resort is home to some of South Dakota's best skiing, snowing boarding, and terrain park riding west of Sturgis. You'll truly feel up in the mountains when you get to Terry Peak. Built up on the mountains of a old gold mining town, Terry Peak in Lead is close to many of the nearby attractions like Mount Rushmore and Custer State Park. Take a detour from some of the staple attractions if you are there in the Winter and visit Terry Peak.
Lodging Near Terry Peak Ski Area
There is no lodging at Terry Peak but there are some really great lodging options nearby. Some of the hotels near Terry Peak ski resort sd include –
The Lodge at Deadwood
Cadillac Jack's Gaming Resort
The Hotel Sturgis
The hotel Sturgis is a bit further, (40 minutes) than the lodge and Cadillac Jack's but it can be a great way to explore Sturgis during your trip. The lodge is great for families and Cadillac Jack is more for adults.
The lodge has an indoor water park for the kids but gambling for adults. Cadillac Jack is more casino-focused. 
There are also quite a few vacation rental by owners and Airbnb near Terry Peak that are worth a look.
Key Takeaway: Figure out what you are looking for in your accommodations. If you want to just be close by, there are a lot of private rentals. If casinos are your thing, there is a lot of lodging nearby with that too!
Does Terry Peak Ski Area Have Night Skiing?
Unfortunately, there is no night skiing at Terry Peak Ski Area and the trails close at 4 pm.
Does Terry Peak Have Snowmaking?
60% of Terry Peak Ski Resort trails have snowmaking capabilities. Generally, with their altitude, there isn't a problem with natural snow but on the slow years, Terry Peak can keep the trails well groomed by using their state of the art snowmaking systems.
The Best Time to Visit Terry Peak
The best time to visit Terry Peak Ski Area is in the weekdays. Stay on top of the weather and plan your trip in advance. The best timing depends on how much snow there is, the temperature and other factors but a general rule of thumb is that the resort is a little less crowded on the weekdays.
Terry Peak Terrain Park
Take the Suprise Express up to Snow Storm to ide the terrain park at Terry Peak. The features are rotated over the season so hopefully, you can visit more than once.  In addition to the terrain park, more experienced riders can test their skills on the halfpipe at the peak.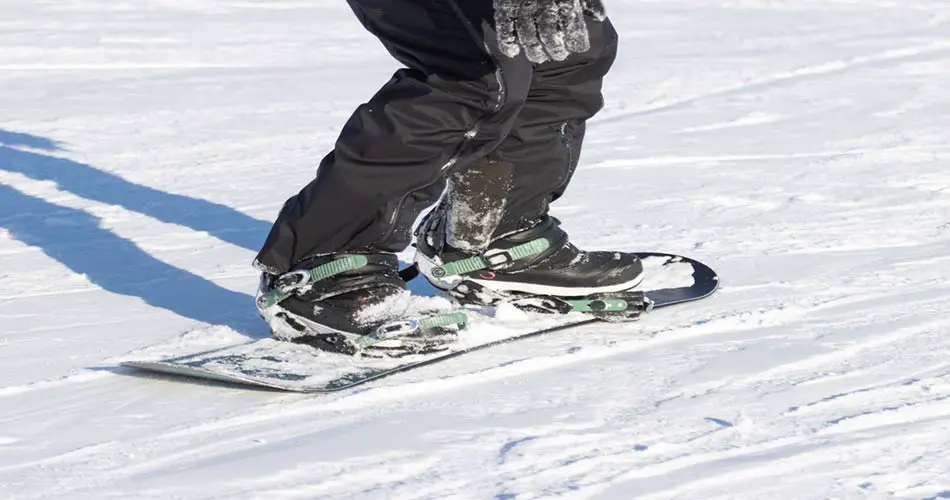 Is Terry Peak Ski Area Good for Beginners?
Terry Peak Ski Area is a decent ski area for beginners. They have a great staff that provides lessons but also a bunch of trails catered to new skiers and snowboarders. You can't go wrong as a beginner at Terry Peak. Just take a lesson and you'll be well on your way to a good start.
Trails at Terry Peak – What to Know 
30 trails leaves a lot of options for riders. If you are looking for a recommendation of which trails to ride at Terry Peak, some of the best are Avalanche, Black Moon and Express. While those are just a few of the many, you'll surely find your favorite trail. We'd love to hear what it is!
Other Winter Activities at Terry Peak
Aside from the lessons, the Black Hills Ski Team calls Terry Peak home.  They race slalom and giant slalom at the peak. If you or your kids are aged 5 through 18 then they can even join the ski team.
Is There Summer Mountain Biking at Terry Peak?
Terry Peak used to be the spot for mountain bikers but have since closed their trails some time back. Stay tuned if they decide to run the lifts in the Summer.
Final Thoughts:
Skiing or snowboarding at Terry Peak is a memory in the memory books. You'll be left talking about the height of the summit and the smooth buttery trails that the ski area has to offer. If you are ever up in South Dakota in the Winter then put Terry Peak on your list to ride!