Idaho, you probably associate it with potatoes but need to start associating it with great ski areas. Schweitzer Mountain Resort is the largest skiing and snowboard area in all of Idaho and Washington. Can you fathom 2,900 skiable areas? That is like putting together multiple east coast ski resorts. This ski area has been operating on 100% private land since back in 1963!
Read on to see what else Schweitzer has to offer this winter. Get your skis and snowboard ready!
Highlights of Schweitzer Mountain Resort in Idaho
Some of the highlights and stats of Schweitzer include – 
92 trails
10 lifts
2,900 skiable acres
2,400 feet of vertical
3 terrain parks
What is Schweitzer Mountain Ski Resort?
Did we mention the largest ski area in Washington and Idaho? That is just the start. They are an uncrowded resort with two huge bowls, backcountry, nordic skiing, tubing, shopping, wellness and more. Everyone in the family can find something to do at Schweitzer and not just in the winter. There is a whole different set of activities in the summer as well.
Where is Mount Schweitzer?
Schweitzer Mountain is located in beautiful Sandpoint, Idaho. Sandpoint not only has the Selkirk Mountains above it but it also sits on Lake Pend Oreille. Once at Schweitzer, you can get views of up to three states and Canada as the top elevation is 6,400 feet.  Some locations that are nearby include – 
Spokane, WA – 1 hour and 49 minutes, 83 miles 
Moscow, ID – 2 hours and 40 minutes, 140 miles 
Walla Walla, WA – 4 hours and 29 minutes, 236 miles
Walace, ID –  2 hours and 12 minutes, 105 miles
Missoula, MT – 3 hours and 41 minutes, 194 miles
Need Schweitzer Mountain Directions? Map it from your place here.
Being in north central Idaho, it's easy to see why people regularly visit from Washington state and Montana.  They know it is worth the trip.
Lodging Near Schweitzer Mountain Resort
So much lodging! That is how to sum it up at Schweitzer. There is lodging near Schweitzer but also lodging at Schweitzer. From on-mountain options such as Humbird hotel, Selkirk Lodge and condos to hotels in Sandpoint, you will find something that fits you.
There is even an on-mountain RV park if you are into RVing.
What are your options for in town lodging? In Sandpoint you can choose from –
Best Western Plus Lodge
Hotel Ruby
Fairbridge Inn
Talus Rock Retreat
Cedar Street Hotel
The two best options that mix budget and quality are often the Best Western and Hotel Ruby.
Does Schweitzer Mountain Have Night Skiing?
Night skiing is available on Friday and Saturday nights from January to March and select holidays. Schweitzer runs the Basin Express Quad and Musical Chairs lifts from 3 pm to 7 pm. This means stomping ground terrain park is open at night as well at Schweitzer.
Does Schweitzer Resort Have Snowmaking?
Schweitzer Ski Resort is a pro at making snow. Often if it is cold enough, in the past they have opened on limited operations around November 23rd. As soon as it is cold enough, the expert crews start blowing.
The Best Time to Visit Schweitzer Mountain
The best time to visit Schweitzer Mountain is in the weekdays. Stay on top of the weather and plan your trip in advance. The best timing depends on how much snow there is, the temperature and other factors but a general rule of thumb is that the resort is a little less crowded on the weekdays.
 Likely though you won't find the trails crowded with 60 trails to ride. It is just the lifts at times on packed weekends.
Does The Resort Have a Ski Shop?
Ok here is the thing about the ski shop at Schweitzer, if they don't have what you are looking for, the shop in town might. There is an Alpine Shop both at Schweitzer and in downtown Sandpoint. You can get daily rental and demos at both but the downtown shop only does snowshoes and cross country skis. 
If you need a tune-up, it may be quicker to head into town. Give them a call at 208-263-5157 if you have any questions.
Terrain Parks at Schweitzer: What to Know
How many terrain parks do you need to be happy? Or is it the features? Schweitzer has you covered on both. There are three terrain parks and endless features. The parks are
 Stomping ground (advanced)
Southside progression (intermediate)
Terrain Garden (beginner/ family-friendly)
Stomping grounds is off the Basin Express. Just to the south of Stomping Grounds is Southside progression. Finally, the Terrain Garden is on the Musical Chairs lift.
You will need a pass if you are going to use Stomping Grounds. Passes are available at the Terrain Park Tower in the center of Stoping Grounds.
Is Schweitzer Mountain Good for Beginners?
Schweitzer Mountain is good for beginners because while it is large, it won't feel as crowded as other resorts. Remember those 2,900 skiable acres? That means more room for you. Between the lessons and the beginner trails, you'll be up and skiing or snowboarding in no time at Schweitzer.
Trails at Schweitzer Resort – What to Know 
The 92 trails at Schweitzer are spread over a wide range of difficulty levels. Are you wondering how many trails you can ride? Here is a breakout of the terrain levels –
10% Beginner
40% Intermediate
35% Advanced
15% Expert
If the trails aren't enough, you can even look into the snow cat & heli skiing at Schweitzer. They can put you on any terrain you can imagine if you go that route.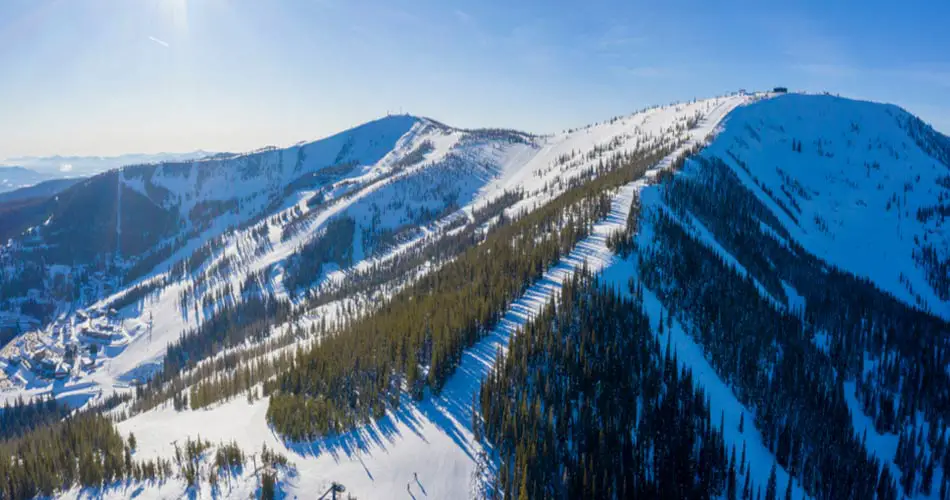 Other Winter Activities at Schweitzer Resort 
Did we mention getting massages at Schweitzer? Or how about the snowmobile tours, tubing and snowbiking. Those are just a few of the other activities at Schweitzer in the winter. Put on a pair of cross country skis or take the kids to a kids' night out.
There is so much to do at Schweitzer aside from just skiing and snowboarding. You will need multiple days to check it all out.
Is There Summer Mountain Biking at Schweitzer Resort?
You better believe Schweitzer has mountain biking. From downhill to cross country, they have it all. There are over 40 miles of total trails and 4,000 feet of vertical to ride. A lot of the downhill trails are expert and intermediate but you can start your way on the cross country and progress with your skill level.
Final Thoughts on Schweitzer:
Schweitzer isn't your average place to ski or snowboard. The terrain is vast, there are tons of trails to choose from and you aren't going to get bored for days. You'll wish you had a few weeks off to stay at Schweitzer and take in the full experience.
Just remember even once you have explored the whole winter scene, it is completely different at Schweitzer in the summer. You'll be needing another visit.