You don't have to leave Indiana if you want great skiing and snowboarding. Perfect North Slopes in Southern Indiana is a great place to get on the snow. The whole family can find a trail to fall in love with, without having to leave the state and go east or west.
Read on to discover why you should visit Perfect North Slopes Ski Area and what it has to offer!
Highlights of Perfect North Slopes in Indiana
Some of the highlights and stats of the resort include – 
22 trails
3 terrain parks
Night skiing
Snow tubing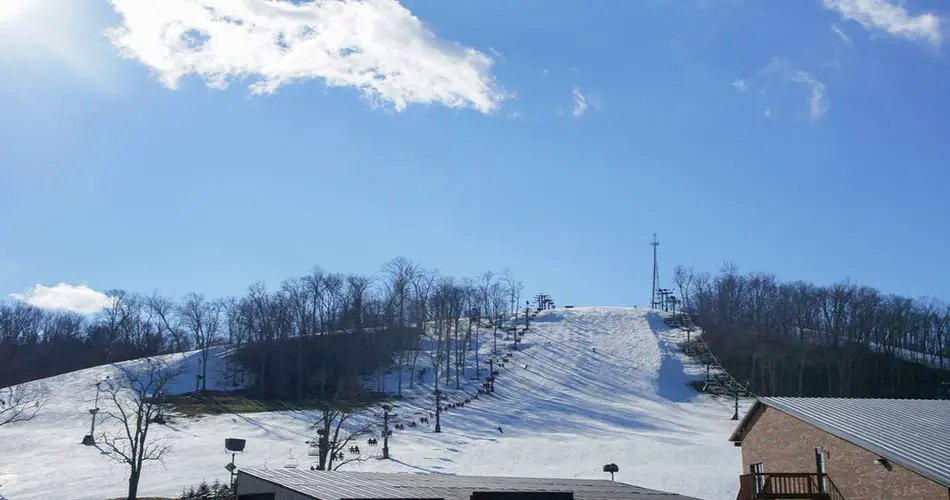 Where is Perfect North Slopes Located?
Perfect North Slopes Ski Resort is located in Lawrenceburg, Indiana. Just minutes from Ohio, the resort sits minutes above the Ohio River.  The resort pulls quite a bit of out-of-state traffic from Kentucky and Ohio in the Winter. Here are some of the areas nearby to the ski area.
Cincinnati, OH – 34 minutes, 30 miles
Louisville, KY – 1 hour and 50 minutes, 113 miles
Indianapolis, IN – 1 hour and 30 minutes, 92 miles
Columbus, OH – 2 hours, 129 miles
Need Perfect North Slopes Ski Resort Directions? Map it from your place here.
It's hard not to mention that the ski area is perfectly located between much of the close by larger cities.
Lodging Near Perfect North Slopes
There are really two choices of lodging since there is none at the ski area.
Hotels near by 
Vacation rentals by owner
There all quite a few choices of hotels that are within 30-45 minutes drive of the Perfect North Slopes. Comfort Inn is in Lawrenceburg and is only 10 minutes away. For a little bit more upscale, First Farm Inn is 20 minutes from the ski slopes. It is a more luxurious bed and breakfast.
Finally for a 3rd option, there is a Hampton Inn in Hebron, Kentucky. You might think it is far to cross state lines but it is only a 20 minute drive as well. Lastly a fun place to stay is Hollywood Casino & Hotel Larenceburg. If you are a foodie, we recommend staying in Lawrenceburg.
If hotels and bed & breakfasts aren't for you, there is always the option of a private rental near the ski resort. VRBO and Airbnb are two places to look. These are nice if you want to bring pets too
Does Perfect North Slopes Have Night Skiing?
Perfect North Slopes is worth a visit because they have great night skiing. With hours generally till 9:30 p.m. and midnight just after Christmas, it is a great place to pack in the runs all day long.
Does the Ski Area Have Snowmaking?
Most of the trails at have snowmaking. Once it get's cold enough, the crew turns on the snow guns and pumps out the fresh powder. Don't worry, the professional team has been doing it for years.
The Best Time to Visit The Ski Area
The best time to visit Perfect North Slopes Ski Resort from the 26th of December to January 1st. The trails are open to midnight which just provides for a ton of fun night time skiing and snowboarding. Yes, it can draw a crowd earlier in the days since a lot of people are off work but they start to go home in the evening.
Do the Slopes Have a Ski Shop?
The Loft Shop has everything if you forgot something. If you are looking for new gear, some of a few brands the shop carries are-
You can find the shop upstairs in the East Lodge. Be sure to check it out if you want something new for the mountain.
T

hings to Know About the Terrain Parks

There are three terrain parks to check out at the slopes. From beginner to expert, there is a park for any level of rider. 

Jam session is the beginner park to check out if you are new to freestyle riding. Lower Hollywood and Audition are more for the intermediate terrain park riders. In addition to just riding the parks, make sure to keep your eyes out for the annual rail jam and big air competitions at Perfect North Slopes. It is one of the better freestyle snowboarding and skiing competitions in the Indiana area.
Is Perfect North Slopes Ski Resort Good for Beginners?
Perfect North Slopes is a great place for beginners to start skiing and snowboarding. Beginners have access to Call Back, Understudy, Cat Walk  and Rehersal. Once you have all that figured out, move up to Broadway trail which is still a beginner grade. 
The resort offers lessons daily for both kids and adults.
The Trails – What to Know
There are 22 trails to explore. A majority are geared towards intermediate riders. A few expert trails are mixed in as well to challenge the more seasoned riders. There isn't much that Perfect North Slopes doesn't offer in terms of trails or terrain. Sure, its not the steepest mountain but for Indiana, it really is a great Winter spot.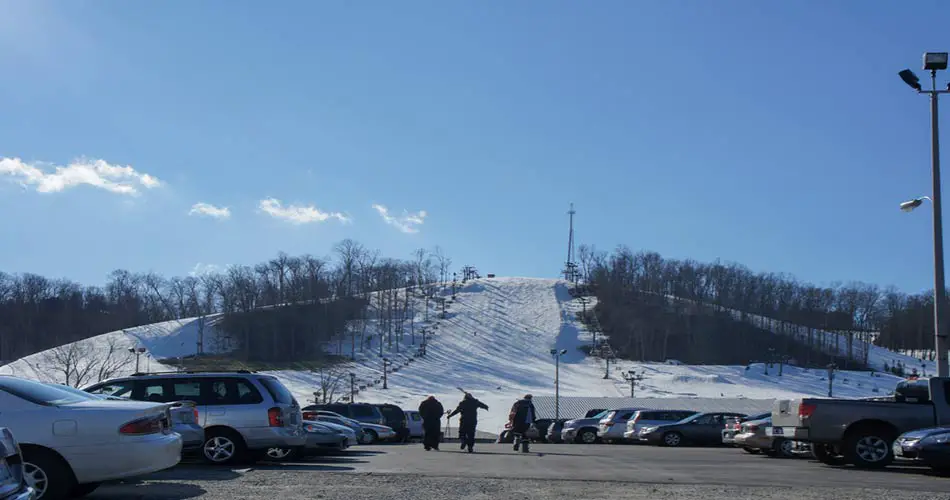 Other Winter Activities at the Slopes
If skiing and snowboarding really isn't something you want to do or learn, then check out the snow tubing at the slopes. It is a great family activity but can fill up on the weekends. The hill is one of the longest around with runs as long as 1,200 feet. That is almost three football fields! Once you make it down, ride the magic carpet and you'll be right at the top again.
Is There Summer Mountain Biking?
Perfect North Slopes doesn't have a mountain bike park in the Summer. Aside from the occasional wedding, it is mainly just a maintenance team if need be on the slopes.
Final Thoughts On the Slopes:
Lawrenceburg, Indiana is accessible to so many surrounding areas. If you are in Ohio, Kentucky or Indiana then it is an easy weekend activity to get over to the trails. That is such a plus if you live close by and want to go skiing or snowboarding. On the flip side, it makes it a popular resort and destination with so many populated areas nearby.
We'd high recommend checking out Perfect North Slopes and you'll surely want to make a second trip back.