We bet that skiing and snowboarding in Tennessee wasn't your first thought this Winter. You might have not even known you could ski in Tennessee but you can! Ober Gatlinburg Ski Area is the only ski area in Tennessee thanks to their summit at 3,300 ft. It is still challenging some winters to open up but by the end of December or early January, you usually can be exploring the snow trails at Ober Gatlinburg.
Read on to see everything that Ober Gatlinburg ski slopes have to offer in the Winter and get the ski area overview.
Highlights of Ober Gatlinburg Ski Area in Tennessee
For the only ski resort in Tennessee, Ober Gatlinburg checks off everything a skier or snowboarder would want.
10 trails
Terrain park
4 Lifts including a surface lift
613 foot vertical drop
Summit elevation of 3,300 feet
Where is Ober Gatlinburg Ski Area Located?
Ober Gatlinburg Ski Area is located in Gatlinburg, Tennessee. It is the only ski area in Tennessee and people from all over Tennessee find their way to Ober Gatlinburg in the Winter. Some of the the areas close by to Ober Gatlinburg ski slopes are – 
Gatlinburg, TN – 20 minutes, 5 miles
Knoxville, TN – 1 hour and 15 minutes, 40 miles
Memphis, TN – 7 hours, 434 miles
Nashville, TN – 4 hours and 10 minutes, 225 miles
Chattanooga, TN – 3 hours and 15 minutes, 150 miles
Charlotte, NC – 4 hours, 212 miles
Need Ober Gatlinburg Ski Area Directions? Map it from your place here.
Hotels Near Ober Gatlinburg Ski Resort TN
 Lodging and hotels near Ober Gatlinburg Ski Resort are easy to find! Gatlinburg is less than 10 minutes away and there are a lot of hotels to choose from. Some great options to choose from when looking for lodging include – 
Hampton Inn Gatlinburg Historic Nature Trail
The Park Vista – a DoubleTree by Hilton Hotel 
Hampton Inn Gatlinburg
Hilton Garden Inn Gatlinburg
Holiday Inn Express Gatlinburg Downtown
You can't ever do wrong with a Hilton, Holiday Inn or Hampton Inn. Most of the hotels go from $100 to $200 a night. Another option is looking for a vacation rental by owner to find a cabin near Ober Gatlinburg if you want a Winter mountain getaway.
Pro Tip: Looking to take a pet? Consider a cabin or vacation rental by owner for a seamless vacation to Ober Gatlinburg with your pet.
Is Ober Gatlinburg Ski Area Good for Beginners?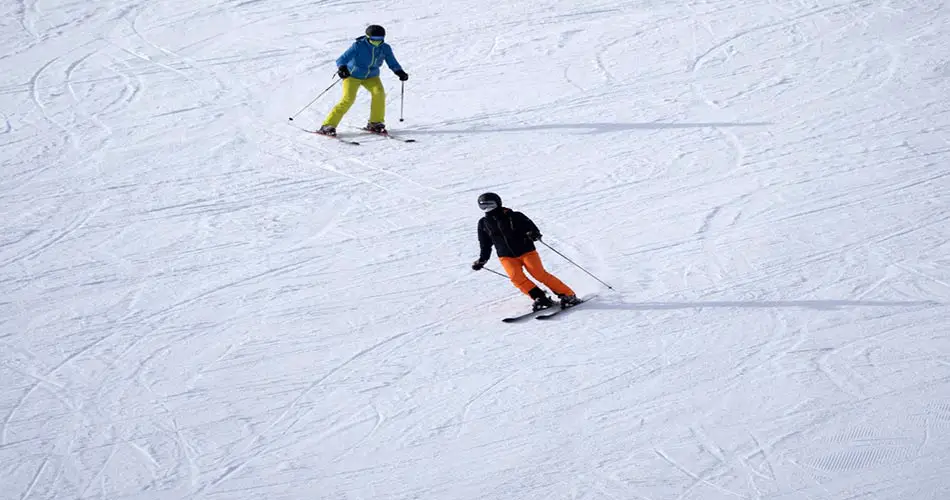 Ober Gatlinburg is a great resort for beginners because it brings skiing and snowboarding to Tennessee. Otherwise there wouldn't be a resort in Tennessee. The ski area has both a beginner area for new riders and a ski school that offers lessons. If it is your first time, take a lesson, rent some gear and you might find a new Winter sport you love!
Does Ober Gatlinburg Have Snowmaking?
Ober Gatlinburg makes their own snow. Once they can get the weather to comply, they begin blowing for their base. After that they put on a top layer of fresh packed powder. Tennessee can be a challenge but it has never stopped Ober Gatlinburg from blowing snow in the Winter.
The Best Time to Visit Ober Gatlinburg Ski Area
The best time to visit Ober Gatlinburg Ski Area is on Wednesdays or Thursdays. Beat the weekend crowd and get up into the Smoky Mountains during the week. If you want to make the most of the trails then also plan on going in late January. All trails are open which makes it the best time to visit for a ski trip.
Does Ober Gatlinburg Ski Area Have a Ski Shop?
Ski Mountain Outdoors is Ober Gatlinburg's resident ski shop. Left your mitts or goggles at home? They have them! Need a helmet, boots or bindings? You can find that too. Ski Mountain Outdoors even stocks headphones and gopro gear. The friendly shop staff has you covered for a great day on the mountain.  
Ober Gatlinburg Ski Area Terrain Park (OGFT)
OGFT is the proper term. Ober Gatlinburg Freestyle Terrain. If you are a freestyle rider, Ober Gatlinburg has some features for you. They put in a spread of rails, some boxes and a few jumps to challenge the park riders. The park also has a rail jam each year and a ladies night so be sure to tune up your skills.
Trails at Ober Gatlinburg – What to Know
While a lot of Ober Gatlinburg trails are moderate rated they have a few advanced and beginner trails too!  It isn't a mountain with a ton of trails but it will satisfy any rider in the Tennessee or North Carolina area in the Winter.
Other Winter Activities at Ober Gatlinburg
If all of that wasn't enough, Ober Gatlinburg has a mountain coaster, ice skating, ice bumper cars and snow tubing. Snow tubing often sells out on the weekends so we recommend buying tickets in advance online.  
The snow tubing hill at Ober Gatlinburg is 350 feet long and it drops 50 feet! That is like a 5 story building. Tickets are valid for 90 minutes and kids must be at least 3 years old to go tubing with adults.
Is There Summer Mountain Biking at Ober Gatlinburg ?
While there isn't Summer downhill mountain biking at Ober Gatlinburg,  they have activities all year around like mini golf, a rocking climbing wall, the aerial tram and even summer tubing. Ober Gatlinburg isn't just a Winter ski area but rather a year around family destination for fun.
Final Thoughts:
Ober Gatlinburg Ski Area is Tennessee's only ski area but it delivers with a great Winter experience. It is close to a lot of the major cities and a nice place for a Winter weekend vacation. If you are advanced or new to skiing and snowboarding, Ober Gatlinburg should be put on your list if you are in Tennessee this year!