Looking out east from Portland, Oregon you can find a ski resort unlike any other in the pacific northwest. Mount Hood stands towering over the city as the closest mountain to Portland. Except it's not quite a mountain but instead an active volcano. On top of this active volcano sits three unbelievable ski resorts wrapped up into one beautiful area called the Mount Hood Skibowl. 
First opening in 1928 as a single ski jump hill, the Mount Hood Skibowl grew in size from a jump hill to a tow rope powered by a dodge truck engine to the three area ski resort Oregonians know and love today.  This ski resort contains one of the largest night-skiing areas in North America, breathtaking mountaineer trails, and a full winter adventure park. 
Read on to find out everything you need to know before heading up to ski on an active volcano. 
Where in the World is Mount Hood in Oregon?
The Mount Hood Skibowl is located east of the city of Portland in Oregon. By car, you can drive to the Mount Hood Skibowl in about an hour and a half or travel roughly 68 miles (109 km) on US-26 East. If flying in from out of state the easiest way to go would be to fly into Portland International Airport then drive east until its glorious peak comes sliding into view.
The Basics of the Trails at Mount Hood Skibowl:
Mount Hood skibowl has one word to live by. Quality, quality, quality. From the more beginner east side to the high chutes and cliff drops, Mount Hood's trails are designed to show any skier or rider that the resort means business. At the resort, you can find beginner and advanced groomers to kick back and relax through your turns or deep, heavy powder stashes and tree-laden glade runs.  With almost a 1,000 acres, there are trails for every ability level.
Here's the breakdown by numbers: 
69 trails
36 night lit trails
7 lifts
Skiable Area: 960 Acres (3.8 Km2)
Base Elevation: 3,650 Feet (1,113 Meters)
Summit Elevation: 5,027 Feet (1,532 Meters)
Longest Run: 3 Miles (4.8 Km)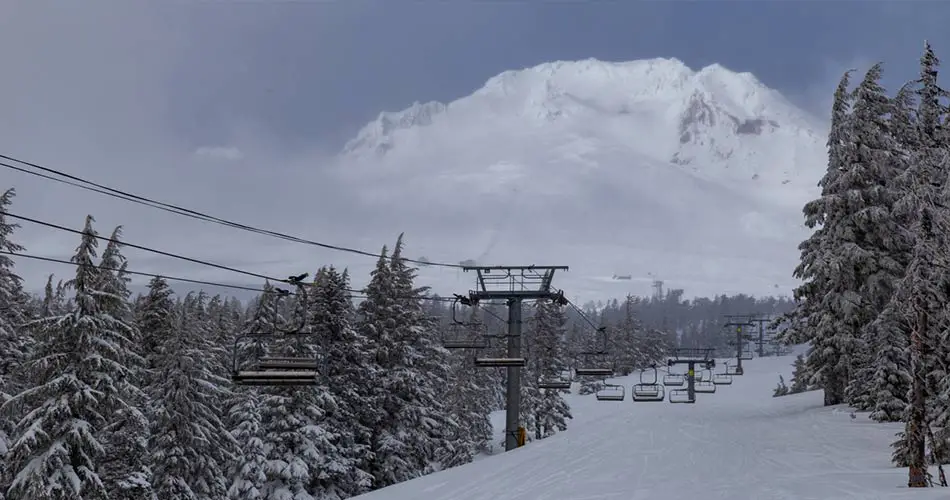 Places To Stay:
Within walking distance to the ski resort, there is the Lake Collins Resort. Lake Collins resort will have every style of lodging to suit almost every style of ski trip imaginable. From luxury lodgings to full family-sized chalets, Lake Collins will be one of the best options to unwind and rest . Once recharged you can head back up the skibowl to try out Mount Hood's world-class night skiing. If "walking distance" is simply too far for your skiing and riding needs, Mount Hood recently finished construction on their only ski-in, ski-out accommodation at the mid-mountain Timberline Lodge. 
What to Do for The Non-skiers and Riders:
No matter how much your heart wants to take another day craving up fresh lines, sometimes your legs are demanding you take a rest day. Other times a member of your group doesn't know how to ski or ride or maybe also wants to take a rest day. Thankfully at the Mount Hood Skibowl, you won't be forced to stay cooped up at the lodge all day.  The lodge is a great space to kick back, grab a coffee and relax.
Mount Hood Skibowl sports a truly massive tubing hill and adventure park. Take a day just sit back and rest while still flying down the snow in Mount Hood's custom-built snow tubes. If you're bringing the kids along on the trip they can also go to the kiddie snowmobile center while you go explore all the wonderful dining and drinking options that the Mount Hood Skibowl offers. 
North America's Largest Night-Skiing:
Mount Hood Skibowl's night-skiing is a sight to behold. As the largest night-skiing area in North America you can explore 36 trails under the stars and some floodlights all winter long. 
While most ski resorts close around 4 pm, Mount Hood flips on the lights and you can keep going until 10pm. Out of these 36 trails, the lower bowl is included to ensure you find every single powder stash out there. 
Is There Cross-Country Skiing?
There is Nordic skiing in the Mount Hood national forest and around Government Camp just outside Mount Hood Skibowl. However, the Nordic skiing trails aren't connected to the skibowl itself. Head over to the Mt Hood Meadows Nordic Center to get trail info and try out their 15 km (9.3 miles) of groomed trails. 
What Rentals or Gear Shops does Mount Hood Skibowl Offer?
Mount Hood Skibowl has you covered on both ends. They have an on-slope rental shop with everything you could ever need for the day or multiple days. However, if after a few days and you can feel in your bones that skiing or riding is for you, Mount Hood has it's own retail shop. The shop carries all the big-name brands and has almost everything you would need to get your own setup and be ready to hit the slopes before lunch.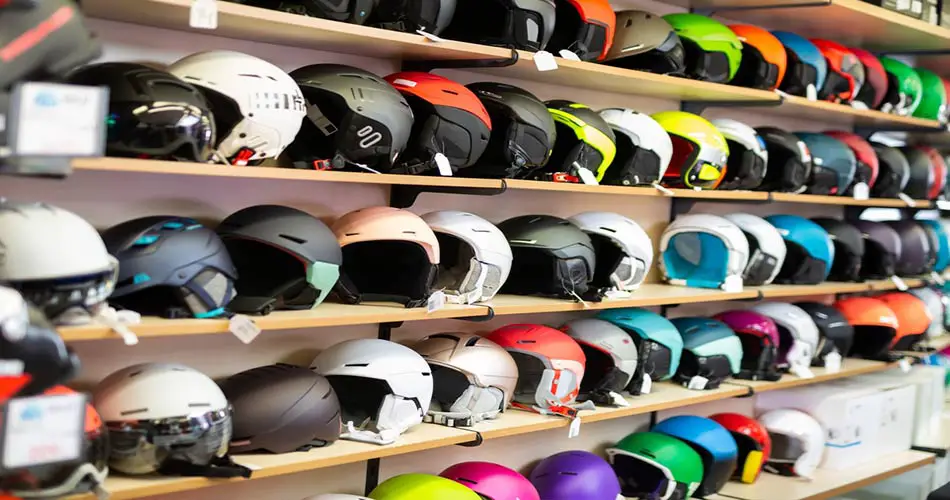 A Breakdown Of The Trails At Mount Hood Skibowl:
Mount Hood Skibowl has been open since the 1920s for a reason. The Skibowl's lower altitude help to fight the breathlessness you might feel at other resorts to keep you skiing or riding for longer. They offer a good mixture of beginner and advanced trails to keep everyone happy, challenged, and most importantly never feeling bored.
 You can find several easier trails on the lower slopes and powder filled bowls the higher you venture. For the more expert skiers and riders, it is possible to hike to the very peak and ski or ride down but should only be done under one's own research and risk. 
Here's how the trails are split by skill level: 
960 Acres are broken into 69 trails
20% Beginner
40% Intermediate
40% Advanced
Expert only bowl and pitches found on the top of Tom Dick Peak.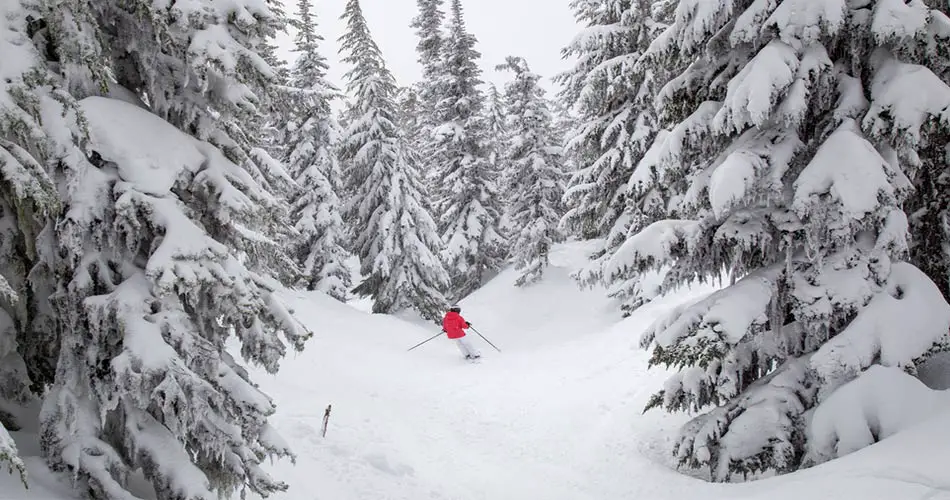 Mount Hood Skibowl's Snowmaking:
Mount Hood Skibowl sees an average of 300 inches (25 feet) of snow a year so it's rare that the Skibowl will need to use it's snow guns but the resort is connected to the local water supply just in case if it does.
Best time to go:
The best time to take a trip out to Mount Hood Skibowl can a tricky one to figure out. The best snowfall happens in mid-January but that also brings the most amount of people. On one hand, its lower elevation is great for the lungs but bad for snow.
On the other hand, more people have been making the trip out to Mount Hood in the summer months to enjoy mountain biking, weddings, camping, hiking, and other summer activities. The short answer on when the best time to go to Mount Hood deeply depends on what you plan on doing. 
Closing thoughts:
Mount Hood skibowl is packed full of history, oxygen, and enough trails to accommodate any and all ski levels. It is the closest to Portland to save you time on the drive up to mountains but the season is shorter than most other resorts of similar size. Whether it's summer or winter, Mount Hood Skibowl is a resort worth stopping by in. Even if it's just to brag that you skied or rode on an active volcano. 
Would you still go to Mount Hood knowing it's an active volcano? Let us know down in the comments!