Who doesn't want over 40 feet of natural snowfall each year? That is as much as a 4 story building. We'll that's the average at Grand Targhee Resort in Wyoming. With a season that runs from mid-November to mid-April, skiing and snowboarding doesn't get much better than Grand Targhee.
Read on to find out why you should spend some time on the trails of Grand Targhee this winter!
Highlights of Grand Targhee Resort in Alta, Wyoming
Some of the highlights and stats of Grand Targhee Ski Resort include –
97 trails
5 Lifts
2,270 feet of vertical
500 inches of annual snow
2,602 total acres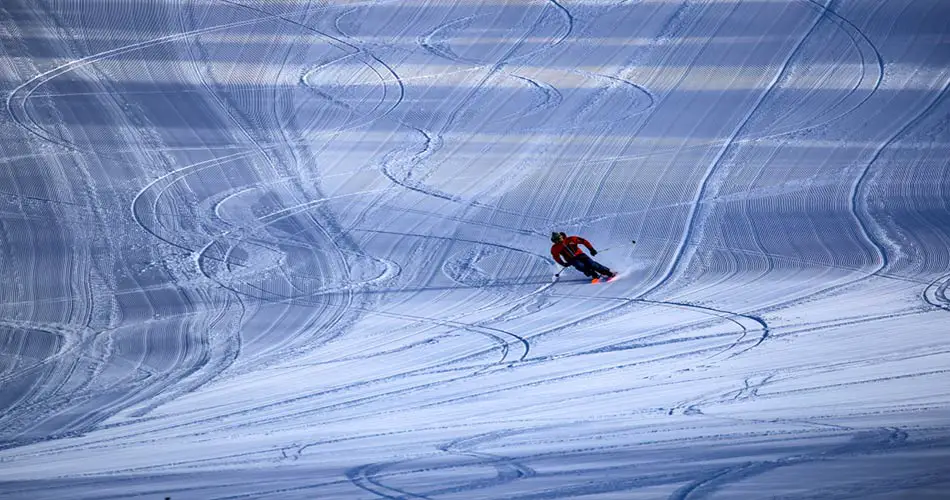 Where is Grand Targhee Resort?
Grand Targhee Resort is located in Alta, Wyoming. Alta is on the west side of the state not too far from the Jackson Hole Airport. You've probably heard a thing or two about Jackson Hole if you are a skier or snowboarder. Well, the thing to know about Grand Targhee is that it is still easy to get to but a lot less crowded of a resort. Here are some places within driving distance to Grand Targhee –
Jackson Hole, WY. – 1 hour and 30 minutes, 54 miles
Idaho Falls, ID – 1 hour and 36 minutes, 83 miles
Pocatello, ID – 2 hours and 20 minutes, 134 miles
Yellowstone National Park, WY – 3 hours, 125 miles
Rock Springs, WY – 4 hours, 220 miles
Need Grand Targhee Resort Directions? Map it from your place here.
What is Grand Targhee Ski Resort?
Grand Targhee is a big snow resort. They have had consistent snowfall all the way back to 1969 when it first was starting. The resort likes to keep a laid-back vibe and welcomes all levels of skiers and snowboarders. You won't get these west coast vibes at any east coast ski resort.
Lodging Near Grand Targhee Resort
If you want to find accommodations for Grand Targhee then you can either stay at the lodging onsite or camp as well.
Is the lodging onsite the most modern? Not in our eye but it is still a great place to stay on you want to be on the mountains in minutes. The Tower Suite is one of the best you can book right in the Grand Targhee Plaza
Alternatively you can bring your own RV, van or car to stay at the campground.
If neither of those impress you, look for a vacation rental by owner. They do fill up in the nearby area in the winter due to all the travelers coming in but you can often find something specific to your needs.
Finally, a quick shoutout to Cobblestone Hotel & Suites in Victor. You get a lot of bang for your buck with quality and it is only 30 minutes away from Grand Targhee. Rooms range from $115 to $180 a night.
Does Grand Targhee Resort Have Night Skiing?
Grand Targhee does not have night skiing. Just like many of the other large resorts, there is a staggered close starting at 3:30 pm in some areas and the latest being 4:00 pm in other areas.
The Best Time to Visit Grand Targhee Resort
The best time to visit Grand Targhee is from early January onwards. Trails are often 100%. On top of that the resort is so big that you don't need to worry about lift lines or crowded trails.
Does Grand Targhee Resort Have a Ski Shop?
Want some new bindings or a board? The Board Shop at Grand Targhee carries all the major brands. You can walk out the door with a full new kit. Make a visit to the Board Shop because their staff knows a lot and they can really help you if you are are the market for new gear.
Grand Targhee Resort Terrain Park
You'd expect a resort this big to have some good terrain parks. Well, you are in luck. The terrain parks at Grand Targhee don't disappoint. There are two to check out. The North Pole and Sweetwater both have something unique to offer and the features are mixed up over the season. From boxes to rails and big jumps, every freestyle rider will find their favorite feature.
Is Grand Targhee Resort Good for Beginners?
Grand Targhee Resort is a great place for beginners. Uncrowded trails, beginner areas and top notch lessons are three things that contribute. Yes, it is a huge mountain but as a beginner, you only need a little piece to learn on. There is plenty of beginner trails and more than you could use on your first few days.
Trails at Grand Targhee Resort – What to Know
So where should you spend your time at Grand Targhee? Head over to Shoshone lift if you are a beginner or getting back into the groove. Here you will find 26 trails all for beginners.
Once you master that, you can head up to Blackfoot to find a mix of intermediate and expert trails. Alternatively you can try the Dreamcatcher lift that services 33 trails and a mix of terrain.
Dreamcatcher and Sacajawea are both popular as the take you to the top of Fred's Mountain and Peaked Mountain.
Other Winter Activities at Grand Targhee Resort
Once you have gotten your fill from the trails at Grand Targhee, there are still some really special activities to explore. Grand Targhee offer cat skiing and boading, snowshoeing, fat biking and nordic skiing as just a few of their other activities.
Their cat skiing and boarding is an unbelievable experience where they take ten individuals in a snow cat out to glades and bowls.
Don't have a fat bike but always wanted to try? Teton Moutain Outfitters has on mountain rentals. Once you get your bike, youll have access to over seven miles of single track trails and 15km of the Nordic trails!
Is There Summer Mountain Biking at Grand Targhee Resort?
The summer is a full transformation of Grand Targhee. Downhill mountain biking, hiking and cross country biking get into full swing. Miles of trails are available to explore from hiking to biking. There is even a horseback trail at Grand Targhee and a disc golf course.
There is only one green downhill trail, so if you are new, it may be best to stick to cross country riding.
Final Thoughts:
Do you want an impressive landscape in the winter and summer? It all starts in the winter at Grand Targhee but carries over into the summer. They have some of the freshest powder you can count on at their trails. You have to see it to believe it.
While you are almost guaranteed a snow flurry while you are at Grand Targhee, you are also guaranteed fun!