Tucked away into the far northwest corner of Illinois, a state not known for hills, is Galena, Illinois, which just happens to be in one of the hilly areas of the Land of Lincoln due to its proximity to the Mississippi River. Chestnut Mountain Resort is nine miles south of town and less than half a mile off of the river itself. This beautiful area is popular year-round with vacationers who come to explore its quaint downtown shops and restaurants, often staying at historic inns or bed and breakfast properties.
Chestnut Mountain Resort is unique in the Midwest for having its own hotel rooms to accommodate skiers. This makes it possible for skiers to stay at the hill and maximize their time on the slopes.
How Far Away is Chestnut Mountain Ski Resort?
Dubuque, Iowa: 25 miles/37 minutes
Davenport, Iowa/Moline, Illinois: 83 miles/ 1 hour 40 minutes
Milwaukee: 160 miles/2 hours 55 minutes
Madison: 103 miles/1 hour 55 minutes
Chestnut Mountain Ski Resort Stats
Okay, so it's not quite a mountain, but Chestnut Mountain Resort's vertical drop is a healthy 475 feet from top to bottom.
There's no shortage of challenges here:
20 total runs up to 3,500 feet in length
Four beginner slopes plus Powder Pup Park for the youngsters; 11 intermediate runs; three advanced slopes; two freestyle terrain runs
Lifts: two quad chairs, four triple chairs, two carpet conveyor belts including one on the Bunny Hill and one surface lift
Have a live look from their webcam.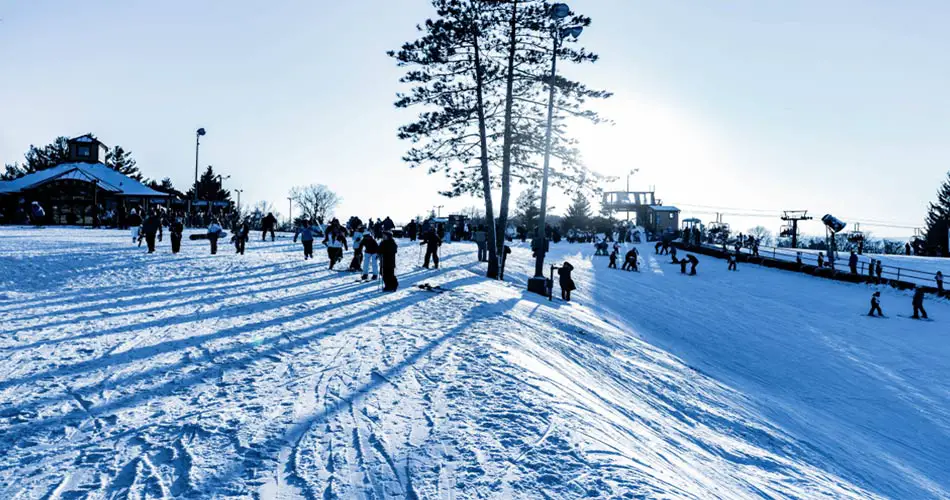 Is Lodging Available at Chestnut Mountain Resort?
Galena is a historic, lovely town in Northwest Illinois and one of the few parts of the state that is also hilly due to the nearby Mississippi River. Due to its popularity as a year-round vacation spot, there are many options of where to stay. However, to be closest to the slopes your clear choice is to stay where you play, and that means booking one of the 100 slope-side rooms at the Chestnut Mountain Resort. These comfortable accommodations include wi-fi, mini fridge, microwave, access to the indoor pool and restaurant, and all have great views of the area. They even have an electric car charging station for all the EVs coming to the mountain.
Galena does have several other motels/hotels in town, but it is best known for the wonderful B&B's close to the quaint center of town. A nice assortment of local shops and dining spots are in town, too.
Key Takeaway: Should we stay at the resort or a more intimate place in town? If you're looking for convenience, a comfortable room with nice amenities and to maximize your time skiing or boarding, then staying at Chestnut Mountain Resort is the way to go. If your visit is a couples getaway weekend (or midweek escape) with a romantic twist to it, check out the many inns, B&B's and VRBO properties that Galena is famous for. You'll be glad you did.
Does Chestnut Mountain Resort Have a Restaurant?
The Summit & Sunset Grille is open all day and into the evening serving breakfast and lunch/dinner. Again, with the hotel at the ski hill, everything is close by. Hours, subject to change, are 8 a.m. – 9 p.m. A cozy, full bar is at the restaurant.
Is There Night Skiing at Chestnut Mountain Resort?
You're in luck! When the sun goes down the skiing continues here. The slopes are night-lit so you don't have to pack it in early. Nighttime skiing continues until 9 p.m. and sometimes a bit later during peak weekends.
When's the Best Time to Visit Chestnut Mountain Resort?
As is always the case, to avoid possible crowds simply avoid the weekend, and holiday weekends especially. Of course, not everyone can travel midweek, but if you can you'll benefit from less traffic to/from Galena, reduced price lift tickets and rental equipment (must be booked ONLINE!), as well as lower prices to stay at the resort or other area accommodations. Dining spots will also be less crowded.
Season Passes
Chestnut Mountain Resort skiing comes with some great perks. Be sure to purchase lift tickets and rentals ONLINE and in advance in order to receive your guaranteed access to the slopes. Both single day and season passes are available online, and you'll earn healthy savings by not waiting until your arrival to buy them. You'll also avoid the disappointment of passes being sold out that day.
As an added bonus Chestnut's Premier & Year-round Pass will get you two FREE days of skiing at both Lutsen Mountains in Minnesota and Granite Peak in Wisconsin. Be sure to check restricted dates, if applicable, before making your reservations. Granite Peak offers additional days of half-price lift tickets for those desiring more than two days of skiing.
Does Chestnut Resort Rent Ski & Boarding Equipment?
What's a ski resort without rental equipment? Of course, you can rent your equipment here, and as mentioned before, ONLINE is the way to go. You can choose from:
Lift ticket only
Lift ticket and rental equipment
Lift ticket, rental equipment + helmet
Lift ticket, rental equipment + lesson
Lift ticket, rental equipment, helmet + lesson
Is There a Terrain Park at Chestnut Mountain Resort?
Farside is the name of the 7-acre terrain park here. The configuration changes regularly so if you're a frequent visitor you may just find a different layout. Chestnut also offers two freestyle terrain runs with challenges along the way. Check out the latest details at their website here.
I'm New to Skiing. Are Lessons Offered Here?
Skiing lessons are available for children and adults, private or group based. You can even add a lesson to your purchase when you are online reserving your lift ticket, rental equipment, and optional helmet (highly recommended).
Does Chestnut Have a Tubing Hill?
No, Chestnut Ski Resort does not offer tubing.
Do They Make Snow at Chestnut Mountain?
They sure do. Chestnut Mountain Resort snow making capabilities are in place and utilized frequently to ensure a complete downhill experience for everyone, whether or not Mother Nature has cooperated by providing natural snow.
Some Closing Thoughts
Chestnut Mountain Resort has been the most popular ski hill for Chicago and Milwaukee area winter enthusiasts for a long time. While not quite a 'mountain', you will have a thoroughly enjoyable getaway here and be challenged by some of the more difficult runs.