Virginia is for lovers but it is also for lovers of the fresh snow. Bryce Resort is one of Virginia's places to ski and snowboard in the winter. While Bryce is a four seasons resort, we surely are biased and believe winter is their best season.
Read on to discover everything you need to know about Bryce's snow operations, trails and ski area.
Highlights of Bryce Resort Ski Area in Virginia
Virginia has some competition for choices of ski resorts but Bryce sets itself out. Some of the highlights include- 
8 trails
Terrain Park
Night skiing
Where is Bryce Located?
Bryce is located in Basye, Virginia. It makes it one of the closest places to go skiing or snowboarding near Washington D.C. In addition it services the entire D.C., Maryland and Virginia area, known as the DMV. Even though Bryce Resort is located in Western Maryland, it is super easy to get to in one day's drive. Here are a few locations near by – 
Front Royal, VA – 1 hour, 49 miles
Winchester, VA – 1 hour, 54 miles
Washington, D.C. – 2 hours, 116 miles
Richmond – 2 hours and 36 minutes, 166 miles
Charlottesville, Virginia 1 hour and 45 minutes, 78 miles
Need Bryce Resort Ski Area Directions? Map it from your place here.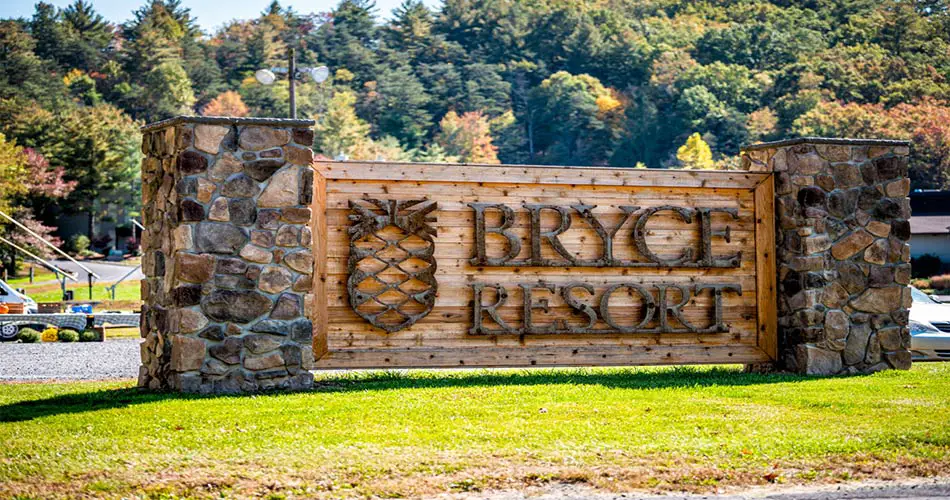 What is Bryce Resort?
Bryce is – four season resort that makes a great getaway anytime of the year. You can fly in for skiing, golf or even dinner. Their dinner on the mountain in the summertime is almost unforgettable but so is their skiing and snowboard trails in the winter.
Lodging Near Bryce Resort
There are really two ways to stay near Bryce Resort. You can opt for a local hotel or go with a vacation rental by owner/ agency. Woodstock will have the closest chain hotels nearby which include a Hampton Inn, Holiday Inn Express and a Comfort Inn.
If you are looking for something closer to the resort, Bryce Hill Condos is a great option and so is Senedo Springs. Senedo Springs are typically better for larger groups since they offer duplex in nearby Basye. Lastly you might want to consider Bryce Mountain Escapes which is right in Bryce Resort. You'll maximize your time on the trails the closer you stay!
Pro Tip: Looking to take a pet? Consider a cabin or vacation rental by owner for a seamless vacation to Bryce Resort with your pet.
Does Bryce Ski Area Have Night Skiing?
Most of Bryce is open for night skiing from Wednesday through the weekend. Most of the trails are lit for night skiing and snowboarding but not all trails. With that being said, there is plenty to during the evening at Bryce.
Does Bryce Resort Have Snowmaking?
Bryce Resort has a staff of pros who are excellent at snowmaking as soon as the weather conditions are right. They get the snow guns on as soon as the weather permits.
The Best Time to Visit Bryce Resort The best time to visit Bryce Resort Ski Area is in the mornings. Take advantage of the freshly groomed trails and fresh blown powder from the night before. If you really want best time than go during the week in the morning. It will be less crowded and you can even beat some of the rental crowd out to the trails if you show up with your own gear.
Does Bryce Resort Have a Ski Shop?
Bryce Resort has a ski shop with all the latest gear. They carry Ride snowboards and boots along with Salomon boots and skis. The ski shop also stocks helmets, googles, mitts and other warm clothing. The shop also does a trade-in program if you got your kids gear from the Bryce ski shop.
Bryce's Terrain Park
Are you a freestyle rider? If so, you are going to want to head over to Bryce's Thunder Jug Terrain Park.  While it is geared more towards beginners and intermediate riders, experts can have some fun too. You aren't going to find any 30 footers to launch off of like in Pennsylvania but there are some nice boxes and rails usually to hit.
Is Bryce Ski Area Good for Beginners?
Bryce Resort is a pretty good resort for beginners. Anyone who has learned on the Bunny Trail or Little Nip can vouch for that at Bryce. In addition they have a bunch of motivated instructors who can help your riding if it is your 1st or 10th time riding.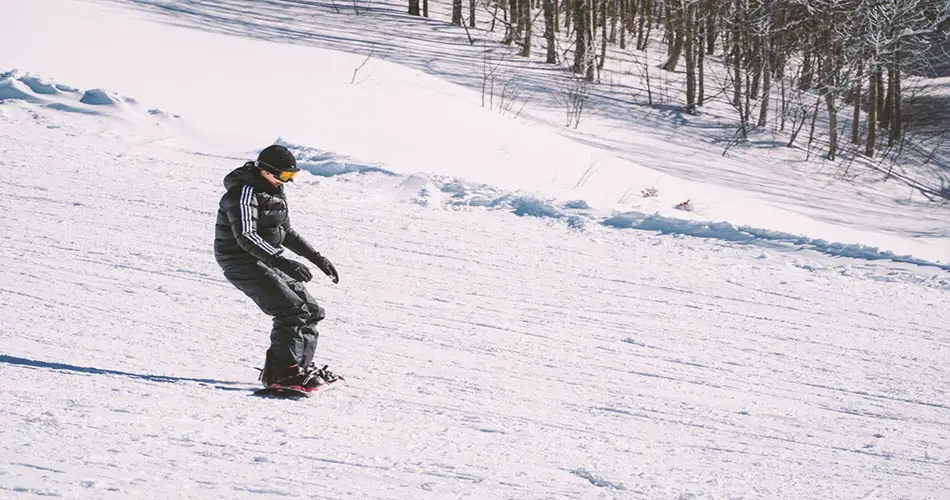 Trails at Bryce Ski Area – What to Know
While there isn't a ton of trails at Bryce, they always will manage to put a smile on your face. Revenuer's Run is a crowd favorite along with Bootlegger. Both at intermediates so they aren't recommended for first timers on the slopes. First timers should stick to the Bunny but often they can progress to Redeye in their first or second session.
Other Winter Activities at Bryce Resort
Looking to mix up your activities outside of skiing and snowboarding? Bryce also offers snow tubing and ice skating in the winter too! If you are looking to an uncrowded ice skating rink, Bryce generally has it. 
Tubing on the other hand can get crowded and sell out fast. ONLY 40 tickets are sold for each 90 minute session. The 900 ft snow tubing lanes at Bryce are something you shouldn't miss!
Is There Summer Mountain Biking at Bryce Resort?
Each year, Bryce is adding new trails. They are serious about downhill Mountain biking. New riders can even take lessons or a camp. If you are coming in for the day, then the day pass is the way to go. The Bryce Bike Park is lift assisted downhill riding. The chairlifts help the riders get max time out on the bike park.
Key Takeaway: Bryce isn't just a place for the winter or the summer, they have exciting things to do at the resort, year around.
Final Thoughts:
Bryce is a unique place in Virginia. Not only can you visit year around for something to do but they offer an airport for small planes to fly in. It is pretty cool to see people flying in for skiing or to grab something to eat.
Experience the beauty of Virginia and Bryce Resort first hand from Bryce's trails this winter. Whether you are a skier or snowboarder, we hope to see you on the slopes!