Another one of Michigan's high trail count ski areas lies at the tip of the lower peninsula in Michigan. 60 trails to be exact! You can put together two of the smaller ski resorts in the state and still not have 60 trails, that is why Boyne Mountain Resort is special.
Read on about Boyne Mountain and you'll be in a good spot to head up to the mountain this winter.
Highlights of Boyne Mountain in Michigan
Do you live and breathe the ski resort stats? Well here are some stats on Boyne ski area that will get you excited.
60 trails
12 lifts
415 skiable acres
500 feet of vertical drop
Where is Boyne Mountain Resort Located?
Boyne Mountain is located in Boyne Falls, Michigan. It sits just to the right of Lake Michigan in the lower peninsula and just below the Gaylord State Forest. If you plan to drive to Boyne Mountain, here are some estimated times from nearby places.
Traverse City, MI – 1 hour and 15 minutes, 57 miles
Grand Rapids, MI – 2 hours and 40 minutes, 169 miles
Saginaw, MI – 2 hours and 20 minutes, 154 miles
Detroit, MI – 3 hours and 40 minutes, 252 miles
Chicago, IL – 5 hours and 20 minutes, 347 miles
Need Boyne Mountain Directions? Map it from your place here.
What is Boyne Mountain Ski Area?
Boyne Mountain is almost as good as it gets when it comes to Michigan skiing and snowboarding. People know Boyne for being a mountain to learn, a family mountain and a great winter vacation spot. Boyne is a mountain with trails of all levels.
Lodging Near Boyne
It isn't hard to find lodging at Boyne ski area. They have a bunch of options from smaller places to stay for couples, up to large group accommodations.
A few of the options include –
Chalet Edelweiss
The Mountain Grand Lodge and Spa
Clock Tower Lodge
Boynehof
Deer Lake Villas
Mountain Cabins
When you pick your lodging at Boyne Mountain Resort, consider if you want to be on the mountain or in the center of the action. The Clock Tower Lodge is a good choice if you want to be in the action of the central village.
For a more secluded experience, be sure to check out the Mountain Cabins. You won't be bothered by neighbors and will have a true ski in/out experience at Boyne.
Guests that want a luxurious stay should consider the Chalet Edelweiss. If you can get your hands on one of the 35 rooms, you'll be staying in ultimate comfort.
Key Takeaway: There are so many lodging options at Boyne that you shouldn't have a problem finding a room. Take your time and see which one suits you best.
Night Skiing at Boyne Mountain Resort
So is there night skiing at Boyne? You bet! There is night skiing on select dates at Boyne Mountain and Wednesdays through Saturdays.
The Best Time to Visit Boyne Mountain
Getting in a little Monday or Tuesday morning session at Boyne Mountain can be one of the most gratifying visits. Fresh snow that is freshly groomed. Combine that with low lift lines and you'll be smiling all day on the trails.
Does Boyne Mountain Have a Ski Shop?
There are a lot of great places to shop at Boyne. Not only do they have a Burton Store but also Boyne Country Sports. Between the two, you'll be able to stock up on new apparel, gear and even grab a souvenir. In addition, North Face also runs at shop at Boyne Mountain.
Were just saying, you won't be short on choices.
Boyne Mountain Terrain Park
The slopes are full of terrain parks at Boyne!
Ramshead
Fritz's Park
Transfer Station
Chmielew Ski & Boarder Cross
Aurora Park
Which one will you choose? Well, Ramhead is a good choice if you like the bigger features. Transfer Station is for those freestylers that like more natural features. Fritz's is for all you jib and jump junkies. You really ought to ride through each one because no two are alike.
Is Boyne Mountain Good for Beginners?
A better question is, is Boyne one of the best beginner ski resorts in Michigan? It is. Sure, it is a large resort but as a beginner, you'll mainly stick to the beginner area (Easy Street) until you progress up trails like Deer Run.
Keep in mind though that some of the best beginner runs are on the Alpine lift once you build up the skills to ride from the top of the mountain.
Trails at Boyne Mountain – What to Know
When is the last time you were at a resort with over 50 trails? It can take some time to ride all the trails and explore at Boyne. That's why we will give you the insider tip. These are a few of the must ride trails at Boyne Mountain Resort.
Beginner
Intermediate
Mr. Moll
North Boyne
Thunder
Advanced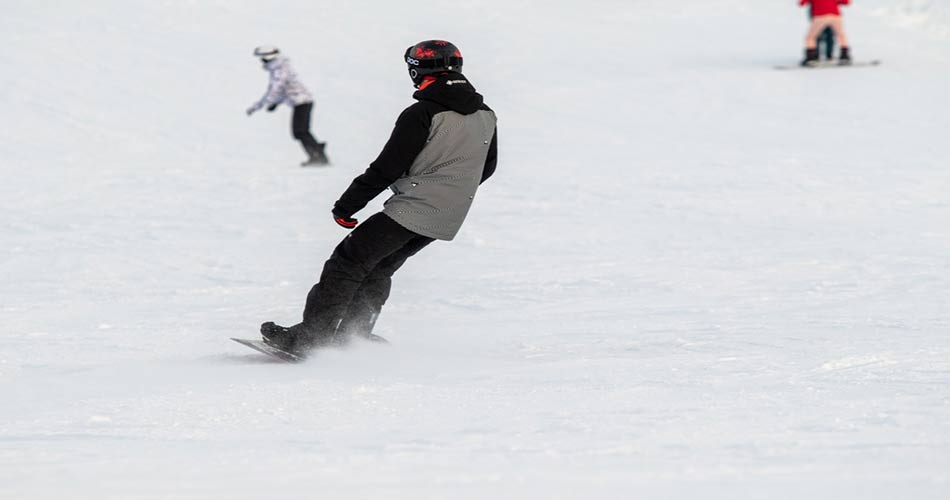 Other Winter Activities at Boyne Ski Area
There is more activities off the slopes than on the slopes. Boyne has low to no skill level activities such as tubing, to more adventurous like Sno-Go Biking. Here are some of the other things you can do when you visit Boyne-
Fat biking
Ice skating
Horseback riding
Cross country skiing
Snowshoeing
Oh yea, there one more thing that is important to mention. Boyne has an indoor waterpark! Avalanche Bay is open all winter long. There might be snow outside but you can change into your swim trunks inside. There are 4 pools and 7 waterslides for both kids and adults to enjoy.
Summers at Boyne Mountain
When the seasons change Boyne keeps the fun going with their golf courses. Pack away your skis and boards in the summer and get out your clubs. If you are an avid golfer than you might want to head back in the summer, book a room and enjoy a golf getaway at Boyne Mountain.
Boyne Mountain – Final Thoughts:
A decent winter vacation is within reach. Good snow, nice rooms and friendly people. What more can you ask for… There is a lot to explore at Boyne if you have never been and always something new to see, even if you are a regular.
Wax up your gear and we'll catch you on the slopes.