A lot of people have Yosemite National Park on their bucket list but don't know that Yosemite is worth visiting in the winter. Skiers, snowboarders and tubers are in for a treat at Badger Pass Ski Area. The ski area is one of the few inside a national park. We will cover everything you need to know before visiting Yosemite National Park in the winter including the Badger Pass Lodging, the Badger Pass Ski Resort and even give you a look at the Badger Pass webcam!
Getting To Badger Pass Ski Area
You probably already have looked up how to get to Yosemite but if you want to Badger Pass then you will need to put in, "7082 Glacier Point Rd, Yosemite National Park, CA 95389" in your GPS. Once you hit Glacier Point road, you can't miss the signs for Badger Pass.
You can also map directions to Badger Pass here.
Some places drivable to Badger pass include –
Sacramento, CA: 3 and a half hours, 175 miles
Modesto, CA: 3 hours, 115 miles
Fresno, CA: 2 hours, 85 miles
Where to Stay: Badger Pass Lodging
While many people don't stay overnight for Badger Pass skiing and snowboarding, they do stay for Yosemite. Immediately you'll notice there aren't many hotels near Badger Pass.
Badger Pass Ski Area lodging consists of just that, mainly lodges aside from the famous Ahwahnee hotel. Here are some of the Badger Pass lodging options:
Evergreen Lodge at Yosemite
Rush Creek Lodge and Spa
The Ahwahnee
Yosemite View Lodge
If you are skiing at Badger Pass, you can really make a day trip out of it but if you want to explore the national park then it is worth checking out some lodging.
Badger Pass Ski Area Highlights
What is a ski area without some stats? Here is what Badger Pass Ski Area has to offer:
10 Trails
5 Lifts
Terrain park
Vertical 800 ft
Peak elevation 8,000 ft
Base elevation 7,200 ft
Winter Activities at Yosemite: Ski, Snowboard & Snow Tubing
Badger Pass is great for the family. There is truly an activity for everyone. Dad can hit the Badger Pass nordic center while mom stays in the Badger Pass day lodge and the kids can visit the tubing hill. Let's take a look at some of the winter activities in detail.
Downhill Skiing & Snowboarding
The most popular winter activity at Badger Pass is downhill skiing and snowboarding. The trails open from mid-December to mid-March, conditions permitting.
You can bring your own gear or rent at the ski area if you are in need of gear. There are even lessons available if you or the family is new to skiing or snowboarding. Lift tickets can be purchased both online or in-person at Badger Pass.
Cross-Country Skiing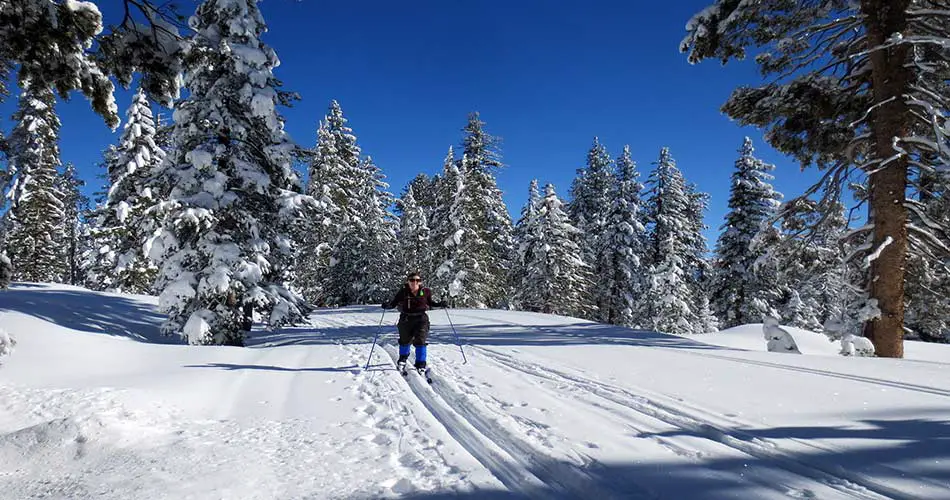 For a less guided experience, you can check out some of the 90 miles of cross-country trails to ski on at Yosemite. 25 of the 90 miles are groomed and the rest are not. All of the 90 miles of cross-country trails are marked.
Want to ski the cross-country trails at Badger Pass and don't have your own gear? No problem. There are skis, boots and poles for rent, both for adults and kids.
Cross-country skiing at Badger Pass is one of the best ways to experience Yosemite outside without the crowds. Unlike the downhill skiing and snowboarding trails, you'll have a hard time to be on a very crowded trail.
The Trails at Badger Pass
With 10 total runs at Badger Pass ski area, they are broken out as follows:
35% beginner
50% intermediate
15% advanced
For the latest view of the crowds and conditions, make sure you keep an eye on the Badger Pass Ski Area webcam.
Backcountry Ski Tours
One of the most memorable experiences you can have at Badger Pass is to get off the downhill trails and go on a backcountry ski tour. The tours are led by expert guides and take you on some of the most scenic trails in the park.
There are even one and two-night backcountry skiing trips at Yosemite. Make sure you have a look at these overnight trips offered if you are interested in seeing Yosemite. It doesn't cost much more than a hotel to book an overnight backcountry ski trip at Yosemite and you will make incredible memories!
If you want to experience the beauty of Yosemite National Park in winter then get up close with nature in one of their backcountry tours. By far, it is one of the best things to do at Badger Pass and not enough people take advantage of it.
Snow Tubing at Badger Pass
Badger Pass really wouldn't be complete without snow tubing and they have it! The session is 2 hours long and the whole family can join in if the kids are at least 4 years old and 42″ tall. All the tubes are provided at Badger Pass, all you need to bring is warm clothes and be ready for fun.
Fly down the exciting snow tubing slopes at Badger Pass and it will surely leave a smile on your face. You might not even want to visit the downhill trails after tubing.
Badger Pass Ski Area Webcam: Keep an Eye on the Trails
With no night skiing, Badger Pass can see its share of people on the slopes in the winter. The best way to keep an eye on the crowds is with the Badger Pass webcam. You can use the link above to check out the Badger Pass ski area webcam.
If you can, try to visit as soon as Badger Pass opens and get in some runs before the trails fill up. Otherwise, you will have a lot more space if you stick to cross-country skiing.
Final Thoughts on Badger Pass
Is Badger Pass ski area one of the largest in the state? Definitely not but there is a lot to see and explore. Plus, it's not often you can say you are skiing in a national park, let alone Yosemite National Park.
Whether you fancy downhill skiing or snowboarding, cross-country skiing or snow tubing, Badger Pass has it all. Make a memorable trip to Yosemite in the winter by visiting Badger Pass Ski Area.