Arizona, you probably think of hot deserts and water regulations. Arizona Snowbowl is just the opposite. With a base at 9,200 feet, they can't help but get snow at that altitude. The Snowbowl is at the tallest point in the state. Get ready to drive up if you want to go skiing or snowboarding in Arizona. A drive that is totally worth it!
Read on to discover why you should visit Snowbowl this winter and everything you need to know.
Highlights of Arizona Snowbowl in Flagstaff
Some of the highlights and stats of Snowbowl Ski Resort include – 
55 trails
8 lifts
777 skiable acres
2,800 feet of vertical
14 Lifts
260 inches of average snow ( over 21 feet!)
Where is Arizona Snowbowl Located?
Arizona Snowbowl is located in Flagstaff, Arizona. More specifically on the west side of Mount Humphreys. The peaks are unmistakable once you get out there. At less than 30 minutes from Flagstaff, you can bet this ski area is popular.  It is so popular that the public transit bus called the Mountain Express provides free shuttle service between the ski area and downtown Flagstaff. During peak season, the bus runs on weekends.
Flagstaff, AZ. – 30 minutes, 15 miles
Phoenix, AZ – 2 hours and 40 minutes, 160 miles 
Las Vegas, NV – 4 hours and 20 minutes, 270 miles 
Tucson, AZ – 4 hours and 15 minutes, 270 miles
Prescott, AZ – 2 hours and 10 minutes, 110 miles 
Need Arizona Snowbowl Directions? Map it from your place here.
If it seems far, just remember, the drive is worth it. Plus it is scenic too so take it all in!
What is Arizona Snowbowl?
The Snowbowl is one of the most popular ski area's in all of Arizona and it's not hard to see why. In a state with a lot of deserts, it's surprising to many people outside of Arizona that there is even skiing. Snowbowl caters to the locals of Flagstaff and Phoenix but often people make their way down from as far as Las Vegas for some skiing and snowboarding. It is highly regarded as one of the best ski areas near Vegas.
Lodging Near Arizona Snowbowl
Can you really beat staying on site at Snowbowl? Sure, it is a little more expensive than a hotel back in Flagstaff but the experience is awesome.
The basecamp at Snowbowl has 18 cabins, 6 hotel-style rooms, a suite and a studio. If you want to stay at Snowbowl then you need to book in advance. The rooms and cabins do fill up quickly.
So the cabins and rooms are booked at Arizona Snowbowl… What is the next best lodging for Snowbowl? Back in Flagstaff, you have multiple hotels to choose from that are less than 20 minutes away. If you shop around, you can get rooms from $90 to $175 a night. Here are some of the more popular hotels to stay in Flagstaff.
DoubleTree by Hilton Hotel
Embassy Suites by Hilton
La Quinta Inn & Suites
SpringHill Suites by Marriott
Hampton Inn & Suites
That is just a few but there are so many hotels in Flagstaff to choose from. You won't have a problem finding a place. There are also some campgrounds near Snowbowl in Flagstaff if that is your type of thing.
Lastly, if you insist on staying up in the mountains, have a look for a vacation rental by owner.  There are some really cool cabins for larger groups and that even allow pets. Just make sure you look at all your options because there is a lot for Snowbowl.
Does Arizona Snowbowl Have Night Skiing?
Unfortunately, Arizona Snowbowl is only open till the afternoons. There is no night skiing at the ski area. Get there when they open and you'll be tired in the afternoon anyway.
Does The Resort Have Snowmaking?
You wouldn't think Snowbowl needs snowmaking since they receive on average 21 feet of snow a year but nonetheless, Snowbowl is prepared. They can cover 65% of the ski area with their snowmaking equipment. 
The Best Time to Visit Arizona Snowbowl
The best time to visit the mountain is during the week. If you check the webcams then you can usually see how crowded it is. The weekends tend to bring in more people from out of the area. 
Another tip is that if you can ride trails like the single and double blacks, it will be less crowded as well.
Does The Snowbowl Have a Ski Shop?
Arizona Snowbowl has two places if you want to get some shopping in. The Agassiz Lodge Retail store is where you need to head if you want a souvenir. They have all your Snowbowl logo'd gear.
Your other choice is the Hart Prairie Sport shop. Need a new board, skis or goggles? They have it. If you can think of a high end ski or snowboard brand, they will have it in stock. Hart Prairie is open 7 days a week in the winter season so you have no excuse not to stop by if you are at Snowbowl.
Terrain Parks – What to Know
Are you someone who wants to ride the parks all day? A true freestyler? Round up Rail Garden, Sunset Terrain Park and Hart Prairie Start Park are all at your disposal at Snowbowl.
You'll find the newer park riders at Hart Prairie Start Park. Join em, it is a welcoming space for first-timers.
If parks aren't something new to you, step it up to the rail garden. The rails are generally small to medium but provide a lot of variety. 
Lastly, the big rider hit Sunset Terrain park. Be warned, it is for experts and pros only. Sunset Terrain Part at Arizona Snowbowl is where the big competitions are held during the winter season.
Is Arizona Snowbowl Good for Beginners?
For first-time riders, Arizona Snowbowl can be a bit intimidating but if you take a lesson, you'll be just fine. You don't need to bring any gear to learn aside from your snow clothes. Just rent, enroll in a daily lesson and you'll start building confidence on the slopes at Arizona Snowbowl.
Other Winter Activities at Arizona Snowbowl 
What else is there to do at Arizona Snowbowl? Well, have you ridden the scenic gondola and looked out all the way to the Grand Canyon?  If you haven't done that, you ought to put it on your list.
Once that is checked off, try ski biking. You'll have to take a SnoGo Tour before fully renting out a ski bike but the tour itself is a blast!
Trails at Arizona Snowbowl – What to Know 
Can you ride all 55 trails at Arizona Snowbowl in one day? Probably not! You better plan for more than one day if you want to see all the terrain. Even the longest run at 2 miles is going to take you a bit of time to get down. A break out of the runs is as follows – 
22% Beginner
43% Intermediate
22% Advanced
13% Expert
Some of the trails will leave your legs aching but that is part of the fun, right? Check out the Arizona Snowbowl webcams for view of the trails before you visit.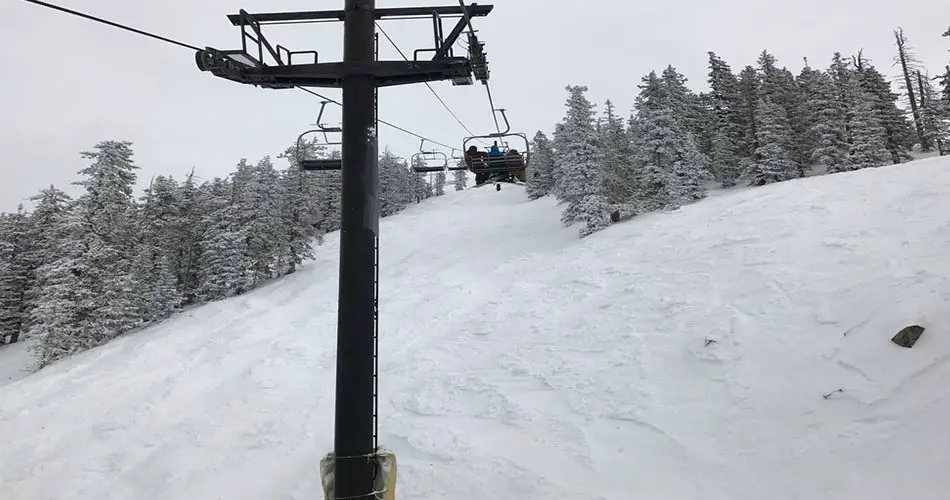 Is There Summer Mountain Biking at Arizona Snowbowl?
You'd think Arizona Snowbowl has mountain biking trails. They have the perfect set up. Unfortunately, they don't have mountain biking trails. You'll have to head over to the Coconino Forest to hop on some trails in the summer.
Final Thoughts:
You can't visit Arizona in the winter without visiting Arizona Snowbowl. It is the place for any avid skier or snowboarder. With an abundance of slopes, this is the resort you should be visiting in Arizona. Again, just remember this is the state with all those deserts we are talking about. 
See you on the trails.