Appalachian Ski Mountain is one of less than 10 ski areas in the state of North Carolina. So why should you choose this one and what is so special? It is the only ski mountain around that has select night of skiing and snowboarding until midnight! There is nothing better than the feeling of having a trail or lift all to yourself at night.
Read on to discover some other things you need to know when visiting Appalachian Ski Mountain in Blowing Rock, North Carolina.
Highlights of Appalachian Ski Mountain in North Carolina
We already gave you one cool fact. Here are some more highlights about the ski mountain –
12 trails
365 foot vertical drop
Fully lit night skiing
3 terrain parks
4,000 foot peak elevation
Where is Appalachian Ski Mountain Located?
Appalachian Ski Mountain is located in Blowing Rock, North Carolina. Blowing Rock is closer to the Virginia border than to Charlotte or Raleigh but is driving distance to just above everywhere in the state. Here are some areas nearby- 
Charlotte, NC – 1 hour and 45 minutes, 100 miles
High Point, NC – 1 hour and 45 minutes, 110 miles 
Greensboro, NC – 2 hours, 115 miles 
Raleigh, NC – 3 hours, 195 miles
Roanoke, VA – 3 hours, 175 miles
Pigeon Forge, TN – 3 hours, 155 miles
Need Appalachian Ski Mountain Directions? Map it from your place here.
What is Appalachian Ski Area?
Appalachian Ski Area is the second oldest ski area in North Carolina. It has been giving families winter fun for years. Over it's time, it has become a popular destination for beginners to learn skiing and snowboarding. It is a great place to learn and ride for young children, college kids and even adults.
Lodging Near Appalachian Ski Mountain
Appalachian Ski Mountain understands you may be driving a few hours. They have four chalets that are for rent on Airbnb. All of them are no further than a mile from the ski area. The chalets are pretty large so they are best suited for a group of skiers or borders. 
The ski mountain also has the space for 6 RVs or motorhomes in the large parking lot. If you have your own RV, that is one of the cheapest ways to stay at Appalachian Ski Mtn.
If hotels are more you style then there is quite a few choices in Boone. All of them are names you are probably familiar with. Here is a list-
TownePlace Suites by Marriott
Holiday Inn
Fairfield Inn & Suites
Boone is less than 10 minutes away so it is very convenient to book a hotel for Appalachian Ski Mtn.
Does Appalachian Ski Mountain Have Night Skiing?
The mountain has the best night skiing in North Carolina. In additional to the 5pm to 10pm night skiing on Thursdays to Sundays, the ski area offers a midnight blast session. Midnight blast is skiing and snowboarding till midnight. It runs Fridays, Saturdays and holidays during the season.
The Best Time to Visit the Ski Area
The best time to visit mountain is the midnight blast sessions on a Saturday night. Most people have already done the Friday session so you'll see even less people on a Saturday night. There isn't a lot of ski areas in general that let you ski till midnight so it is something to take advantage of.
Does the Mountain Have a Ski Shop?
In need of new gear for the trails? Try the demo skis at the Alpine ski shop at Appalachian Mountain. The shop is even open till midnight on nights when there is midnight blast.
The shop stocks both skis and snowboards, as well as cloths, boots and bindings. If you showed up to Appalachian with nothing but fall in love with the sports, you can grab some new gear before you head home.
Appalachian Ski Mountain's Terrain Park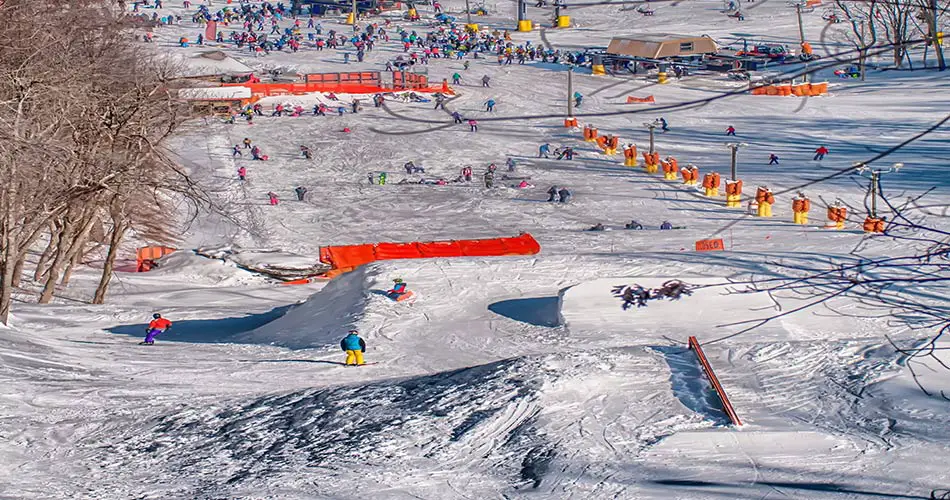 There are 3 runs of freestyle terrain at Apalachian Ski Mountain. You have Appaljack, Appal Jam and Appal Top.  There are multiplerails and jumps to hone in your skills. Be ready by Feburary when the mountain usually has their rail jam. Through out the season, also stay tuned for the special ladies night in the terrain park.
Is Appalachian Ski Mountain Good for Beginners?
If you want to learn to ski or snowboard, ski area has lessons for both. Whether you are a first timer or have had a few lessons but are still building confidence, another lesson can't hurt. 
The staff helps beginners learn the fundamentals so they can work on their skills and progress up the mountain.
Trails at Appalachian Ski Area – What to Know 
The terrain mix at Appalachian Ski Area separates the riders over the standard three levels. HEre is a breakdown of the mix of trails –
25% beginner
50% intermediate
25% advanced
This means there is 6 intermediate runs, 3 advanced and 3 beginner. If you are new to skiing and snowboarding but are a quick learner, you'll be on intermediate before you know it.
Other Winter Activities at Appalachian Ski Area 
If all of that wasn't enough, Appalachian Ski Area has an ice skating rink that is open daily throughout the winter season as well. You need to make a reservation online but it is a fun activity to change it up off the trails.
Is There Summer Mountain Biking at Appalachian Mountain?
There is no downhill mountain biking in the summer at Appalachian Ski Mountain. You can still rent their chalets if you are looking for a summer mountain getaway.
Final Thoughts:
If you are looking to ski or snowboard in North Carolina than Appalachian Ski Mtn. is a great place to go. You can't go much further south and find skiing or snowboarding. Having a ski area in like Appalachian Ski Mtn means you don't have to make an out of state trip to get in some runs.
Let us know if you are a fan of skiing or boarding at Appalachian Ski Mtn and if you make use of the midnight blast sessions.