Updated August 28, 2023 by Brianna Lee. This post contains affiliate links at no added cost.
Have you seen those retro ski pictures with women on the slopes in their onesie ski suites? As time has it, one piece ski suits for women are back in style more than ever and becoming all the rage on the slopes. You may know them as the ski onesie, the ski jumpsuit or the one-piece ski suit.
As ski gear has changed, you can now find both retro and modern one-piece ski suits. We'll look at what makes a good onesie ski suit and then show you 5 popular options right now.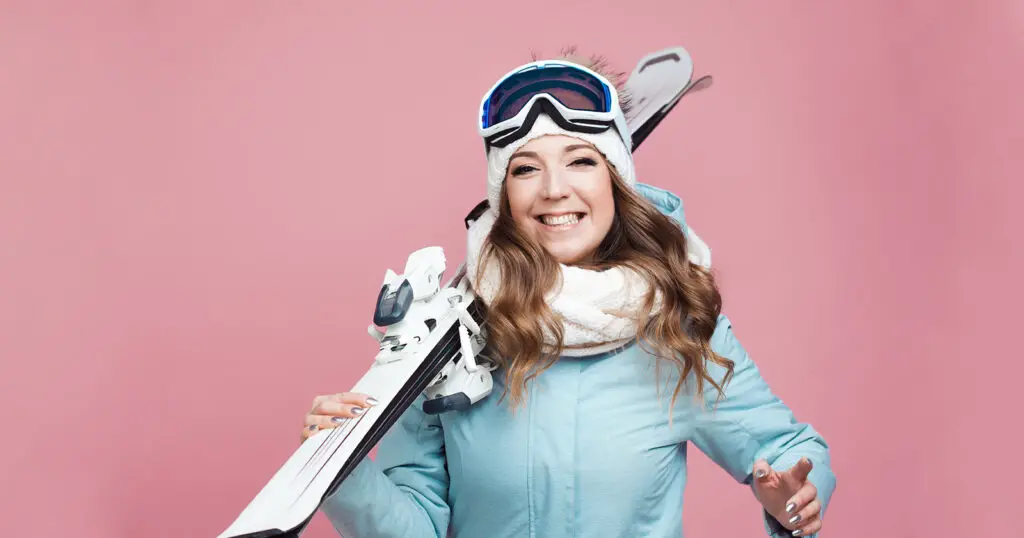 What Are Women's Onesie Ski Suits?
The ski onesie. It's not just a fad or a trend on the slopes but ultimately a great way to stay warm and look stylish on the slopes for women. A one-piece ski suit is everything it sounds like. It is one piece. You don't have a separate ski jacket and pants as a ski onesie is the only outer layer you wear.
What to Look for in a Woman's One-Piece Ski Suit
Warmth is the biggest thing to look for in a one-piece ski suit. This comes down to the quality of the materials to make the one-piece suit. You can still wear a base layer under the suit but ideally, you are going to want a warm one-piece ski suit to begin with.
The other thing to keep in mind is a ski suit that is easy to unzip. Most are but there comes to a point where you are probably going to have to head to the bathroom on a ski day. You don't want it to be a huge struggle.
Read More:
Are Heated Ski Socks Worth It? Why They Might Not Be
Ski Helmets for Big Heads [2 Large Head Helmets to Avoid]
What are the Benefits of Wearing a Ski Onesie?
We always say, if you can't ski good, you have to look good. Looking good is certainly a benefit of wearing a one-piece ski suit or onesie. Another benefit is the warmth. One piece ski suits trap in the heat like crazy.
If you normally get cold on the slopes or just want to look great then a one-piece ski suit is a terrific choice. Since one piece ski suits can get so hot, keep in mind that getting one with vents isn't a bad idea. Ok, with all of that laid out, let's finally get onto some ski suit options.
5 Great Looking Women's One-Piece Ski Suits
Obermeyer Katze One Piece Ski Suit for Women (A Stylish Option)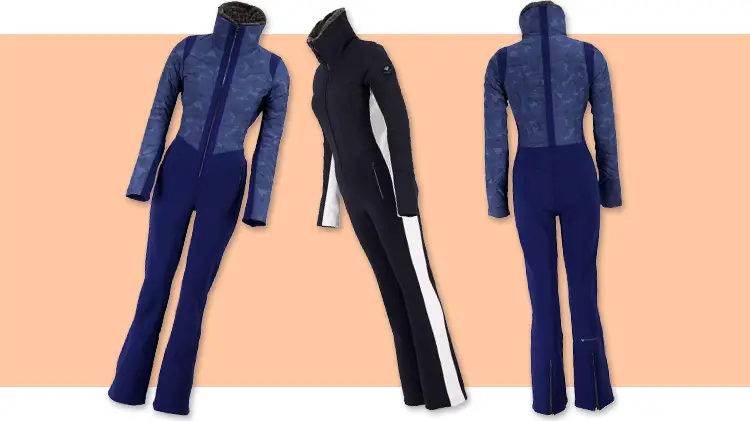 Coming in multiple colors, the Obermeyer Katze will have you looking like you are on a luxury ski vacation even if you are doing laps at your local resort. Filled with down and feathers, this one-piece ski suit will keep you toasty with almost any weather conditions the mountain throws at you.
The Katze is certainly one of the more fashionable one-piece women's ski suits available and these balances price to quality. You'll see in just a second how going up to a brand like Helly Hansen can more than double the cost compared to the Obermeyer Katze. If you plan to casually skiing and less than 50 days a year, this is an excellent option.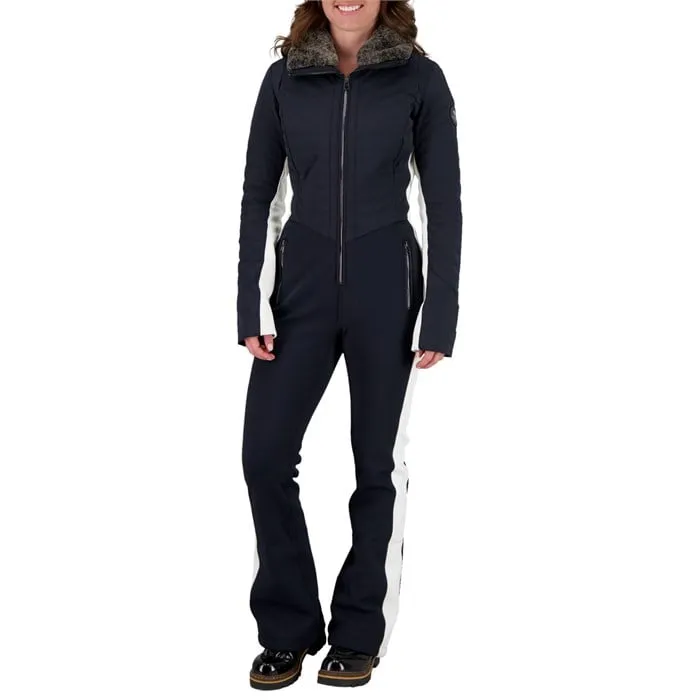 Nils Gabrielle Onesie Ski Suit
Another option for a one piece ski suit is the Nils Gabrielle. You'll notice the lines aren't as tight and clean on this ski suit. It is a bit wider in the hips than the Obermeyer Katze. It has a more retro look, almost a throwback to ski suits you would see in Eastern European pictures.
The Gabrielle isn't as warm as the down filled Katze and comes in around the same price point. If the style speaks to you then go for it. Otherwise, you might want to finish checking out the other options.
Helly Hansen Courchevel Insulated One Piece Ski Suit (Skiing in Luxury)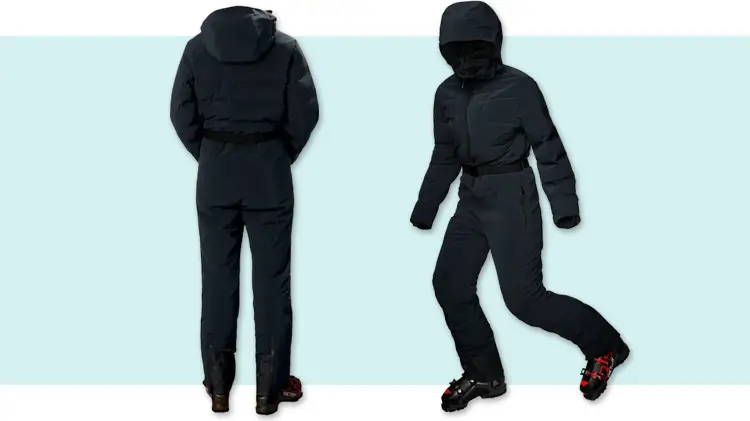 Women's one-piece ski suits don't get nicer than the ones that Helly Hansen is putting out. They use the best insulation, consider smart pockets and have removable features like the hood and belt. While the Courchevel is everything you could ever want in terms of warmth, it also delivers breathability.
Designed after skiing for years in Norway, the Courchevel has put years of research, development and testing into designing one of the best but also most expensive women's ski suits. It may not scream "look at me" but it does check every box on functional.
If you plan to ski 50 days a year for multiple years, invest in a good ski suit. The Courchevel is every bit of that.
The Chugach Infinity Onesie by Helly Hansen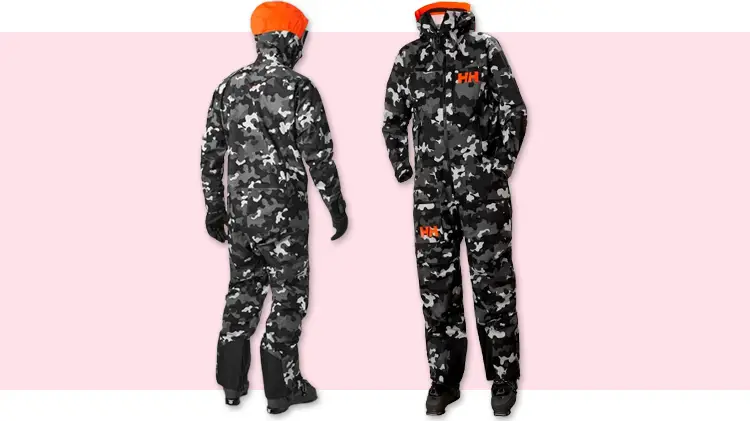 If you need a bit more style and have to dial back the budget just a bit then the Chugach onesie is a decent alternative. It will keep you dry and warm in that chest-deep powder that your heart desires.
When the powder calls, the Chugach Infinity delivers. Zip it up and you'll lock out all the outside elements as you keep the heat inside and have a memorable day on the slopes. It is built to withstand run after run. If you are looking for function over fashion and live in the backcountry then check out the Chugach onesie.
Recommended Reading:
7 Vail Après Ski Spots: Post Ski Food & Drink Spots in Vail
When to Go Skiing in Colorado – The Best Month to Ski
The Airblaster Stretch Freedom Suit (An Entry Level Ski Jumpsuit)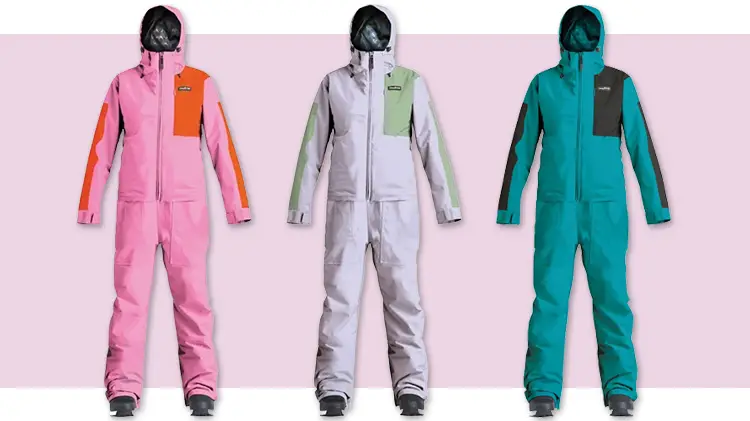 We get it. Not every woman wants to spend $600+ on a one-piece ski suit. That's where the Airblaster comes in at much less than $500. While it isn't as warm as higher-end one-piece ski suits or look as cool, it gets the job done on the slopes. Whether it is groomers or powder, the Airblaster will keep you warm in this functional onesie.
The Airblaster is certainly looser so if that is your style you are going to want to choose something like this over the Katz or Courchevel.
Final Thoughts on Women's Onesie Ski Suits
Women's onesie ski suits can solve quite a few problems on the slopes. If you have been cold in the past, try a one-piece suit. If you ride powder and don't have a one-piece ski suit, get one. It's the biggest improvement you can make to your ski gear.
Add a onesie to your ski wardrobe and you'll be setting the standard for fashion on the slopes.