Looking for a ski resort in Maryland? Wisp Ski Resort in Maryland has you covered for a great experience for both skiing or snowboarding. Nestled just above Deep Creek Lake in Western Maryland, Wisp has great views from it's trails, fresh blown snow and even on site lodging. Wisp Ski Resort makes for the perfect Maryland ski get away in the mountains this Winter!
Read more to find out everything you need to know before heading to Wisp Ski Resort. But seriously, how many other states can you drive from the beaches to the ski slopes in one day? Not many!
Highlights of Wisp Ski Resort in Maryland
For the only ski resort in Maryland, Wisp is pretty impressive. Some of the highlights include- 
33 trails
11 miles of trails to ride
137 skiable acres
700 foot vertical drop
Summit elevation of 3,115 feet
90% night skiing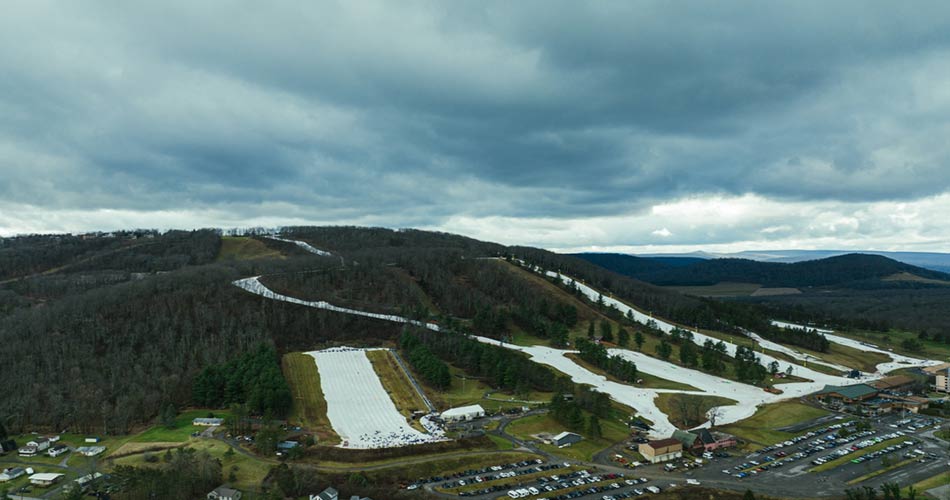 Where is Wisp Resort Located?
Wisp Ski Resort is located in McHenry, Maryland. It makes it one of the closest places to go skiing or snowboarding near Washington D.C. In addition it services the entire D.C., Maryland and Virginia area, known as the DMV. Even though Wisp Resort is located in Western Maryland, it is super easy to get to in one day's drive. Here are a few locations near by – 
Washington, D.C. – 3 hours, 175 miles
Frederick, MD – 2 hours and 15 minutes, 135 miles 
Pittsburgh, PA – 2 hours, 95 miles 
Harpers Ferry, VA – 2 hours and 15 minutes, 135 miles
New York, New York 5 hours and 45 minutes, 350 miles
Gettysburg, PA – 2 hours and 30 minutes, 145 miles
Need Wisp Ski Resort Directions? Map it from your place here.
What is Wisp Ski Resort?
Wisp is the only ski resort in Maryland. They are a family friendly resort with trails for all levels. There is also snow tubing and a mountain coaster at Wisp if some people aren't into skiing and snowboarding.  With nice places to stay on site and nearby, along with good dining, Wisp is a perfect family Winter vacation.
Lodging Near Wisp Ski Resort
There are really four ways to vacation at Wisp Ski Resort when looking for lodging.
Stay at the resort itself
Find cabins at Wisp ski resort for rent
Wisp Ski Resort House rentals
Airbnbs near Wisp Ski Resort
Staying at the resort itself will put you on the mountain in minutes while the other options will put you a close drive near by. There are a lot of nice cabins and houses for rent near Wisp. One tip is to check on vacation rental by owner. There are a lot of options that don't show up on airbnb near wisp ski resort. 
While there aren't any big hotel brands in town, you could always opt for a bed and breakfast.  Don't think you'll find a Marriott near Wisp as the closest one is almost an hour away.  Even though there isn't the big hotel chains, there is lodging that fits everyone's needs near Wisp.
Pro Tip: Looking to take a pet? Consider a cabin or vacation rental by owner for a seamless vacation to Wisp with your pet.
Does Wisp Resort Have Night Skiing?
90% of Wisp trails are lit for night skiing Tuesdays through Saturdays. You can really make the most out of your trip when going out to Wisp with their family friendly night skiing. They make sure to have trails of all skill levels open at night.
Does Wisp Have Snowmaking?
90% of Wisp trails have snowmaking capabilities. Don't worry, as long as it is cold, Wisp pumps out the powder. They also groom nightly. 
The Best Time to Visit Wisp Ski Resort
The best time to visit Wisp Ski Resort is in the mornings. Take advantage of the freshly groomed trails and fresh blown powder from the night before. If you really want best time than go during the week in the morning. It will be less crowded and you can even beat some of the renters out to the trails if you take your own gear.
Does Wisp Have a Ski Shop?
Wisp has two shops for Winter gear. Outdoor elements has any of the things you might have forgotten at home but need on the mountain to stay warm. You can also grab a souvenir there or at the Mountain Park shop. Don't worry if you forgot anything, the resort can sort you out between gear and cold weather clothes.
Wisp's Terrain Parks
Okay, there are a few things you need to know about the terrain parks at Wisp Ski Resort. There are three! Central Park, named like the NY park, is for the most advanced riders. If you are just starting, head over to the beginner park at lower bolder. The intermediate park is on Beaver. Each has some features that will test your skill levels. Let's just say there is enough park to ride it all day long!
Is Wisp Ski Resort Good for Beginners?
Wisp is a great resort for beginners because they have a wide variety of trails. Beginners can learn at the snow school and progress up into the intermediate trails if they are quick learners. The same goes for the parks. Wisp is a good place for beginner freestyle riders to start but then they can also be challenged with intermediate features if they want to move up like bigger boxes and jibs over on Beaver.
Trails at Wisp – What to Know 
One of the funnest runs at Wisp is Main Street. If you are advanced enough, you can fly down the black diamond with a great view of Deep Creek Lake. If you are lucky, it will be frozen over and you might even catch a glimpse of a few ice fishers.  Another fun long run is Happy Camper to Possum. With 33 trails, you'll have your hands full exploring for the day.
The trails can get a bit crowded on the weekend so if you can get there on a weekday, that is best!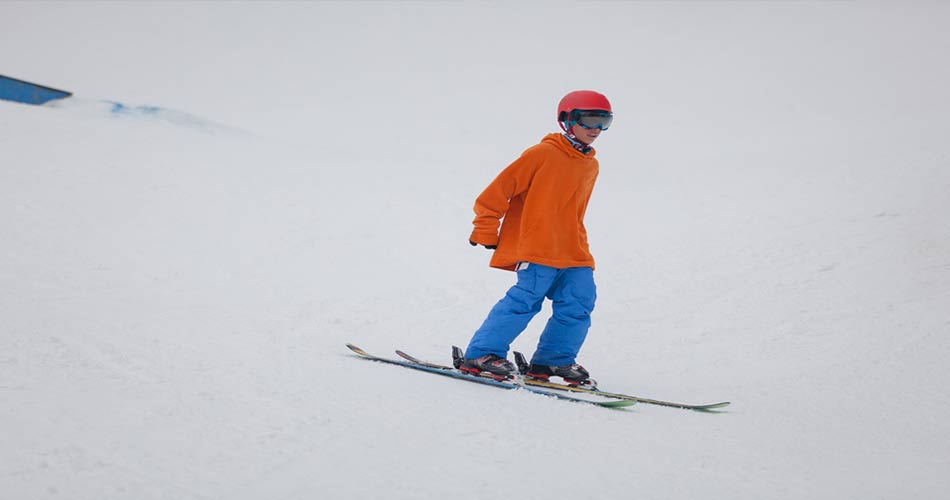 Key Takeaway: There's so much to explore at Wisp but if you want a great view, check out Main Street.
Other Winter Activities at Wisp
If all of that wasn't enough, Wisp has a mountain coaster and snow tubing. Snow tubing at Wisp costs from $29 to $39 dollars depending when you go and how long you go for. It is fun for the whole family and you can leave the skill level at home. 
Is There Summer Mountain Biking at Wisp?
Don't just stop by Wisp in the Winter. During the summer they have lift serviced downhill mountain biking. You can rent bikes, take lessons and even get a tune up if you get a flat. While they just have a few trails, you can't beat lift serviced downhill mountain biking. We might just see you in the summer on their over 8 miles of trails.
Final Thoughts:
Wisp Ski Resort is Maryland's only ski resort but it has everything you could want. They have night skiing, are open during the week and have a lot of trails to explore. If you want to get out of the city this year or even live near by then try a cabin near Wisp this year. It could really make for a memorable Winter vacation. Let us know your favorite trail at Wisp!