Since the 1960s anyone heading into the backcountry have be forced to choose between skiing or snowboarding. Skiers might enjoy more freedom to explore more of the backcountry with ease but will be stuck with tight boots and aching feet.
Snowboarders often enjoy more comfort but are forced to work twice as hard for half the sunset.
The simple truth is for snowboarders, heading into the backcountry is hard work. The choice used to be either strap a board to your back and crawl up a hill or strap on a pair of skis and snow-skins and laugh at the snowboarders crawling through waist-deep powder.
While most snowboarders would choose the latter when venturing out into the backcountry, one man had a simple idea. Why not turn a snowboard into skis?
Brett "Kowboy" Kobernik was the visionary that in the early 90s built the first split snowboard or splitboard prototype out of an old snowboard and some parts from the hardware store.
Today, backcountry snowboarders are honoring splitboards one of the most useful inventions in places only skiers could get to.
What is a Splitboard?
A Splitboard is basically a pair of skis that snap together into a snowboard with a series of hooks and traditional snowboard bindings. When it comes to climbing or hiking through the backcountry to find the perfect powder stash, the snowboard set up subsequently splits in half and the bindings turn to face forward.
You still use normal snowboard boots but for the bindings, the heel releases to turn the bindings into Nordic-style bindings when split. Of course, splitboard users will throw a pair of snow-skins on to enable uphill climbing.
Now you are probably starting to see that you can't use your regular downhill or park snowboard for splitboarding and that is right. You also can't use your same bindings as you would for your downhill board to go splitboarding.
What are Split Snowboards Used For?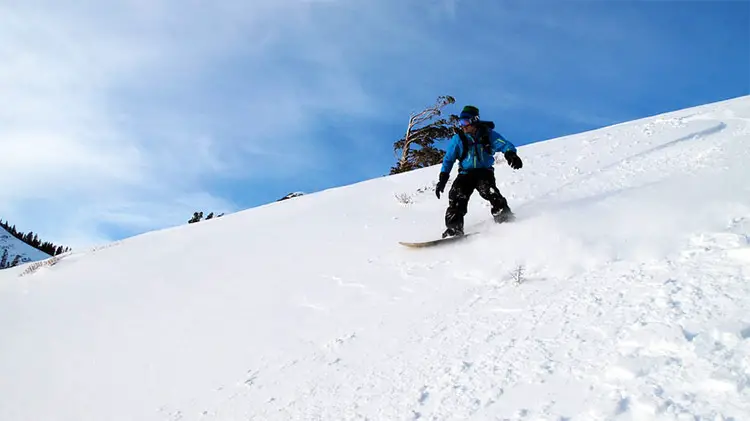 Snowboarders are mainly the ones to use splitboards to save time and energy in the backcountry. Backcountry snowboarding is hard work. Hiking through waist-deep power saps energy and body heat fast. It used to be that strapping a snowboard to your back and snowshoeing up was the only solution.
Today people want to enjoy the backcountry by carrying the least amount of weight possible.
All in all, snowboarders use splitboards to increase their backcountry access. Splitboards let you leave the snowshoes at home and make uphill travel by splitting your snowboard into two uphill skis. Once you get to the top, you assemble the snowboard back together and ride down like you would in any powder field.
What are the Best Splitboards?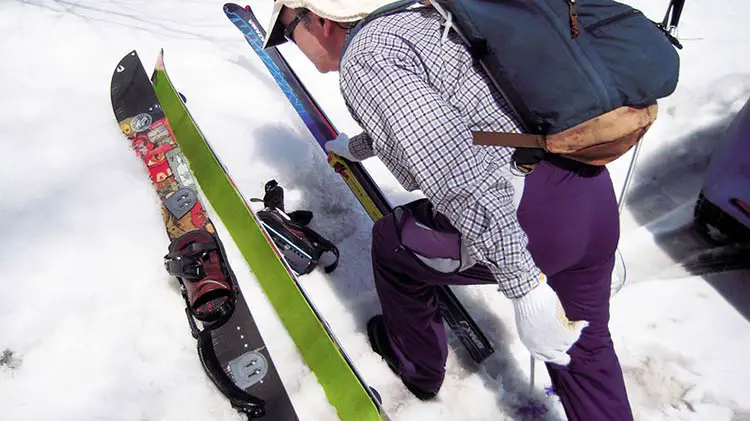 As with everything, the best splitboard all depends on what you plan on doing with it. For the long tours or big mountain terrain, stiff, efficient, and generally more cambered boards tend to perform better. For the shorter tours, deep powder days, or smaller terrain single directional shaped and softer boards shine a bit brighter.
Consider what you plan on doing with your splitboard and consider these options below.
Best Overall: Jones Solution – stiff, efficient, and hybrid rocker/camber
Best Powder-Hound: Rossignol XV Sushi Split – soft, directional
Best Big-Mountain: Cardiff Goat Pro Carbon Splitboard 2022 Edition – medium-stiff, twin direcitonal, great turning
Best Beginner: Nitro Nomad Splitboard – ~$500 price tag, Medium-stiff, all-mountain rating
Most snowboarders will have their preferred riding style and the boards they buy are no different. Therefore, when researching for your next or first splitboard, think about what style of riding you prefer and what kind of terrain you enjoy snowboarding on. While most of backcountry splitboarding is a hunt for deep untouched powder, you'll still want to consider if you want a surfer or something that throws down those big powder slashes.
Can you Rent Splitboards?
Yes, however, it depends heavily on your location, time of year, shop inventory, and local access to the backcountry. As a rule, resorts generally don't stock splitboards in their rental shops, however, local ski and ride shops are more likely to stock them. Always check first to see where you can rent one in your area.
Sometimes the local shop will have a full splitboard package as a demo package. If you can get your hands on a splitboard rental, try it for a day. It's a lot more work than just riding a lift up the slopes but if you want some untouched powder than splitboarding is the way to go. It also satisfies many rider's hunger for adventure. The backcountry is endless when you have a splitboard.
Final Thoughts
It took almost a decade for mainstream snowboarders to adopt the splitboard. Then, it took even longer for splitboards to get the following they have. When the backcountry calls snowboarders out to its powdery depths, it was the splitboard that picked up the call.