Most people think of Iowa as flat. It doesn't even come to mind for a lot of people that there would be ski resorts in the state. Not one, but a few! Sundown Mountain Resort is located in Dubuque, Iowa, and has an impressive 475 feet of vertical!
Read on to discover why you don't need to leave Iowa to ski or snowboard this year and if you are out of state, why you should visit.
Highlights of Sundown Mountain Resort in Dubuque Iowa
Some of the highlights and stats of Sundown Ski Resort include – 
21 trails
4 Lifts & two magic carpets
2 Terrain parks
475 feet of vertical
Lessons available
Night skiing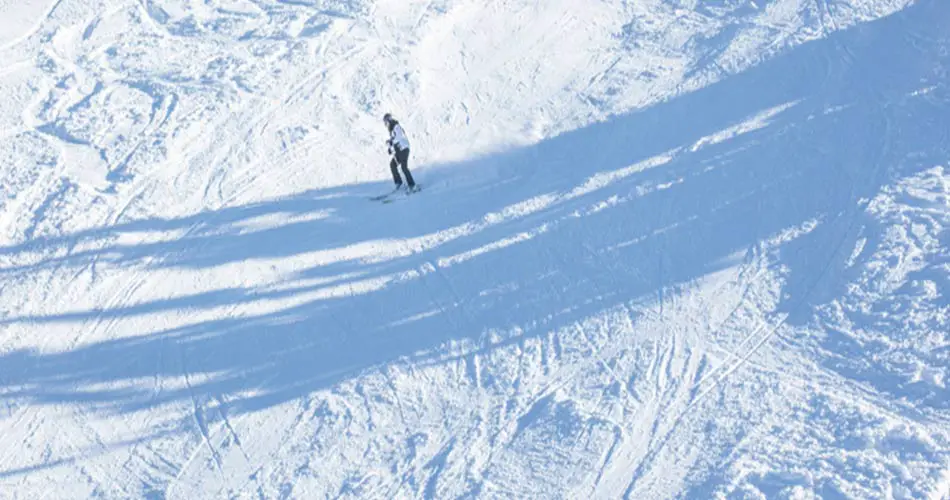 Where is Sundown Mountain Located?
Sundown Mountain Resort is located in Dubuque, Iowa. It is just outside of the city but also picks up traffic from Waterloo. Cedar Rapids and Iowa City. Since there aren't many ski resorts in Iowa, it can draw a crowd of avid skiers and snowboarders on the weekends. Here are the distances to some nearby cities to Sundown Mountain.
Dubuque, IA. – 20 minutes, 8 miles
Waterloo, IA – 1 hour and 21 minutes, 85 miles 
Cedar Rapids, IA – 1 hour and 18 minutes, 69 miles 
Iowa City, IA – 1 hour and 31 minutes, 80 miles 
Madison, WI – 1 hour and 47 minutes, 101 miles 
Rochester, MN – 3 hours and 7 minutes, 162 miles 
Need Sundown Mountain Resort Directions? Map it from your place here.
Lodging Near Sundown Mountain
There are really two choices of lodging when visiting Sundown Mountain Resort as there is no lodging on site.
Stay in Dubuque at a hotel
Find a vacation rental by owner
With Dubuque being less than 10 minutes away, there are multiple places for lodging near the resort.  A few of the options include-
Hampton Inn
Holiday Inn
Grand Harbor Resort & Waterpark
Hotel Julien
You might be a bit familiar with the first two chains but less so with the last two options. Grand Harbor Resort & Waterpark near Sundown Mountain is a fun place for the family to stay. It's indoor waterpark is open till 9 pm Thursday through Sunday in the Winter. Be sure to check it out if you want some fun off the trails.
Hotel Julien has been around since 1839. If you want a bit of history or a more refined hotel, we'd urge you to have a look at hotel Julien. This classic hotel even had guests such as Mark Twain and Abe Lincoln. You could be the next.
If the hotels in Dubuque don't interest you than you can also look into lodging near the resort from private renters. VRBO is one of the best places to check for a private vacation rental near Sundown Mountain Resort.
Does Sundown Mountain Resort Have Night Skiing?
Sundown Mountain skiing and snowboarding doesn't stop at sundown. They have night skiing on their trails which goes to 9pm on Tuesdays through Fridays. Sunday is till 8 pm. Over 150 lights keep the trails lit for night skiing at Sundown Resort.
Does Sundown Resort Have Snowmaking?
You bet! Once it is cold enough, Sundown starts blowing powder on the trails. Don't worry if there is no snow on the forecast, Sundown will have the trails ready for you.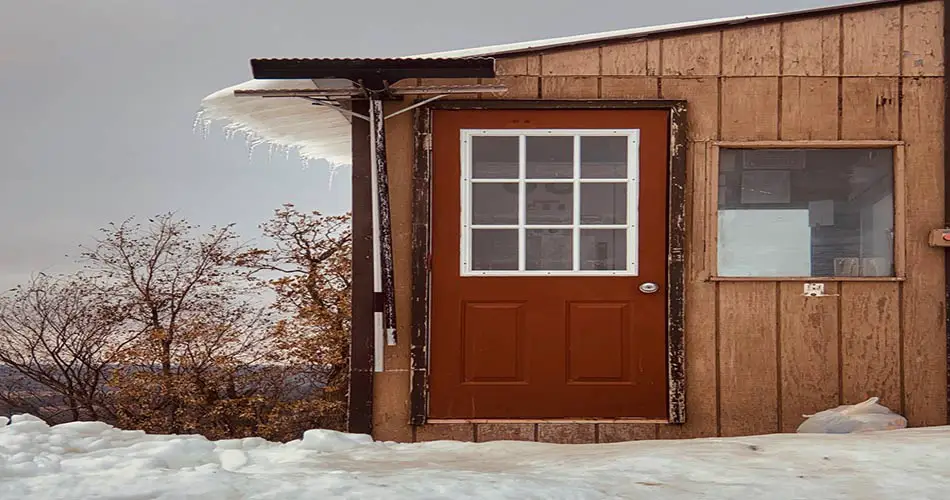 The Best Time to Visit Sundown
The best time to visit Sundown Mountain Resort is just into January. By then all the trails are opened up and there is a great base on the trails. Head to Sundown mid week to even take advantage of less crowds.
What to Know About The Terrain Parks
Theres not just one terrain park at Sundown Mountain Resort but two to ride for avid skiers and snowboarders.  There is north and south park, as well as Turkey. You can ride down Turkey Ridge to get to the intermediate park or take Andrew's and Snow Devil to get to the other park. You'll find the rail garden for all the freestyle junkies at the bottom of Snow Devil
Pro Tip:  Keep your eyes on the calendar. If you want to compete in freestyle skiing and snowboarding than generally every year, Sundown Mountain holds a competition for the best of the best.
Is Sundown Mountain Resort Good for Beginners?
Sundown Mountain Resort is good for beginners to go out and try skiing or snowboarding. It is really recommended to take a few lessons before trying to get down the entire mountain. Just a little learning with the ski school and you'll be ready to step up to the intermediate trails after you have mastered the beginner trails like Cyclone and Sunbowl.
Trails at Sundown Resort – What to Know 
If the 21 trails don't keep you busy, or the 2 terrain parks than stop into the barn for some live music. There is a little something for everyone on the trails at Sundown. Fast runs, longer runs and family trails.  Two of our favorites are Hawkeye for intermediates and Mustang for beginners.
Other Winter Activities at Sundown Resort 
Sundown Ski Resort is well, a ski and snowboard resort. They don't get into stiff like tubing and ice skating. On the bright side, they have night skiing so you can fully take advantage of the mountain. Also they have Winter racing if you have a need for speed.
Is There Summer Mountain Biking at Sundown Mountain?
Sundown Resort doesn't have mountain biking in the Summer. The resort usually switches over into a maintenance mode. While we know there are a lot of people itching for Winter to roll around again, you better believe Sundown Mountain Resort is too.
Final Thoughts:
There is no better place for skiing and snowboarding in eastern Iowa. Having a resort so close to Dubuque is a treat for all fans of Winter. More and more people learn to ski and snowboard every year thanks to Sundown Mountain. It doesn't matter if you are local or visiting, everyone is friendly at Sundown and the trails are worth a trip to check out.
Let us know your favorite trails and if Hawkeye makes your list.