Skiing in upstate New York has to be one of my favorite places to go for a ski vacation on the east coast. Not only is it an outlet for people to get out of the city and get up north but also a lot of out-of-state travelers go down to upstate New York to enjoy their numerous ski resorts.
We'll look at 11 upstate New York ski resorts that you need to put on your must-ski list.
Pack those bags, wax your skis and settle on a mountain.
11 Must Visit Ski Resorts in Upstate NY
Why did we pick 11? It's hard to narrow the list even down to that. With over 30 ski areas in New York state, the state has become synonymous with skiing. We'd argue that the best ski resorts are in upstate New York though. Let's get into them and what makes them worth a winter ski vacation.
Skiing The Adirondacks of Upstate New York
1. Whiteface Mountain, Wilmington NY
Whiteface Mountain is almost a mountain that doesn't need introduction in the state of New York. It is one of the gems of upstate New York skiing as it is located in the Adirondacks. For one of New York's most well-known ski areas, you will have to visit Whiteface.
The mountain is so good that it even held the winter Olympics in the past. The unique history is worth visiting on it's own but the trails are what are worth the visit.
With the biggest vertical drop in the east of 3,430 feet, Whiteface has something for everyone. From steep runs for expert skiers to a place for families and beginners to learn, that's what makes Whiteface so great!
In fact, there are just over 22 miles of trails to ski at Whiteface. Wilmington trail is the longest at just over 2 miles. Now that is a run to enjoy!
Whether you are a first-time skier or advanced, we can't recommend Whiteface more. You'll get a big resort experience without having to go out west. That means you can find everything from glades, moguls, steeps and long runs.
The 90-named trails are spread over 3 peaks so you can use that to your advantage to ski with skiers in your skill level and avoid crowds when possible. Your trip isn't complete until you ride the Whiteface gondola.
Once you are worn out from all the skiing, have après-ski at one of the many eateries at Whiteface or head up to the Lake Placid area where there is a bunch of restaurants to explore just minutes from the ski area.
Where to Stay Nearby: Lake Placid, 20 minutes away.
Can't Miss Runs at Whiteface:
Hoyt's High (Lookout Mountain)
Riva Road (Whiteface Summit)
Wilmington Trail (Lookout Mountain)
2. Oak Mountain, Speculator NY
Oak Mountain is a three-season resort that will have you wanting to head back after the winter. Located in the Southern Adirondacks, Lake George, Albany and Utica are all great places to stay nearby.
The mountain features 22 trails and a snow tubing park. Oak Mountain is great for beginner to intermediate-level skiers.
With a lot of green trails, you can learn at the bottom of the mountain and progress to the higher-up green trails quite quickly. In just a little time, you'll be able to explore a large amount of the mountain even if you are a new skier.
With beautiful views of the Adirondacks and a laid-back vibe, Oak Mountain is a more chilled place to visit. If you want to switch off mentally, enjoy the outdoors and mix it with a bit of skiing in the winter then this is one upstate New York ski area that you should consider planning a vacation to.
Where to Stay Nearby: Albany, NY
Can't Miss Runs at Oak Mountain:
3. Hickory Ski Center, Warrensburg NY
Just an hour from Albany, another Souther Adirondack mountain to consider for an upstate NY ski area is Hickory Ski Center. It is a small ski area located just above the powerful Hudson river. If you are looking for a ski vacation where you book a classic cabin up in the Adirondacks nearby, this is the one.
While there isn't tons of trails at Hickory, the views are amazing. Take in views of the Hudson below and Gore Mountain off in the distance.
Hickory ski center has stood the test of time since it started in 1946. Its advanced and intermediate runs keep most beginners going to other ski areas. This means more skiing for you and fewer crowds.
If you don't mind lapping the same runs during the day then visit Hickory Ski Center. It's one you have to check off your skiing in upstate NY list. For a bigger mountain then check out the next one on our list, Gore Mountain.
Where to Stay Nearby: Warrensburg, NY
Can't Miss Runs at Hickory Ski Center:
4. Gore Mountain, North Creek NY
Gore Mountain has four peaks to explore at its massive ski area. Gore is New York state's largest ski area. Ride the Gore gondola and pick your favorite trail of the over 100 trails at Gore.
You'll find it all at Gore Mountain. Some of the finest Alpine skiing that upstate NY and New York in general have to offer along with glades and cross country skiing. You can spend multiple days at Gore and never get bored making it a must-visit in NY.
Finish off your day with a bit of twilight skiing at Gore Mountain and you'll be begging for a bite of food. Luckily Gore Mountain has you covered on that front too! With multiple places to enjoy the slopes and grab food after your day, you won't go back to your cabin hungry.
Recharge and get ready for the next day at Gore! For a true NY skiing experience, give Gore Mountain a visit in the winter.
Where to Stay Nearby: North Creek, NY
Can't Miss Runs at Gore Mountain:
Headwaters (Gore Mountain)
Sagamore (Burnt Ridge Mountain)
Peaceful Valley (Little Gore Mountain)
5. Titus Mountain Family Ski Center, Malone NY
If you want to head way upstate then Titus Mountain is one of your options. Get out your Indy pass because you can use it at Titus. You'll be met with a bit of a surprise as the summit will take you up to 2,025 feet.
This small but mighty family ski center will leave you impressed.
Titus Mountain checks all the boxes with having downhill, night skiing, cross-country skiing and tubing. For a little less traveled ski center, find a cabin near Titus and enjoy the powder.
Where to Stay Nearby: Malone NY
Can't Miss Runs at Titus Mountain:
The Catskills of Upstate NY: Where to Ski
6. Hunter Mountain, Hunter NY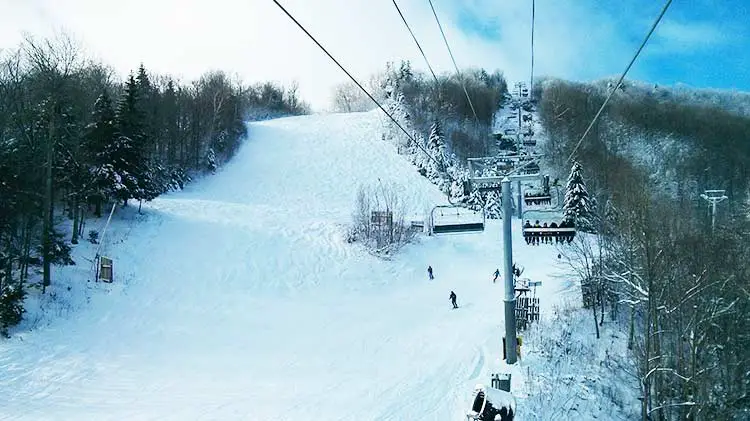 Hunter Mountain is one of the great winter escapes outside of New York city in the winter. Since it's an easy drive to the city, it can undoubtedly get crowded. As a Vail-managed resort, this is one of the NY locations where you can use a Vail Epic Pass.
With 67 trails, there is one you should be able to find and call your favorite at Hunter Mountain.
There is an even terrain breakout as follows:
Beginner: 25% of terrain
Intermediate: 30% of terrain
Advanced: 30% of terrain
Expert: 15% of terrain
Get a big group because all of your friends and family will be able to ski at Hunter Mountain. Between the downhill trails, terrain parks and glades, prepare for a packed day of skiing. For a ski vacation at Hunter Mountain, you'll want 2-3 days to enjoy all the terrain.
The trails at Hunter Mountain are going to leave you tired but don't worry, they have some excellent places for après-ski after a thrilling day on the slopes. Once you fill up your stomach then head back to your accommodations or cabin if you are lucky and get ready for another amazing day on the mountain.
Where to Stay Nearby: Hunter, NY
Can't Miss Runs at Hunter Mountain:
Heuga Express (Advanced)
Broadway (Intermediate)
Central Park North (Beginner)
7. Windham Mountain, Windham NY
Windham Mountain known for its 4 seasons of activities comes alive in the winter. Take the family out to Windham Mountain and you will be talking about that winter ski vacation for years to come. With 2 peaks and tons of trails, you won't be at a lack of terrain to ski at Windham.
With onsite lodging, food and rentals, it doesn't get easier than Windham Mountain makes it. It is a true, show-up-and-play experience. Decompress by taking a few days in the winter and heading out to Windham Mountain.
Once you ride everything they have to offer, you'll be ready for a hot chocolate, hot tub or fire to recharge. They have it all.
For a break from the skiing, book a bit of time snow tubing and it will put a smile on everyone's face in your group. To enjoy a family-friendly ski resort in upstate NY, Windham needs to be one you consider.
Where to Stay Nearby: Windham, NY
Must Ride Runs at Windham Mountain:
Upper Whistler
Why Not
Lower Wraparound
8. Belleayre, Highmount NY
Rounding out the Catskills resorts is Belleayre mountain ski center. Get yourself a cabin close to Belleayre and get ready to enjoy the pristine views on the slopes. Snow-covered trees among the long straight runs at Belleayre are common.
With a bunch of intermediate and expert terrain on the top of the mountain, you'll be able to take your pick of great trails. Two of my favorites are the long-winding Cathedral Brook and the curvey Deer Run.
Beginners have plenty of trails near the bottom of the mountain including the much-loved Discovery Way and Dakota.
Also at the bottom, you will find cross-country skiing. To get a break from the alpine skiing, give Belleayre's cross-country trails a try. They are the perfect mix of exercise and still being outside. Plus as a bonus, you'll avoid any lift lines.
As one of the biggest ski areas in the Catskills, you have to visit Belleayre Mountain. Especially if you want an alternative to Hunter Mountain.
Where to Stay Nearby: Big Indian, NY
Must Ride Trails at Belleayre Mountain:
Algonquin
Deer Run
Cathedral Brook
Skiing in Upstate NY at The Finger Lakes: Ski Resort Worth a Visit
We can't talk about skiing in upstate NY without mentioning the ski areas around the Finger Lakes. Sure, it is a bit of a drive from areas like New York city but the pretty drive on the way out will reassure why a ski vacation near the Finger Lakes is a great option in the winter.
9. Labrador Mountain, Truxton NY
Labrador Mountain isn't the biggest mountain on the list but if you want to do a bit of exploring with the family off the slopes then you should consider a trip up to Labrador Mountain. There are over 15 lit trails for night skiing making it one place where you can ski all day.
After a long day on the slopes, you can grab a craft beer, kick back and people watch as skiers and boarders fly down the slopes. While there are just over 20 trails, there is plenty of challenge with trails like Midnight Express and Cut Throat. Meanwhile beginners will have plenty to enjoy as well.
Get a different experience this winter by heading out to the Finger Lakes and visiting Labrador Mountain.
Where to Stay Nearby: Truxton, NY
Must Ride Trails at Labrador Mountain:
Midnight Express
Cross Over
10. Song Mountain, Tully NY
Song Mountain has to be mentioned as it is so close to Labrador Mountain and you can get an inter-mountain passport to ski both. If you are skiing Labrador then it is worth a visit to Song Mountain too.
Think about staying at a central location and spending one day at each of the ski areas. Out of the two, Song is my favorite. With runs like Upper Dipsy Doodle, Stormy Weather and Jupiter, there is a lot of fun trails to ride at Song.
You can even do a day shift at Song Mountain and head over to Labrador for the night shift. The options are endless with two mountains so close to each other.
Where to Stay Nearby: Truxton, NY
Must Ride Trails at Song Mountain:
Stormy Weather
Dipsy Doodle
Bristol Mountain, open since 1964 is a staple of Finger Lake skiing in upstate New York. Everything is onsite to have an amazing ski vacation. There is downhill skiing and nordic skiing so you can take your pick.
The downhill skiing slopes have night skiing on 96% of trails as well so you don't have to stop in the early afternoon.
The mix of 39 trails favors intermediate to advanced riders but Bristol Mountain is still a good place to learn to ski. Even though there isn't a ton of beginner trails at Bristol, the ones they have are long and a pleasure to ride.
Once you are finally worn out for the day, you can take a break in the lodge and warm up while others in your group continue riding.
Where to Stay Nearby: Canandaigua, NY
Can't Miss Trails at Bristol Mountain:
Milky Way
Upper North Star
Upper Rocket
Final Thoughts on Skiing in Upstate New York
Upstate NY is home to some of the best skiing on the east coast. With names like Whiteface, Hunter and Gore, you just need to pick one of these greats and find a ski chalet. While many people head up to New Hampshire, Vermont and Maine, we are convinced that there is prime skiing to be had in New York state.
Plan your upstate NY ski vacation and you will see exactly what we are talking about.