Updated August 27, 2023 by Brianna Lee. This post contains affiliate links at no added cost.
When it comes to skiing, there is a debate about whether ski pants or ski bibs are better. Some skiers argue that ski pants offer a more comfortable experience when skiing, while ski bibs stay up better and fit better.
Ultimately, it is up to the skier to decide which one is best for them but the skiers on the staff at Proper Peaks have their own opinion in this long-standing debate.
Are Ski Pants More Comfortable Than Ski Bibs?
Ski pants are often thought to be more comfortable than ski bibs. This is because ski pants can be looser and don't have shoulder straps.
Ski bibs can be constricting and uncomfortable for some people. Typically you'll see park riders wearing ski pants and mountain riders in bibs but this is no hard and fast rule.
Why Should You Choose Ski Pants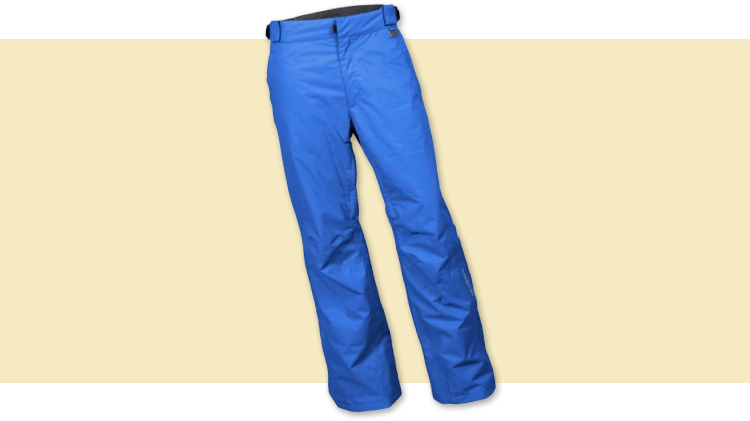 When it comes to ski pants, there are a couple of factors to consider. For terrain park and freestyle skiing, here are some reasons why you should choose ski pants.
First, ski pants are just easy. No shoulder straps mean no fiddling with and adjusting them. You might need a belt with ski pants but they are simple. Ski pants have worked for years and they aren't going anywhere soon.
Second, ski pants can be found on the cheap. Sure, bibs can too but it always feels like ski pants are cheaper. Maybe it's that tiny bit less extra material.
Lastly, ski pants come in a variety of styles and colors. We know, bibs do too but you can get ski pants in just about any color. Plus it seems like designs are easier to find on ski pants.
What Makes Ski Bibs Popular?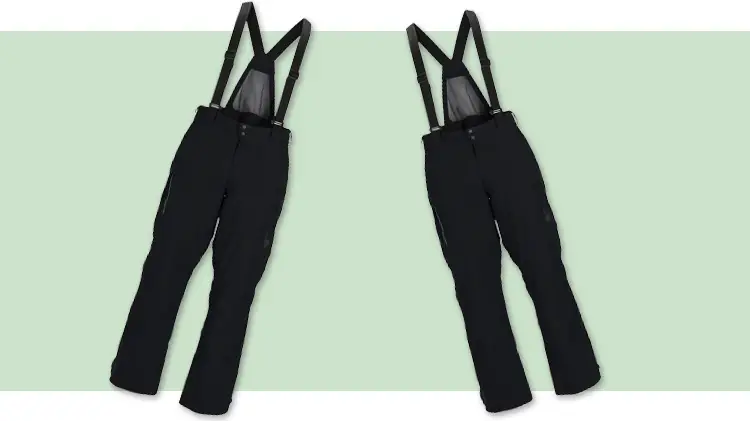 There are a few things that make ski bibs popular. One is that they stay up. They don't fall down like some ski pants do. This is important because you don't want to be constantly pulling your pants up while you're skiing.
That was the sole reason I switched from pants to bibs. I got tired of them sagging down a bit. If you buy the same bibs as me below then not only will we be twins on the mountain but I may get a small commission that I'll use on resort food.
Another reason ski bibs are popular is that they're reliable all day. You can trust that they'll keep you warm and dry throughout the day. When you get hot, just unzip the vents and let some heat out.
Finally, the front pocket. The front chest pocket is the gem on many ski bibs. It's a great place for a phone, a snack bar or any odds and ends. Front chest pockets on ski bibs are just too convenient to wear ski pants.
Sale
The NORTH FACE Men's Freedom Ski Insulated Pant
The NORTH FACE Men's Freedom Ski Insulated Pant offers exceptional waterproofing and breathability, keeping you dry and comfortable in varying weather conditions. The insulated design ensures warmth without bulk, allowing you to focus on your technique while conquering the mountain.
What are the Drawbacks of Ski Pants?
Ski pants can sag down making them less comfortable to wear. You can wear them with a belt but that gets to be a bit janky.
Surely there are better options out there, right?
What are the Cons of Ski Bibs?
Though ski bibs are excellent at keeping the snow out, some people find them constricting and uncomfortable. The straps can also be irritating, especially if they're not adjusted properly. If a strap gets loose, sometimes it takes the buddy system to have a friend help you adjust your straps.
Another downside to ski bibs is that they can be quite expensive. Typically, they can be a few dollars more than ski pants.
Recommended Reads:
Is There a Clear Winner?
There is no clear winner when it comes to what type of ski wear is best but I'll tell you straight up that I like ski bibs. I like ventilation, chest pockets and that makes me go with bibs.
While most of the Proper Peaks team rocks the ski bibs, it's ultimately up to the individual skier to decide what works best for them.
Final Thoughts on Ski Pants vs Ski Bibs
Ski pants and bibs both have their own advantages and disadvantages so you should try both. Once you try both, I'm sure you will be on team bibs. If you love ski pants, tell me why in the comments below. There must be a reason people wear them aside from just no straps.