Where in New Mexico is Sipapu Ski Resort?
Located 43 miles south of Taos Ski Valley and 61 miles to the north of Santa Fe, Sipapu Ski Resort is on the scenic High Road of northern New Mexico, just outside of Vadito, population 270. A reasonable two and a half hours by car from Albuquerque, this mid-size ski area is a great place for beginners and intermediate skiers to cut their teeth and learn new skills. The Sangre de Cristo Mountain Range that surrounds Sipapu is in the southern Rockies. New Mexico's oldest ski resort began operations in 1952 and continues to grow to this day.
Directions to Sipapu Ski Resort
You'll definitely need to use your GPS to get here, but it's easier than it appears.
Take I-25 north from Albuquerque to exit 276 for Madrid. Turn left (north) onto route 599 toward Santa Fe. Merge onto U.S. 285/84 on the north side of Santa Fe, continuing north. At route 503 in Pojoague, the Taos High Road, turn right and continue until route 76, Chimayo. Right again on route 76 for several miles to Ponasco where you'll make one last right onto 75/218 to Sipapu. You'll pass through Vadito on this last leg of the journey. It sounds confusing but it really isn't. This area is very rural with few designated roads, so it's difficult to make a wrong turn or get lost.
Sipapu Ski Resort Mountain Stats
Peak Elevation/9,255 feet; Base Elevation/8,200 feet
Vertical Drop/1,055 feet
Number of Trails: 41 marked, spread over 215 acres of skiable terrain
Trail Difficulty: Beginner, 20%/Intermediate, 40%; Advanced, 25%; Expert, 15%
Number of Lifts: A total of six. One quad chair lift; two triple chair lifts; one platter; two magic carpets
Seasonal snowfall average: 185 inches
Terrain Parks: 4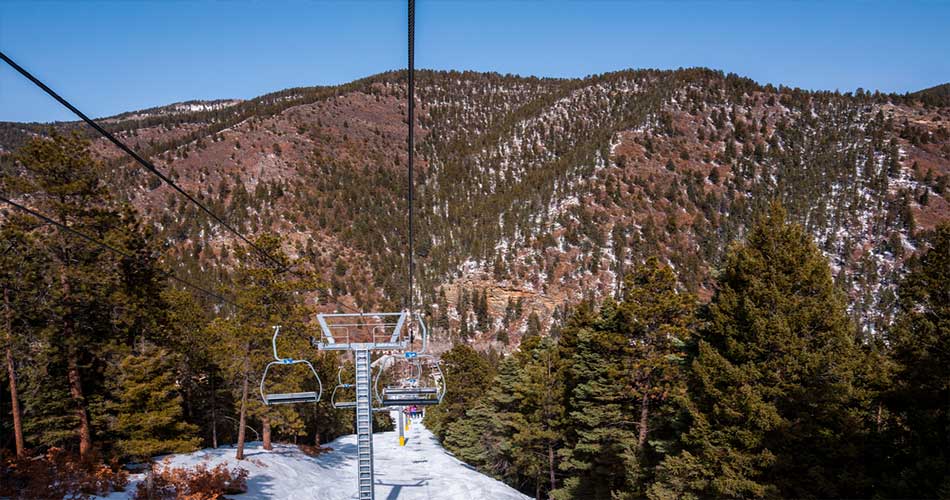 Sipapu Ski Resort Accommodations
As you might expect, with no real town nearby to speak of, there aren't a lot of places to stay locally. However, Sipapu has solved this dilemma for you by offering a nice variety of accommodations at the ski hill, including RV spots should you choose to arrive with your own housing.
With Sipapu also being a popular summer resort too, they have a place to stay that will fit everyone's needs. And because Sipapu truly believes in being a family-friendly resort where your kids won't get lost and you won't encounter long lift lines, there are no phones or televisions in any overnight accommodations.
Sipapu Ski Resort Cabins and more…
No matter if you're traveling solo or with a larger group, there's a great place for you to stay at Sipapu. Choose from various types of accommodations, some with open floor plans and others with multiple bedrooms. Kitchen and dining areas are also provided so that you can fix your own meals when desired. Check out the following options:
Hotel rooms with two queen beds
Lodge rooms sleep 3-8 guests (both hotel & lodge rooms are just 50 feet to the lifts and enjoy free use of a community kitchen)
Suites sleep 4-8 and are just 220 feet to the lifts. Includes a full kitchen
Riverside cabins sleep 5, with full kitchen, 500 steps to the lifts
Or consider staying in a duplex, casita or a house of your own on-site. Some housing styles allow pets while some don't, so be sure to specify your needs when making reservations. Sipapu has really made it super easy to ski and stay without breaking the bank.
Food Options at Sipapu Ski Resort
On the second floor of the Main Lodge you'll find the Riverside Café. Breakfast and lunch are available for take-out only, with dinner also served when your skiing day is done. Orders may be placed online and are usually ready in a matter of minutes.
The Paradise Grill Bar is open daily and serves a variety of hot food. While there is limited indoor seating, outdoor seating for those sunny and bright New Mexico days has been expanded.
Is There Night Skiing at Sipapu?
There is no night skiing at Sipapu. Lifts operate from 9 in the morning until 4 in the afternoon, allowing for a full day of riding the mountain. Nights are for relaxing, gathering with friends and preparing for another day of action tomorrow.
Grab a "Sipapu Card"!
So that visitors can maximize their time playing, Sipapu Mountain Resort provides a contactless experience for lift ticket and equipment rental purchases. With the Sipapu Card, purchased online in advance of arrival, you'll obtain this reloadable card for all your charges here. Use it over and over for whatever you need. You can even purchase ski lessons with it. So, get the Sipapu Card online, show up, get prepped and head to the lifts. There's no time to waste!
Sipapu Ski Resort Lift Tickets & Season Passes
Lift tickets here are some of the least expensive you'll find anywhere. Starting at just $9 per day (winter 2022), the earlier you buy the better your price will be. As you would expect, midweek costs less than weekends, and off-peak weekends early and late in the season cost less than middle of the winter and holiday weekends. Online is the place to buy everything for Sipapu!
Season passes come in all shapes and sizes. Check out a few of the options:
Power pass – unlimited access and NO blackouts at Sipapu, Pajarito, Purgatory, Snowbowl, Hesperus, Brian Head, Nordic Valley & Spider Mountain
Power Pass Select– includes the Power Pass PLUS 12 days of restricted access at Purgatory or Snowball
Power Pass Local – unlimited access to Sipapu, Pajarito & Hesperus. Additional access for 5 restricted weekdays to use between Purgatory, Snowball, Brian Head & Spider Mountain. Plus, restricted access to Nordic Valley, Sunday-Thursday only.
Discounts are also available for active military personnel, kids and seniors ages 75+
Equipment Rental at Sipapu
The rental shop at Sipapu Ski Resort has everything you'll need for a complete winter vacation experience. Alpine skis, boots, poles, snowboards…..even ski bikes, are here for you to use. Be sure to book your rentals online before coming to the mountain in order to ensure availability. Prices fluctuate with demand, so will probably be a bit higher on peak days, especially on weekends.
Because Sipapu is small and easy to get around, rental equipment should be kept with you for the duration of your visit. There is no need to return it at the end of each day's activities.
Shopping at Sipapu
There is a general store type of shop in the Main Lodge, which stocks light snacks, beverages, and everyday basic necessities. You'll also find clothing with the Sipapu logo, first aid supplies, toiletries and so on. And to make sure that you can home or to your next stop along the way, Sipapu Ski Resort has gas pumps so you can fill your car, truck or RV before hitting the road.
When Are the Slopes Less Crowded?
As you might expect, Sipapu is not unlike other ski resorts where the weekends are the most crowded time to ski or board. Come midweek if you can, and you'll find like-minded smart people who found a take some time away from work. You'll also be pleased with the absence of lift lines, faster restaurant pickup times and lower prices for gear rental.
Sipapu Ski Resort Lessons
Be sure to purchase your ski lessons online in advance of arrival. Ski and snowboard lessons are available, both privately and as part of a group. Lessons are also geared toward kids who may be new to the sport, or to seasoned skiers who want to brush-up on their skills.
Does Sipapu Ski Resort Have a Terrain Park?
Terrain parks are serious business at Sipapu. The resort has four dedicated terrain parks, two of which are the only organic parks in New Mexico. Both "Playground" and "Flight School" are made entirely from natural resources found on Sipapu's mountain and the adjacent Sangre de Cristo Mountains.
Each terrain park has lines and features for all skill levels so that you can not only build new skills but be creative at the same time. "Rowdy Howdy" park is Sipapu's newest and largest with more than a dozen great features, including a triple combo!
No matter which park or parks you prefer, the terrain experience here will be exhilarating!
Does Sipapu Ski Resort Have a Tubing Hill?
No, snow tubing is not on the menu at Sipapu. But the skiing, snowboarding and terrain riding experiences are all top-notch.
Do They Make Snow at Sipapu?
It doesn't take a rocket scientist to know that the ability to make snow is vital to operating a successful ski resort. With the high elevation at Sipapu along with low humidity and cold temperatures, snowmaking is very efficient here.
To be more specific, the resort operates a fleet of 20-guns which are a mix of fan and fanless machines called Lances. All of the snow guns are portable, so they can be moved to where the added snow is most required. And would you believe that 14 of the TechnoAlpin snow guns don't need humans to run them? With weather stations onboards and a high-tech system that adjusts the water flow based on temperature and humidity, snowmaking volume and the quality of the white stuff is instantly calibrated to maximize the results.
Some Closing Thoughts
It's clear that Sipapu Ski Resort wants happy customers who will return many times, during the winter or summer season. Their refund policy is more flexible than most other ski resorts including the possibility of a 100% refund if you are unable to visit Sipapu as planned. They recognize that "stuff happens", so if you cancel your lift ticket, lesson or equipment rental at least 48 hours in advance of your planned arrival, you may request a full refund in writing.
Additionally, if you don't plan to cancel, but do need to make an adjustment to your plans by changing them to another day or time, you can do this online up until midnight of the day before your planned visit. While you won't receive a refund, you will receive a full resort credit for use at another time.