Massanutten Ski Resort is unlike any resort in Virginia. It has everything you could ever imagine. Truly, if you want to ski, snow tubing and even challenge yourself to an escape room all in one day, Massanutten is the place for you. It is why families love it and why it has been around for over fifty years.
Read on to learn more about Massanutten and why it should be your next ski and snowboard destination.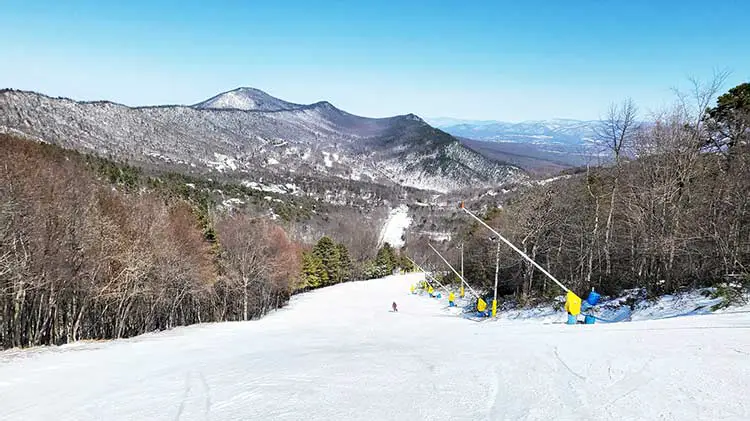 Massanutten Ski Resort Directions
Massanutten (or "The Nutt" as locals call it) is located in the heart of the Shenandoah Valley in McGaheysville, Virginia. It is known as the Mid-Atlantic's premier four-season resort destination. The resort itself is about 6,000 acres but it is easy to navigate. Also, the staff is super friendly, and they can always point you in the right direction.
If you are just heading to the ski area, know that there is plenty of free parking.
Here is a look at how far Massanutten is from some major cities:
New York City, NY: 365 miles, 6.5 hours
Philadelphia, PA: 300 miles, 5 hours
Washington, DC: 125 miles, 2.5 hours
Richmond, VA: 110 miles, 2 hours
If you would rather fly, here are the closest airports to Massanutten:
Staunton Airport: 30 minutes
Charlottesville Airport: 1 hour
Mountain Stats
Massanutten is a huge resort but the ski area itself is not enormous. However, there are plans to create more trails in the near future.
Here is a breakdown of what you can expect at this mountain:   
Lifts: 4
Magic Carpets: 3
Trails: 14
Night Skiing: Yes
Skiable Terrain: 70 acres
Massanutten Ski Resort Elevation: 2,922 feet
Massanutten Ski Resort Lodging
There are plenty of lodging options at Massanutten. All within the resort, you can rent homes, condos or hotel rooms at a variety of price points. However, since the resort is so big, you might want to focus on the lodging that is closest to the ski area.
For instance, the Summit Condos are a great place to look. They can accommodate anywhere from six to twelve guests and they are walking distance to the chairlifts. Alternatively, Eagle Trace is another fantastic option. The units there can sleep anywhere between four and twelve guests comfortably as well.
Massanutten Ski Resort Rentals
You can rent all the equipment you need right at the base of Massanutten. You can rent skis, snowboards, boots and poles for either eight hours, four hours or just for a night session if that is your jam. Massanutten does not offer any other sort of gear rental though.
So, if you forget your gloves or any other apparel at home, your only option would be to buy.
Night Skiing: What to Know
Massanutten offers night skiing! The mountain lights up when the sun goes down and stays open until either 5:00pm or 9:00pm depending on the night. Be sure to check their schedule and snow report as it updates daily throughout the ski and snowboard season. You can also take a look at Massanutten's webcam to get an idea of what the conditions are as well.
Massanutten Ski Resort Lift Tickets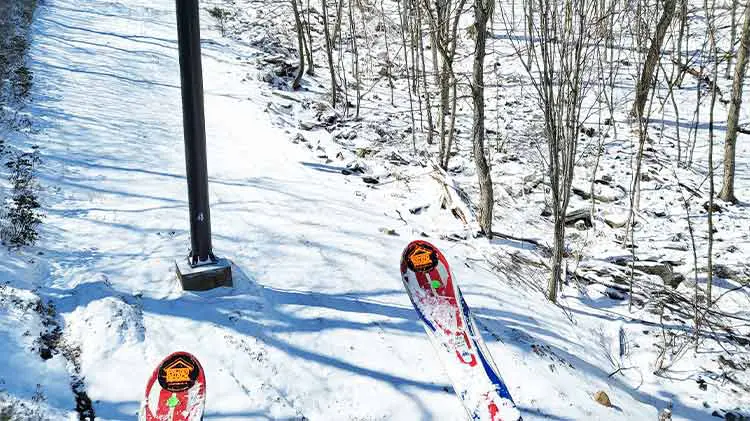 There are a variety of ticket and pass options available at Massanutten. If you plan to stick around for a bit or if you are local to the area, check out their season pass offers. You can get an individual pass or a family pass, which is perfect for families of four ages 6 to 69. If you are only visiting, then it makes more sense to check out the day ticket options.
Similar to their rental options, day tickets range by how many hours you want to spend riding. There are also special deals for college kids, seniors, military personnel, and there are special ticket prices towards the end of the season as well. You can get passes or tickets online or right at the base of the mountain.
Learning to Ski at Massanutten
Since Massanutten is such a family friendly resort it is no surprise that they offer terrific ski and snowboard lessons. They have a qualified team of professional ski and snowboard instructors who help teach beginners the basics or help more advanced riders perfect their skills.
There is even an entire area dedicated to ski and snowboard lessons at the base of the mountain. It is part of the Easy Street trail, and it has unique features that are part of Massanutten's terrain-based learning program.
What that means is that beginners have a chance to start on flat ground and work their way up to the perfect slope incrementally as opposed to being stuck on the bunny hill.
Can't Miss Trails at Massanutten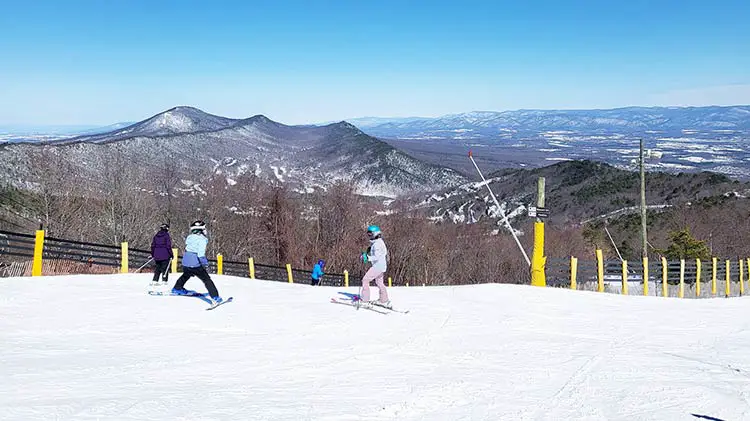 Massanutten is growing! They have an expansion plan that will add more trails and a new lift to their mountain by 2024. So, be sure to look out for that.
In the meantime, here are some of the best trails to ride:
Green
Blue
Black
Massanutten Snow Tubing
Massanutten has an epic snow tubing park. They have over 16 lanes that are 900 feet long with about a 120-foot vertical drop. There are two conveyor belts that can transport riders up to the top without having to wait in big lines. And each snow tubing session lasts for 90 whole minutes.
You can fly down the lanes solo or create a chain of tubes with your friends. Either way, their snow tubing is guaranteed to be a blast.
Peak Seeker Pro Tip: Book this in advance because it is the most popular snow tubing park in all of Virginia so it has a tendency to sell out.
Aprés Ski at The Nutt
After a full day of skiing or snowboarding, the lodge at the base of the mountain (also known as Base Camp) is the place to be. Every Monday night they have bingo. And every weekend they have a fantastic line up of live music.
The lodge is also an awesome place to grab a bite and unwind before heading home or back up the mountain for some night skiing action.    
Final Thoughts
Massanutten has so much to offer. It is the type of resort you never have to leave. There is something for everyone and the activities are endless. And it is very exciting to know that the ski area is only going to get bigger and better in the coming years.
So, if you find yourself in the Shenandoah Valley, be sure to venture on over to Massanutten Resort and explore all that it has to offer.