It's hard to imagine a more beautiful place to ski than high above Lake Tahoe's turquoise waters at Heavenly Ski Resort. With the snow-capped peaks of the Sierra Nevada Mountains surrounding the lake, the view is to put it simply, breathtaking. Add some spectacular runs down impeccably maintained runs and you'll have a ski getaway to remember for years to come.
California or Nevada? How Do I Get to Heavenly?
Heavenly straddles the border of California and Nevada and is just minutes away from the lights and action of several casino hotels located on the Nevada side of South Lake Tahoe. While most visitors come from the much more heavily populated Golden State, the ease of access from Reno and the proximity of its airport makes for plenty of visitors from other parts of the country, as well.
Reno, "The Biggest Little City in the World – 55 miles, 1 hour from the airport terminal; add just 5 minutes if coming from downtown
Sacramento – 105 miles, 2 hours 5 minutes
Oakland/San Francisco (Bay Bridge) – 187 miles, 3 hours 15 minutes
San Jose – 205 miles, 4 hours
Fresno – 237 miles, 4 hours 35 minutes
There are various ways from the Bay Area to get to South Lake Tahoe, some of which include I-80 and others which bypass the East Bay utilizing I-205 and CA-50. Your origination point will determine the best route to follow.
Heavenly Ski Resort Stats
Highest Skiing Elevation: 10,067 (highest at Lake Tahoe)
Vertical Drop: 3,500 feet (tops on the West Coast!), base is at 6,567 feet
Ski Area: 4,800 acres including 34 miles of slopes for cruising downhill and exhilarating tree skiing
Number of Lifts: 28, including a TRAM, gondola, 2 Express-6 Chairs, 7 Express Quad Chairs, 6 Triple Chairs, 8 Surface Lifts and a handful of others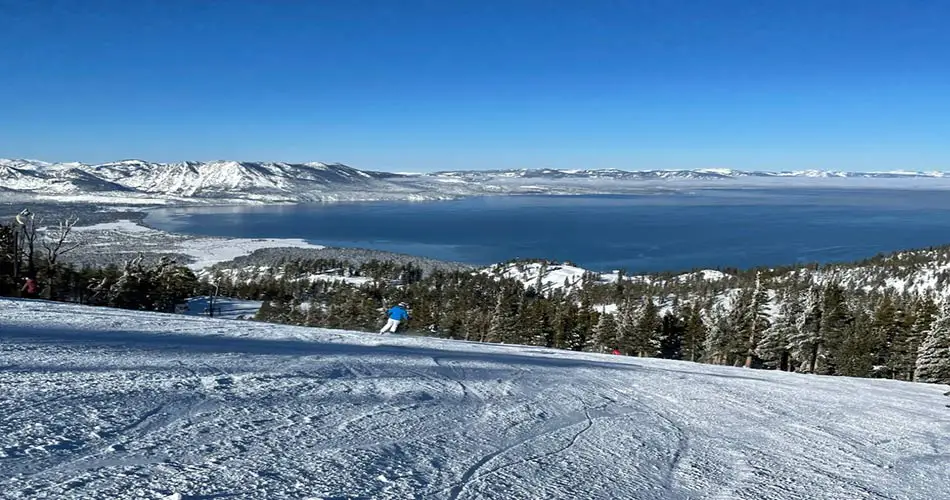 Breathtaking Views High Above Lake Tahoe
The 97 trails at Heavenly allow for lots of variety for skiers at all levels. The number of trails in each category is as follows:
Beginner – 20%, 19 trails
Intermediate – 45%, 44 trails
Advanced – 18%, 18 trails
Expert – 17%, 16 trails
With such a long vertical drop between the highest point and base level, there are bound to be some amazing plunges for the best of skiers. Two favorites of local experts are the chutes at Mott Canyon and Killebrew Canyon.
With Four Bases, How Do I Know Which One to Choose?
Yes, Heavenly has four distinct bases, each of which will attract a different level of skier. Read on to find the right one for you.
California Heavenly Village/Gondola – This is the base you've heard about with the gondola smack dab in the middle of South Lake Tahoe. Rent your ski equipment right across from the lift. Beginners probably won't want to start their day here as the beginner trails at the top of the gondola are quite limited.
California Base Lodge – If you're seeking a starting point that will cater to an array of ski/boarding levels, this is the place for you. Parking is more plentiful here than at the other bases. Beginning skiers have several trails to choose from here, and higher levels have will have a good selection of intermediate and more advanced trails nearby. Head uphill via the Gunbarrel Express or the TRAM.
Boulder Lodge – Families and skiers/snowboarders who are newer to the sport will find that this is the best location to start their day. Beginner runs are the name of the game here, and rental equipment at Boulder Lodge caters to beginners, too.
Stagecoach Lodge – The favorite lodge for locals who are intermediate skiers or riders and above, this smaller lodge has its parking fill up early in the day. Take Stagecoach Express directly from the parking lot to an endless array of challenging runs at mid-mountain East Peak, on the Nevada side of Heavenly.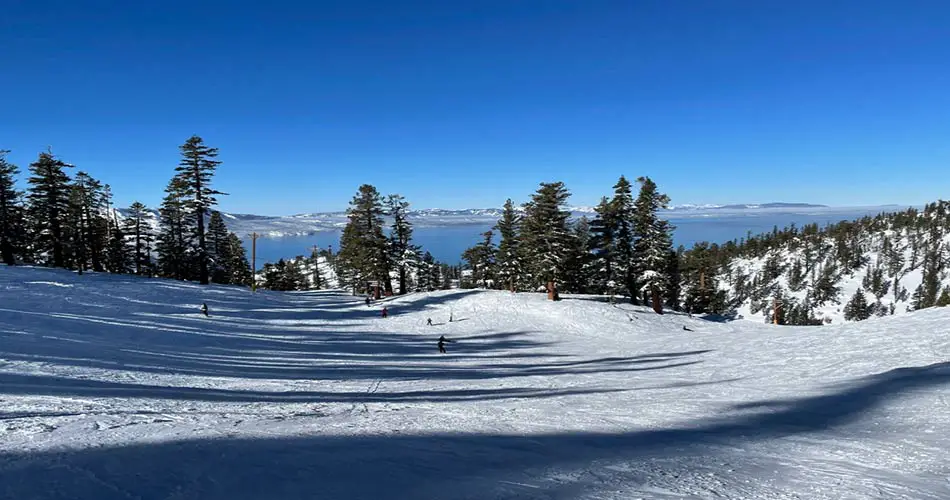 Ski and riding lessons for all ages and proficiency levels are offered, with advanced reservations, throughout the ski area. Instruction more suited for beginners is offered at Boulder Lodge.
Nearby Lodging for Whatever You Desire
Vail Resorts, which owns Heavenly, features two fantastic properties that are sure to entice you.
Zalanta Resort at the Village – This mountain luxury resort is just a brief walk to the Gondola. Special features include a 24/7 concierge, ski valet and ticket printing on-site. Two, three and four-bedroom units are available.
Lakeland Village at Heavenly – Set on a 19-acre wooded mountainside on the shores of Lake Tahoe with spectacular lake and Sierra Nevada views, Lakeland Village is less than one mile from Heavenly Ski Resort. Accommodations of 1-4 bedrooms are offered here.
Other popular area properties include:
Station House Inn
Lakeside Inn
Quality Inn South Lake Tahoe
Marriott's Timber Lodge
Edgewood Resort
For those that prefer accommodations more relaxing but still close to the mountain and casino action, there's a wide variety of motels, resorts, cabins and AirBnb/VRBO rentals available nearby in addition to the featured lodging options detailed above.
A Ski Resort with an Executive Chef? Now You're Talking
Your body needs plenty of fuel to attack the slopes, and Heavenly doesn't take the back seat to any other ski area when it comes to offering dining options. In fact, they have an Executive Chef who oversees all of the dining venues in order to ensure food quality and variety.
On-mountain indoor spots with reservations required are located as follows:
Tamarack Lodge
California Lodge
East Peak Lodge
Quick and casual indoor/outdoor options:
Steins
Sky Deck
Stagecoach Lodge
Boulder Lodge
Ski All Day, Gamble at Night
Heavenly is just three short miles from the casinos at South Lake Tahoe, so instead of relaxing while you anticipate tomorrow's return to the slopes, try your luck and maybe it'll help pay for your trip, or at least a lift ticket or two. While there's no night skiing at Heavenly, there is plenty of nighttime action at Harvey's, Harrah's and Hard Rock Hotel on the lakeshore.
As for skiing/boarding hours, Heavenly is open every day that snow conditions permit from 8:30 a.m. to 4 p.m. weekends and peak dates, including holidays. Weekday hours begin at 9 a.m.
When's the 'Best' Time to Ski at Heavenly?
Midweek, midweek, midweek. To avoid heavy weekend crowds who arrive from the Bay Area and other nearby urban areas, midweek skiing is your best option. Extended weekend visits are very popular at Lake Tahoe, whether it be Thursday to Sunday or Friday to Monday.
How to Maximize Your Ski Time: If you don't like heavy traffic, long lines, or higher prices (who does?), plan your visit to Heavenly during the week. With the exception of holiday periods including MLK Weekend and President's Day Weekend, Monday to Thursday will make for the most relaxing visit to Lake Tahoe, and you'll save money over peak days of the week.
Pro Tip: Purchase lift tickets and rental equipment online in advance of your travels. Savings up to 20% are offered on most days. Restaurant reservations are also easier to come by during off-peak weekend days.
Will Heavenly Have the Rental Equipment I Need?
Heavenly Sports offers rentals, demos, lessons, tune-ups & repairs, logo wear, sunscreen, goggles and so much more, and with multiple locations at the mountain, you won't have to go far to fulfill your needs. Be advised that helmets are not included in rental packages, so be sure to reserve one in advance to ensure ample supply.
You'll find Heavenly Sports on the lower level at Stagecoach Lodge, as well as at Boulder Lodge, Heavenly Village (the largest store), and in four spots within the California Base Lodge.
Tell Me About the Terrain Parks at Heavenly Ski Resort
Snowboarding is taken very seriously at Heavenly. In addition to being focused on rider's safety, the ski area provides great opportunities for terrain enthusiasts with five, count 'em, five terrain parks to build and challenge your skills.
The beginner's park, named 'Groove', is located near the top of Gunbarrel Express lift. The most advanced park which is also the largest is called 'High Roller' and is located on the California side of facility. Both the Canyon Express and Sky Express lifts will give you a ride here.
Is Snow Tubing Offered Here?
Are you saying that 97 downhill runs aren't enough for you? No, Heavenly Ski Resort doesn't have a hill for tubing, but you'd never find the time for it anyway. What you'll be wanting is longer days and shorter nights to get in as much skiing and boarding as possible.
It Snows a Lot in the Sierra, but What if it Doesn't?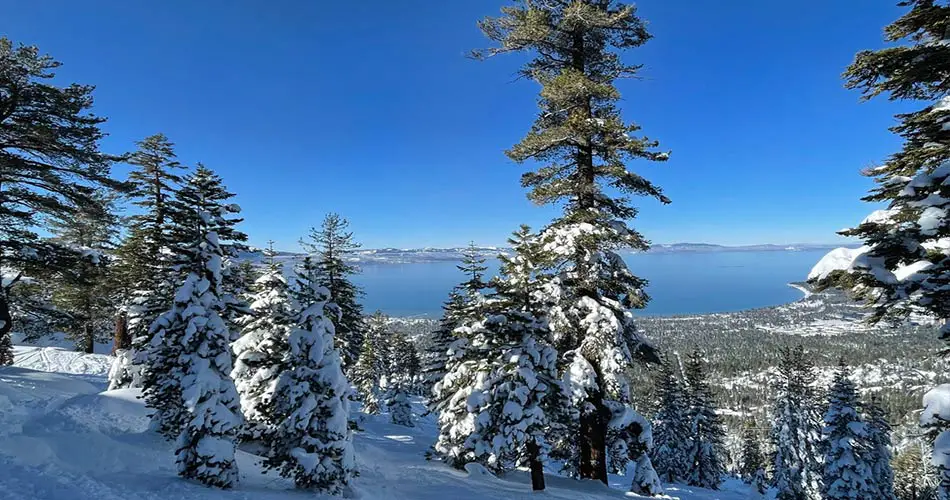 With on and off droughts across the U.S. the last few years, predicting the weather has become more difficult than ever. Even though Heavenly's average annual snowfall is 318 inches (that's a whopping 26+ feet!), the resort is prepared to make snow when needed. Currently the resort has the capability of shooting snow over 60% of the runs, with nearly 20% of the runs at the highest elevations typically not needing added powder.
Some Closing Thoughts
Skiing Lake Tahoe is something that every downhill enthusiast should do at least once. The scenery is second to none, the energy palpable, and the variety of other things to do in the area makes for a complete getaway. But of course, you're probably coming here to ski, and Heavenly is top-notch every step of the way.
With trails for beginners all the way up to expert skiers, this is a place for everyone. And if there's someone in your group who isn't a skier, Nevada's casinos are just moments away. An escape here from Reno's action or the urban life in San Francisco, Oakland or San Jose, will be a refreshing experience for one and all.