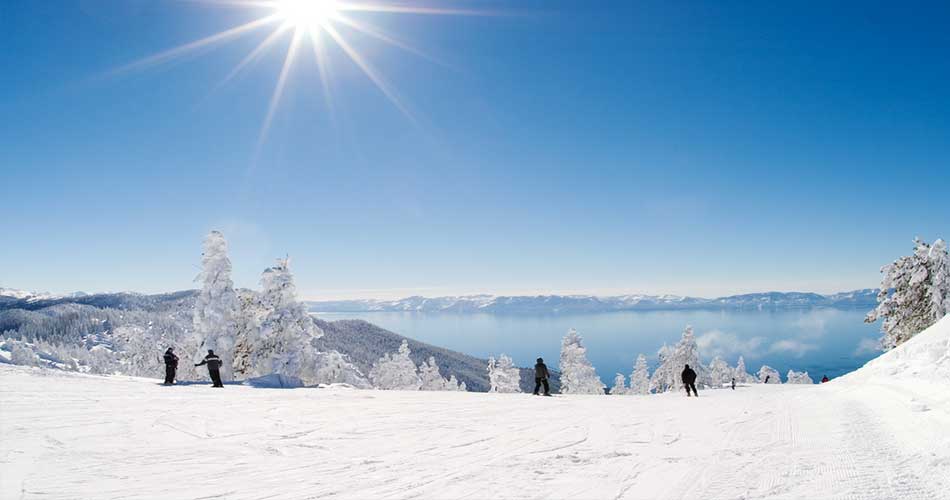 Nevada is known for many things: Las Vegas, the vast desert, and the backdrop for several movies. However, right on the edge of Lake Tahoe, on the Nevada side, sits Diamond Peak ski resort.
Diamond Peak is a family-friendly ski resort in one of the hottest states in the United States. While it may seem surprising that Nevada receives any snow at all, the Diamond Peak ski resort will come as an even bigger surprise when considering the quality of skiing and riding this desert oasis provides.
Read on to find out what you need to know about skiing in the desert.
A Quick History on The Peak
In 1966 three men saw a vision of the future and began construction on what they called Ski Incline, known today as the Diamond Peak ski resort. Unlike, Colorado, Canada, or northern California, the Nevada side of Lake Tahoe is untrustworthy at best when it comes to snowfall.
The founders knew this and were some of the first to use snowmaking technology in the Western United States. The same people claiming it was doomed to fail ended up using the same technology to bolster their own snowpack years later. 
Where is Diamond Peak Ski Resort?
Diamond Peak ski resort is on the Eastern side of Lake Tahoe just outside of Carson City, Nevada. For more clarity, it is only 45 minutes by car from Reno or roughly 35 miles on Nevada Road-431 heading south. If you are flying in from out of state, fly into the Reno International Airport and you'll land slightly closer at only 33 miles away from the ski resort. 
The Slopes, Trails, and Lifts at Diamond Peak
Diamond Peak is without a doubt one of the smaller resorts in the Western U.S. However, what Diamond Peak lacks in size, it makes up for in family-friendly terrains, unbelievable views of Lake Tahoe, and ease of trying several trails in one day. Diamond Peak ski resort sports an unbelievable terrain park accessible from all sides of the resort. 
Here is a breakdown of the trails at Diamond Peak ski resort: 
40 trails
5 lifts
13 ungroomed glades
Skiable Area: 655 Acres (2.7 Km2)
Base Elevation: 6,700 Feet (2,042 Meters)
Summit Elevation: 8,540 Feet (2,603 Meters)
Longest Run: 2.5 Miles (3.4 Km) on Crystal Ridge
Lodging Options:
Because of Lake Tahoe's history, the options for lodging at Diamond Peak ski resort are beyond plentiful. In and around the resort you can find high-hotel hotels and casinos that Nevada is known for in the base Village.
Alternatively you can stay down near the rock beaches on Kings Beach or you can find more economical options in the city of Reno. The options are only limited to your style of ski or snowboard trip and who's coming along. 
Activities for Non-Skier and Riders:
Whether or not you're a big-time skier or rider, Diamond Peak ski resort's size may lead to you finding yourself tired of running the same laps down epic trails. Not to fear as before Diamond Peak was a ski resort, it was a playground for adults wanting to enjoy the magic that is Lake Tahoe. This leads to heaps of other activities to enjoy during your winter escape.
In the Lake Tahoe and Diamond Peak area, you find top-rated shopping, dining, a bowling alley, movie theater, casinos, bars, and a recreation center equipped with a full gym, pool, and sauna. If you head over to Crystal Bay and then wander into their historical casinos you can listen to live music and entertainment. 
Is There Night-Skiing at Diamond Peak Ski Resort?
No, there is no night-skiing at Diamond Peak ski resort. The lifts are open (weather permitting) from 9:00a.m. – 4:00 p.m. 
Is There Cross-Country Skiing?
Due to the terrain on the Nevada side of Lake Tahoe, there is no Nordic skiing to be found at the resort. 
Does Diamond Peak Offer Rentals or Gear Shops?
Yes, Diamond Peak was built for the more causal skier or rider so the resort has a state-of-the-art rental shop. They book their rental reservations online and come in all styles of packages to suit any level of skill. If you want to move from the casual skier or rider to full-time then you can head down to the Incline Village and buy your own gear at either Praxis Ski shop or Village Ski Loft. 
More In-depth Look at the Trails at Diamond Peak Ski Resort:
Diamond Peak is a smaller resort when you compare it to any Colorado or Canadian resort. However, Diamond Peak has a perfect mixture of both beginner and advanced trails, some powder stashes, and a few glades found on the upper mountain. Diamond Peak ski resort was made for skiers and riders of all ages and skill levels. 
Here are the numbers: 
655 Acres are broken into 40 trails and 13 glades/stashes 
18%  Beginner   
46%  Intermediate
36%  Advanced 
13 open glades for tree skiing that can be considered Expert 
Does The Resort Make Their Own Snow?
Yes, Diamond Peak was a pioneer in the snowmaking game and can currently cover 75% of the skiable acres in manmade snow if mother nature doesn't want to dump. 
Best time to go:
With the size of snowmaking capabilities found at Diamond Peak and their season running from December to April, the question is more of when you can find time off to visit. As with most ski resorts, holidays will be the most crowded days and any day after a big storm generally brings out the crowds. Mid-February would be a great balance of snow coverage and smaller crowds as kids are back in school and there are fewer holidays. 
Final Thoughts:
Diamond Peak is for the more casual skier looking to enjoy the Rocky Mountains but still wants to enjoy all of the comforts of Lake Tahoe and Nevada is known for. This is a great mountain for newer skiers or a family holiday where everyone can have the time of their lives both on and off the mountain.
Whether it's enjoying the casinos and bars or enjoying the stunning views while ripping your first lines, Diamond Peak ski resort has it all. Have you been to Diamond Peak Before? What's your favorite trail? Let us know down in the comments!
Explore More Nevada Ski Resorts