New skiers usually don't account for the fact that they need bigger ski goggles if they want to wear them over their glasses when skiing. That is the whole point of OTG ski goggles. We will explain what they are, how they work, and how to pick a pair of OTG ski goggles so you'll have perfect vision when out on the slopes.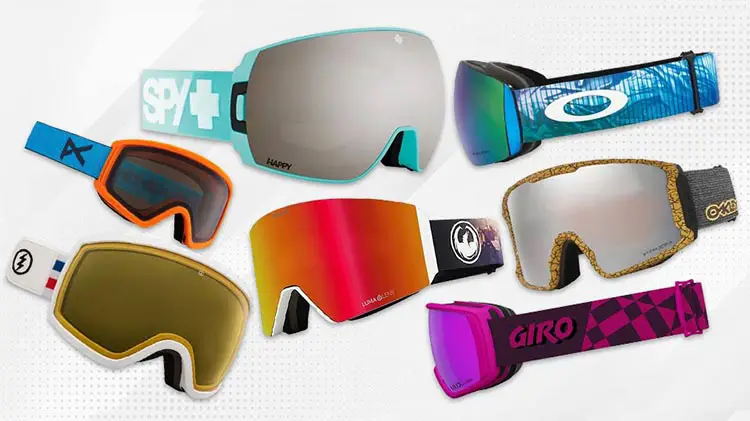 What is OTG in Ski Goggles?
OTG ski goggles are designed to be worn over prescription glasses. The goggles are either oversized so you can fit glasses under them or have special cutouts designed for goggles. This can be helpful if you wear prescription glasses and don't want to purchase a separate pair of prescription goggles.
We recommend going with OTG goggles instead of looking for a pair of prescription goggles. It's often less of a headache, less hassle and cheaper.
How do OTG Ski Goggles Work?
OTG ski goggles allow wearers to wear their prescription glasses underneath the goggle lenses. A regular-sized ski goggle won't fit glasses hence the whole reason behind OTG goggles. Some people think that OTG goggles will look bulky on their face but it's really not the case.
What to Look for In OTG Ski Goggles
When looking for OTG ski goggles, there are a few key things to look for. First, make sure the goggles have an over-the-glass design. If you buy a regular pair of ski goggles then they will be useless when you try to wear them over your glasses.
Next, you need to look at the fit, comfort and vents. Here's why:
1. Fit of the Goggles
Be sure to find goggles with a good seal around the edge of the lenses. This will keep out wind and snow and keep your vision clear. You want them sitting tight around your face but not too tight. Your glasses should fit under with no issues.
2. Comfort
Make sure you consider the size and shape of the goggles. You want something that will fit comfortably on your face and won't obstruct your vision. This means your glasses shouldn't be bashing into your nose or pressing too hard into the sides of your face or ears.
With a good pair of OTG goggles, you shouldn't have any comfort issues and should be able to ride an 8-hour day.
3. Ski Goggle Vents
While most quality ski goggles have vents built in, just keep in mind that for your goggles to stay fog free, you'll need some vents on the bottoms, sides or tops of the goggles to stay fog free. This is even more important as you wear glasses under the main lenses of the ski goggles.
Solid Options for OTG Ski Goggles
1. Spy Legacy SE Goggles
Big lens, crisp vision and a comfortable fit all come together in the Spy Legacy SE goggles. Working in almost any lighting condition, Spy Legacy goggles have Happy Lens which improves the colors on the slopes when riding.
The Legacy goggles come with notches cut into the temple area so you can easily wear these over prescription glasses. To round out this solid set of OTG goggles, the vents are strategically placed to do an excellent job on creating a no-fog experience.
2. Oakley Flight Deck L
We already covered the Flight Deck goggles as some of the top goggles for flat light conditions but they make it back on the list here for OTG goggles as well. The small difference, the Oakley Flight Deck here are the "L". This large version of the goggles is made for over-the-glasses skiers.
These top-of-the-line goggles by Oakley have notches cut for prescription eyewear like the Spy Legacy. In addition, the Flight Deck goggles have quick change lenses so you can be ready for any lighting condition the mountain throws at you.
If you have large prescription eyewear then choose a large fitting OTG goggle like the Oakley Flight Deck L.
3. Dragon RVX OTG Goggles
Dragon goggles might not be known as the highest-end brand but their RVX OTG goggles are. Coming in multiple lens colors, the orange lenses are perfect for flat light conditions. Dragon has their own version of color-optimized technology with their LUMALENS.
This means on those flat light days, you will have optimal clarity, all while fitting over those prescription glasses and having a comfortable fit. Don't be stuck out on the slopes when those clouds roll in with the wrong lenses or goggles, Dragon RVX OTGs is one to have on hand.
4. Oakley Line Miner L
Not only do you get a high-end brand like Oakley for sub $200 but the Line Miner L are also OTG ready. The Line Miner has Oakley's Prizm technology that maximizes color contrast. They are also built with dual vents to keep the fog down to next to nothing.
Put the Line Miner L on just about any helmet and pair it with almost any pair of prescription glasses with these near-perfect OTG ski goggles. If you want to have some amazing quality goggles without breaking the bank then these OTG goggles are the ones you have been looking for.
5. Giro Facet
You might be wondering what makes for women's fit OTG goggles. Essentially you will see it with the Giro Facet. While they are oversized to fit prescription glasses under them, they are a bit smaller than men's OTG goggles so they fit a woman's face.
These medium-fit OTG women's goggles make a statement on the slopes, especially if you get the Flower Data Most/ Vivid Pink model. To ride a long day on the mountain and be able to see crisp lines every run, the Giro Facet is a go-to for women's OTG ski goggles.
In fact, it's the model I wear myself so I couldn't help but toss them on the list for you other ladies out there!
6. Anon Tracker 2.0
Solving the problem for all the kids out with glasses is the Anon Tracker 2.0 ski goggles. These OTG kids goggles will have them ready for the next lesson by keeping them comfortable and giving them great vision.
Anon's Tracker 2.0 are anti-fog and specifically made for over-the-glasses skiers. You can't ask for much more from a well-known brand like Anon. They deliver everything the kids need with the Tracker 2.0 goggles.
7. Electric EG2-T Goggles
Need that extra pair of OTG goggles to throw in the ski backpack? It sure is easier than switching lenses. For just over $100, the Electric EG2-T goggles make for a perfect backup pair of OTG goggles.
You probably have all been there when the weather changes quickly or maybe have been one of the unlucky people who dropped a pair of goggles of the lift when skiing. Don't just ride with one pair of goggles when you can have a backup on you.
Does Everyone Need Ski Goggles?
Ski goggles keep the snow out of your eyes and protect them from the UV radiation of the sun. Would you want to ride without them? Probably not. That's why we even suggest wearing a good pair and keeping a backup pair in your hydration pack or ski backpack.
Having two pairs of ski goggles means if you are on a really long run and can't clear your fogging issues or if the weather has changed, you can just switch up goggles.
Does VLT Matter When I Pick My OTG Goggles?
The lens tint on your goggles can be an important factor when choosing the right pair. Different tints offer different levels of protection from the sun and environment, depending on your needs.
While some people might prefer a darker lens to reduce glare and bright light, others might prefer a lighter lens for better visibility in foggy or cloudy conditions. Lenses for night skiing should be clear or close to it.
Generally, the lower the VLT number, the darker the lens will be. So, does VLT matter when you pick your OTG goggles? Yes, it can be an important factor to consider. On the bright side (did you get that one?), most high-end goggles come with at least two pairs of lenses. One for bright days and then a clear or higher VLT lens too.
Final Thoughts on OTG Ski Goggles
It is super important to have OTG ski goggles if you are a prescription glasses wearer. Not every pair of goggles will cut it out on the slopes but one of the above should do the trick for you. Having a good pair of goggles is just as important as having a good pair of skis, if not more important. Sight is everything on the slopes.
Don't skimp on your goggles and vision, your safety depends on it!