Caberfae Peaks, in Cadillac, Michigan is a nice destination for a ski or snowboard trip in lower Michigan. You don't have to leave the state or head up to the northern peninsula to find 30 trails! Between the two peaks and the high number of trails for a Michigan ski resort, you'll go to Caberfae once and want to go back.
Read on for an overview of Caberfae Peaks and the important things to know before visiting the ski area in the winter.
Highlights of Caberfae Peaks in Michigan
Some of the highlights and stats of Caberfae Ski Resort include –
30 trails
5 Lifts
2 terrain parks
485 vertical feet
Night skiing
Where are Caberfae Peaks Located?
Caberfae Peaks is located just outside Cadillac, Michigan in the Huron-Manistee National Forests. Cadillac is technically further north than Toronto, Canada so you can count on the ski area for getting some snow in the winter. Here are some driving distances of cities to Caberfae Peaks-
Grand Rapids, MI – 1 hour and 40 minutes, 106 miles
Saginaw, MI – 2 hours, 125 miles
Detroit, MI – 3 hours and 20 minutes, 223 miles
Chicago, IL – 4 hours and 20 minutes, 283 miles
Traverse City, MI – 1 hour and 4 minutes, 44 miles
Need Caberfae Peaks Directions? Map it from your place here.
What is Caberfae Peaks Ski Resort?
Caberfae Resort is a family-friendly ski area in the winter that also has golf in the summer. There is slope-side lodging that makes it an even more attractive place for families to visit. In the winter, Caberfae Peaks is one of the most popular ski resorts for people coming up from Grand Rapids.
Lodging Near Caberfae Peaks
One of the great things about Caberfae is their onsite lodging. If you wanted to take advantage of their night skiing then you should just book one of their 39 rooms in the Mackenzie Lodge. We haven't even mentioned they have a heated outdoor pool, hot tub and ski in/ out access to the trails.
Compared to some other ski areas that are dated, you'll likely be impressed with the Mackenzie Lodge at Caberfae Peaks. The only question is if you will book far enough in advance to get a room. The rooms do fill up over the winter season and especially around the holidays.
If you don't stay on-site, the two other options that are nearby are finding a private rental or one of the places to stay in Cadillac. There is a Days Inn by Wyndham in Cadillac which is a good alternative to staying at the slopes. The town of Cadillac is 20 minutes away from the resort.
Does Caberfae Peaks Have a Ski Shop?
If you are looking to demo some new skis on the mountain then you need to check out Caberfae Peaks Demo Center & Tune Shop. They have a lot of new pairs to try out. When you find a pair you like, take your demo receipt into Sun n Snow in Cadillac. The shop in town gives you $50 off when you show your demo receipt.
Does Caberfae Peaks Have Night Skiing?
Of course, Caberfae Peaks has night skiing. That is why it helps to stay at Mackenzie Lodge. They are open late Wednesday through Saturdays with their latest hours being on Fridays and Saturdays till 9 pm.
The Best Time to Visit
The best time to visit is Wednesday to Thursday. You can take advantage of night skiing and snowboarding till 8 pm but during the day you will still have a lot of people at work. Also, it helps since you'll leave as the weekend crowd comes in.
The Terrain Parks
What is a winter playground without some terrain parks? Caberfae has two parks to try out. You can find Jibber's Park on Shelter and Cammy's Park on Cruiser.
Jibber's Park has a few more beginners features and is the palace to go for boxes and rails. Cammy's Park is the spot for all your jumps and aerial tricks.
Is Caberfae Peaks Good for Beginners?
You shouldn't overlook Caberfae Peaks if you want to learn snowboarding or skiing. It is a great place to learn! Getting started is as simple as booking a lesson online. There are group, private and semi-private lessons so you can get all the attention you need as a beginner.
Your first goal after the learning area should be mastering the Shelter Double Chair before progressing up to the East Peak Triple.
The Trails – What to Know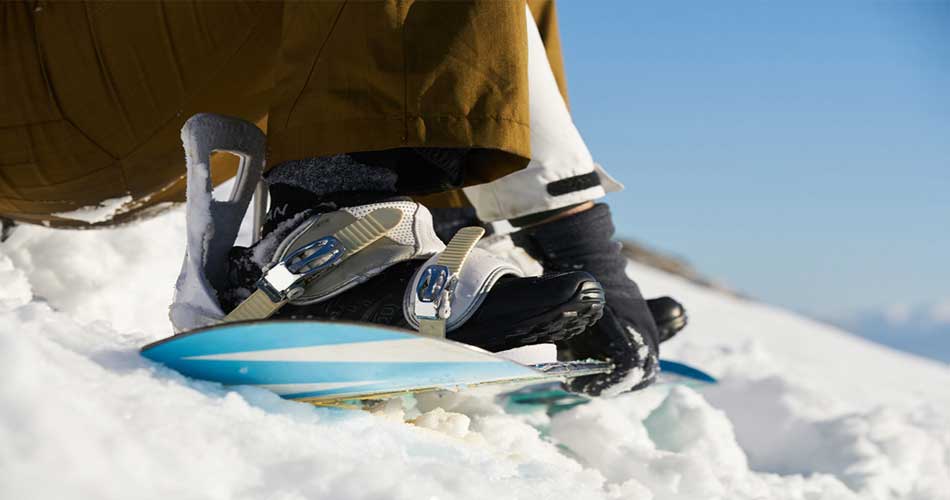 The thing to know about the trails at Caberfae is they are split out for beginner and then for intermediate and advanced. The East Peak is for newer riders while the South and North Peak are for more advanced riders.
Having the trails split on different peaks at Caberfae keeps the trail traffic down to a minimum and everyone often riding their skill level.
Other Winter Activities at Caberfae Resort
There isn't a lot of other winter activities at Caberfae off the slopes. It is mainly a mountain resort for riding. Once you do finish riding though you can hit the hot tub if you are staying at the lodge or warm-up near the firepit.
Is There Summer Mountain Biking at Caberfae Resort?
Caberfae Peaks doesn't have a bike park in the summer but they do have a full 18 hole golf course. This makes Caberfae a perfect place to hold a wedding. They have the lodge, golf, and a beautiful backdrop for a special day. Most grooms wouldn't ask for a better time!
Final Thoughts:
Caberfae Peaks is a ski resort that really makes it possible to have a winter vacation in Michigan. You don't have to leave the state if you are in state for good skiing and snowboarding.
Caberfae is big enough that it is worth a trip to and once you go once, you'll be hooked. It will leave you and the family saying, let's get back up to Caberfae Peaks next year and how much of a fun time you had skiing and snowboarding.
Explore More Michigan Ski Resorts