Bottineau Winter Park, the prairie park is one of North Dakota's few ski areas. It is also the more popular of the ski areas in the state. When most people think prairies, they think of flat land and wonder how you could even ski on that. Well, Bottineau is in the Turtle Mountains of upper North Dakota which is home to a few of the best ski runs in the state.
Read on to see what Bottineau ski area has to offer this Winter!
Highlights of Bottineau Winter Park in North Dakota
Some of the highlights and stats of Bottineau Ski Area include – 
9 trails
6 Lifts
100% snowmaking
Terrain park
Snow tubing
Where is Bottineau Winter Park Located?
Bottineau Winter Park is located in Bottineau, North Dakota. It is just outside the Turtle Mountain State Forest in the Turtle Mountains. Also, just to the north, you can be in Canada in minutes!  Here are a few locations nearby – 
Minot, ND – 1 hour and 28 minutes, 89 miles
Rugby, ND – 58 minutes, 56 miles
Grand Forks – 3 hours and 14 minutes, 204 miles
Winnipeg, CA – 3 hours and 33 minutes, 326 km
Regina, CA – 4 hours and 11 minutes, 403 km
Need Bottineau Winter Park Directions? Map it from your place here.
Lodging Near Bottineau Winter Park
There is no lodging at Bottineau Winter Park but if you really wanted to stay nearby, you could stay at a hotel or a vacation rental by owner.
The closest hotel is the Cobblestone Inn & Suites of Bottineau. It is only 15 minutes away and a nice place to throw the skis or snowboard at night. Otherwise you might be able to stay a little closer with a vacation rental by owner or Airbnb.
Truthfully, we wouldn't go out of our way to do an overnight trip to Bottineau since it is a smaller ski area. If you are from out of town or have a long drive though, it might be something you want to do.
Does Bottineau Winter Park Have Night Skiing?
Unfortunately, the mountain closes at 5p.m. at the latest so there isn't any night skiing at Bottineau.
Does Bottineau Ski Area Have Snowmaking?
100% of Bottineau Ski Area trails have snowmaking capabilities. Sometimes it is so cold with extreme Winter temperatures that the ski area shuts down to skiers altogether.
The Best Time to Visit Bottineau Winter Park
You aren't going to find crowded trails or lifts at Bottineau. It is just the nature that it is out in the middle of nowhere. With that being said, there isn't a bad day to go. The ski area is open Thursdays through the weekends and all days are great.
Does Bottineau Winter Park Have a Ski Shop?
Bottineau Ski Area doesn't have a ski shop because they are on the smaller side. They do have lessons and rentals though. So don't worry if you don't have your own gear, you'll be just fine.
Bottineau Winter Park Terrain Park
The terrain park at Bottineau is enough to get a freestyle fix. In fact, it is one of the best places on the slopes to ride. With a few kickers, boxes, and rails, it is worth checking out.
Is Bottineau Winter Park Good for Beginners?
Bottineau Winter Park is a nice place for beginners to start skiing or snowboarding. There isn't a lot of ski area options in North Dakota so Bottineau makes a good option for beginners. The ski area also offers lessons so if you aren't going with someone who can teach you, they can teach you there.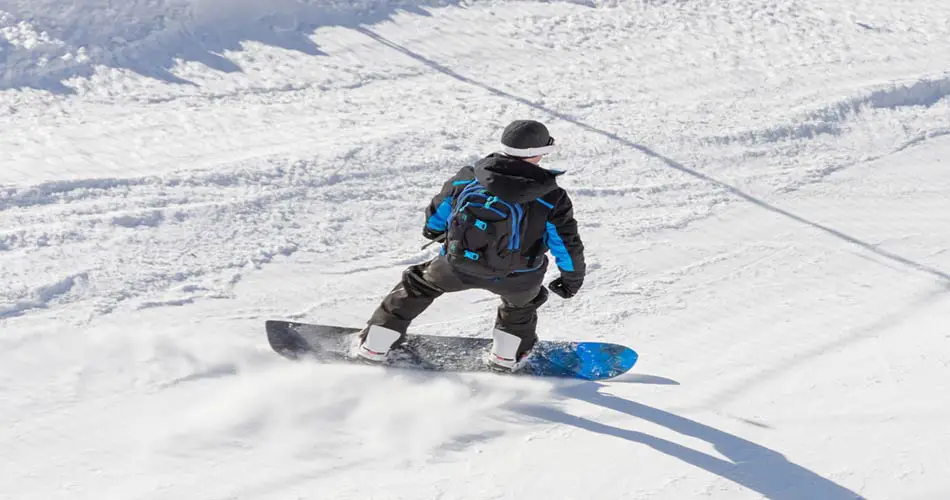 Trails at Bottineau  Ski Area – What to Know 
There are 9 trails to ride at Bottineau split between different difficulties. Once you have ridden the 8 trails,  then you should head over to the terrain park and work on some skills. Here are a breakdown of the trails at Bottineau
33% Beginner
33% Intermediate
22% Advanced
11% Expert
Other Winter Activities at Bottineau Ski Area 
So what else is there to do at Bottineau? Bring up the family and friends to hit the tubing slopes. You don't have to be a skier and snowboarder to go to Bottineau tubing. Tubing sessions run for two hours and are packed with fun.
Is There Summer Mountain Biking at Bottineau Ski Area?
Bottineau mountain doesn't have mountain biking in the Summer but they have 5 hiking trails to explore. Annie's house hiking trails at Bottineau are a nice way to still explore Bottineau when the weather is warmer.
Final Thoughts:
There isn't a lot of skiing in North Dakota but Bottineau provides something special.  They offer the community  nine trails and snowtubing which otherwise wouldn't be there. It is a great mountain for beginners and locals to explore before heading to larger mountains.
If you want to ride a larger mountain not too far away then try this one!