Updated August 15, 2023 by Jessie Gonzalez. This post contains affiliate links at no added cost.
Sick graphics? You bet. Mountain, park and powder boards, they have em. Ride snowboards are some of the most popular snowboards on the market. Are Ride snowboards good though? While they often have a good selection and price point, we'll need to touch on the quality. Read on while we give our first-hand thoughts if Ride snowboards are good or not and if they are worth taking the Benjamin's out of your wallet.
Types of Ride Snowboards: The Selection
While we all know Ride for their Warpig, Ride puts out a good selection of snowboards each year to choose from. They specialize in the following:
Mountain
Park
Splitboards
Powder snowboards
Women's snowboards
When we think of ride snowboards, the first thing that comes to our mind is the pig collection.
The Warpig, MTNpig and Superpig. We'll dive into each of these in a little bit but even if you don't want to ride a pig, ride has a massive selection to choose, including other popular boards like the Psychocandy, Commissioner and the Algorythm.
The selection of Ride boards is a solid 8.5 out of 10 for the massive line of boards they put out.
Ride Snowboards Quality
So how did Ride's boards stack up to our on-mountain test? Overall pretty good. There was no complaints on the shape, flex and board profile but we did get a ding in our base when riding in the park. While it is to be expected when snowboarding, the two areas of Ride snowboards that seem to deteriorate first are the topcoat and the base.
The base itself doesn't deteriorate but if you are riding hard, it just seems that some of the bases are a little soft. It could be a one-off issue with the board we were riding but having to fill a semi-new board with some P-Tex definitely doesn't feel great.
While you may have to fill in a few more dings than more high-end durable boards, Ride scores a respectable 7.6 of 10 with their quality.
How The Quality Compares to The Price
This is where Ride snowboards shine. We can't argue with them that for the price, you can grab a great snowboard. The snowboard with certainly last a few seasons even if you catch a ding here or there.
Ride snowboards start in the sub $400 range and go all the way up to $1,000 when you are talking splitboards. Most fall in the $400- $600 range and you can certainly grab some amazing deals as the prices get slashed near the end of the season. For most of the mid-range snowboards that Ride is putting out, the price is certainly justifiable to the quality.
Sign Up for Exclusive Ski & Snowboard Gear Deals
Straight to your inbox, savings on skis, boards, boots and more.
You may get 1-2 mails a month MAX but man are they worth it!
We'd even argue that you are getting more than what you pay for with some of the boards like the Burnout and Smokescreen. While other companies like Burton charge a little bit more for their entry-level boards, Ride is putting sintered bases even into their mid and lower-range boards.
Ride's quality to price is respectable and they scored a 8.2 of 10.
Ride Snowboard Graphics
Do Ride snowboards have the craziest graphics? They don't but if you want something a bit unique, or different then you should be able to find it in the Ride lineup. If you want something on the flashy side then you can go with a board like the Psychocandy but if you want something more mellow, Ride has that too. For a mellow board, two that fit the bill are the Smokescreen or the Superpig.
Ride snowboard graphics aren't over the top but they aren't completely boring either, they pretty much somewhere in middle of the pack at 8.1 out of 10.
The Best Ride Snowboards
So what are some of the best ride snowboards? It's tough to choose between so many fun boards but two of our top picks are the Psychocandy and the Warpig.
When we tested the Ride Warpig on the mountain, we found that it was very responsive and transitioned to an edge easier than some of the other boards we rode on the same day.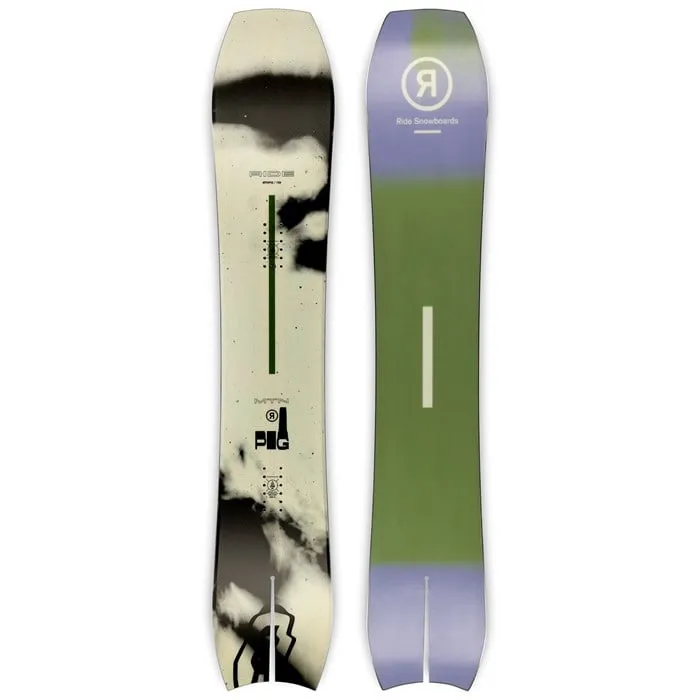 Plus with both of these Ride snowboards, it's clear that quality and graphics were an important thought while keeping the price as affordable to the market as possible.
The Warpig is a go-to if you want something more well-rounded for mountain and park while the Psychocandy is for all the park nuts out there.
Read More:
Conclusion: Are Ride Snowboards Good?
The real question is – would we pick a Ride snowboard over another brand? At the end of the day, you can only ride one snowboard at once. We would certainly take a Ride board out on the mountain or to the park but it is great for someone who wants to really step into a mid to high tier board while not trying to empty their bank account. Their total score rounds up to 8.1 out of 10.
You'll be hard pressed to tell the difference between a Ride snowboard and some of the other top snowboard brands once you get strapped into a Ride board.