Good graphics, a large selection and a great price all come together on Chamonix snowboards They are hard to ignore when you consider all those things but are Chamonix snowboards good? You have to look at the quality too. We will look at all four factors as we determine if Chamonix snowboards are good or not.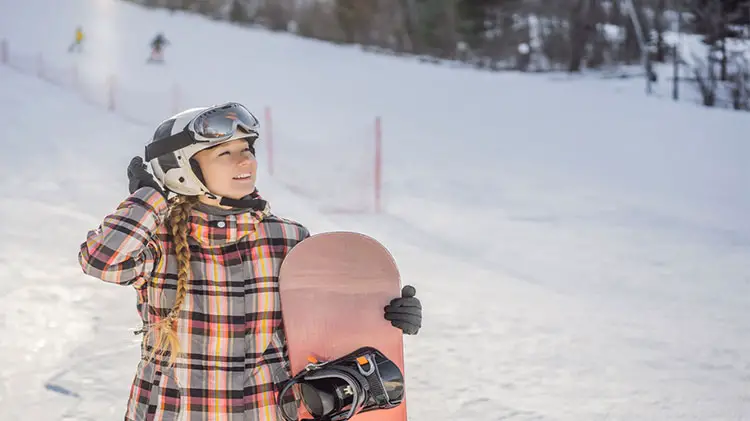 Chamonix Snowboards: Let's Look at The Selection
High level, the selection of Chamonix snowboards is impressive. They have boards for kids, women and men in their lineup. From powder to park, they have it. Want to shred some groomers? They have it too!
Whatever style you are looking for, you shouldn't have an issue finding it in the Chamonix lineup. While that is great in itself, it doesn't speak to the quality.
It's also important to note one of the drawbacks is the limited profiles. Most of the snowboards by Chamonix are made to be easy to ride and beginner-friendly. If you are looking for a specific profile, you might have to check out higher-end brands.
Before you get over-excited about the selection, let's grade the Chamonix selection and move on to the quality.
For selection, we scored Chamonix a respectable 7.8 out of 10.
Are Chamonix Snowboards Good? The Quality
Everything falls in line with Chamonix except the quality. It leaves a bit to be desired.
For beginners or new riders, Chamonix will get you down the slopes for a season or two but you might want to think about a higher-end brand. While it's true, we would certainly take a Chamonix against another entry-level brand like Evol, we wouldn't take it over most brands.
The two things that Chamonix quality has going for them are sintered bases and decent laminates. It's surprising to see sintered bases on Chamonix boards and not extruded but a lot of the lineup is sintered. As for the laminates, they hold up a tad better than Evol so that helps them score a few points too.
Chamonix quality scored a 6.8 out of 10.
Chamonix Snowboards: Why Cheap Isn't Always Good
Some people, only look for the cheapest option. That is fine for many things but not when you are flying down the slopes. We like something that is going to last a few seasons, is backed by a good warranty and overall can take a solid beating on the trails.
With most snowboards coming in less than $300, Chamonix snowboards appeals to the "new" and beginner snowboard crowd.
Chamonix will get you through a season, maybe two on the beginner and intermediate slopes but it will take an absolute beating in the terrain park or more advanced slopes. It's questionable if the base can hold up to the pressure of advanced riders.
Everything can line up but at the end of the day, quality should be what you focus on first and then price.
While not bad, Chamonix scored a 7.3 out of 10 when comparing the quality to the price of their snowboards.
Chamonix Snowboard Graphics
Chamonix pretty much nails a modern take on snowboard graphics. They aren't too crazy on their boards and clearly appeal to a large market. Compare this to another beginner snowboard brand like Evol and they are all the way at one end of the spectrum.
The graphics from Chamonix are mainly light and fun. They have some visually appealing graphics on their decks but nothing too crazy.
Will you stand out with Chamonix graphics? Probably not, but do they look good? They surely are clean.
Chamonix snowboard graphics gets an 7.4 out of 10.
A Few Chamonix Boards to Check Out
Regardless that Chamonix doesn't have the most long-term and durable quality, they still make solid beginner snowboards. Three notable Chamonix snowboards are as follows:
Mens: Chamonix Chemin. The Chemin is a powder surfer. With a true swallowtail, you can't surf powder for much cheaper.
Women's: Scavenger Hunt. If you are a scavenger for the next best rail or jump, the Chamonix scavenger hunt will let you hit it. This easy riding terrain park-focused board is perfect for women shredders.
Kids: Savoy Jr. Get the whole family on the mountain with Chamonix boards. Kids can rock the Savoy Jr and start their snowboarding journey early on. It is an easy-to-ride camber profile to help kids gain their confidence.
If you purchase through our in-post links, we may use the small commission at a ski resort bar.
Conclusion: Are Chamonix Snowboards Good?
Chamonix wouldn't be our go-to brand if we were getting a new snowboard but that's not to say it shouldn't be yours. If you are still debating on the sport but want your own gear, Chamonix snowboards aren't a bad place to start. Ride it for a season and upgrade if you love snowboarding. Sell it if you don't. Either way, you can go wrong to just get started.
The final score for Chamonix comes to a 7.3 out of 10.
It doesn't matter what brand you ride, as long as you ride. Get any board and get out there.